Here's a delicious cookie recipe that is a bit lower in calories too: Iced Orange Cookies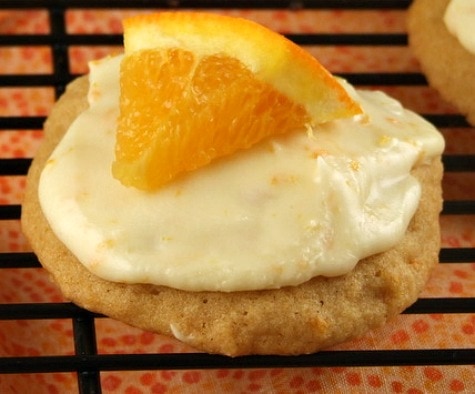 Yield: 30 cookies (1 cookie per serving)
Prep Time: 40 minutes
Cook Time: 10 minutes
Iced Orange Cookies
After trying these on a whim during a healthy-eating kick, I was pleasantly surprised at how delicious they turned out to be. My whole family gave them a big thumbs-up!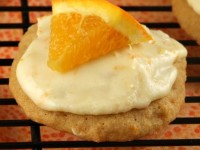 Ingredients:
Cookie Dough:
11 tablespoons unsalted butter
3/4 cup granulated white sugar
1 teaspoon vanilla extract
1/2 teaspoon baking powder
1/2 teaspoon baking soda
1/2 teaspoon salt
1 large egg
1/2 cup (4 ounces) freshly squeezed orange juice (grate zest before juicing)
2 tablespoons grated orange zest (the rind of 1 large or 2 small oranges)
2 cups whole wheat flour
ICING:
2 cups (8 ounces) powdered sugar
2 tablespoons unsalted butter, softened
1 tablespoon grated orange zest (the rind of 1 small orange)
1/4 teaspoon vanilla extract
1/8 teaspoon salt
2 tablespoons freshly squeezed orange juice
Directions:
Preheat oven to 350°F. Lightly grease 2 baking sheets or line with parchment paper.
Prepare dough: Cream butter, sugar, vanilla, baking powder, baking soda and salt in a medium bowl. Beat in egg, then orange juice and orange zest, scraping the bowl. The mixture will look curdled; that's OK! Add the flour, beating until smooth. Drop dough by tablespoonfuls onto the prepared baking sheets.
Bake the cookies: Bake cookies, reversing pans midway through (top to bottom, bottom to top), until they're just barely beginning to brown around the edges, 10 minutes. Remove cookies from oven and let them cool on the pans for 10 minutes before transferring them to a rack to cool.
Prepare the icing: Beat the sugar, butter, orange zest, vanilla and salt in a medium bowl until well combined. Beat in orange juice until the mixture is spreadable. Spread icing on the cookies when they're completely cool, using a generous 1 teaspoon icing for each.
Nutritional Information per cookie: calories 97, fat 5.32g (sat fat 3.24g), cholesterol 20.28mg, sodium 81.05mg, carbohydrates 11.73g, fiber 1.04g, protein 1.41g
Weight Watcher Points:  SmartPoints: 4, Points Plus 3, Old WW Program 2.5
SOURCE: RecipeGirl.com (via King Arthur Flour Whole Grain Baking)
11 Responses to "Iced Orange Cookies"
Leave a Comment