Cheddar- Chive Beer Bread
Yield: 1 loaf
Prep Time: 10 min
Cook Time: 45 min
Cheddar- Chive Beer Bread
Love this bread. It's easy and delicious. The chives added a great twist to the bread.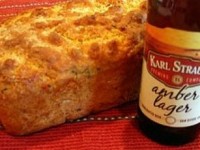 Ingredients:
3 cups self-rising flour
1/2 cup granulated white sugar
2 Tablespoons chives, freshly chopped
3/4 cup sharp cheddar cheese, shredded
12 ounces beer
1/4 cup butter, melted
Directions:
1. Preheat oven to 350 degrees F.
2. In a large bowl, whisk together first 3 ingredients. Stir in cheese and beer, and pour into a lightly greased 9x5" loaf pan.
3. Bake for 45 minutes. Pour melted butter over the top and bake an additional 10 minutes.
Tips:
*Use a good flavor of bottled beer! It'll make a difference.
*Non alcoholic beer may be substituted.
*In a pinch, you can use chopped green onion tops in place of chives.
*For plain beer bread, omit chives and cheese.
Leave a Comment