One of the many great things about vacationing in Massachusetts is being able to find an abundance of freshly picked, big and juicy blueberries. I've never been blueberry picking myself (it's on the 'ol bucket list), but I sure appreciate the vendors at the Farmer's Market who do it for me 🙂 Here's a recipe to utilize your blueberry bounty: Blueberry Cornbread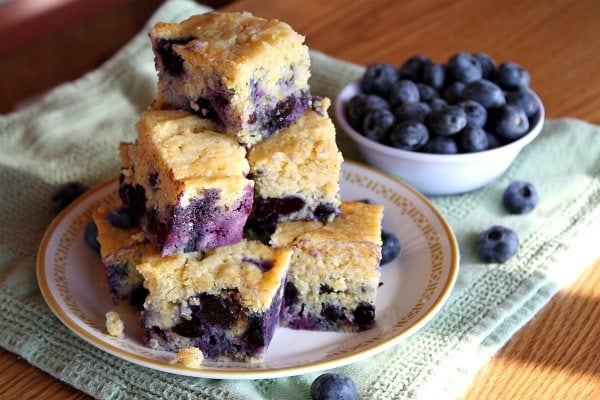 This cornbread isn't your typical "eat it with chili" kind of cornbread. It's more of a delightful breakfast sort of bread.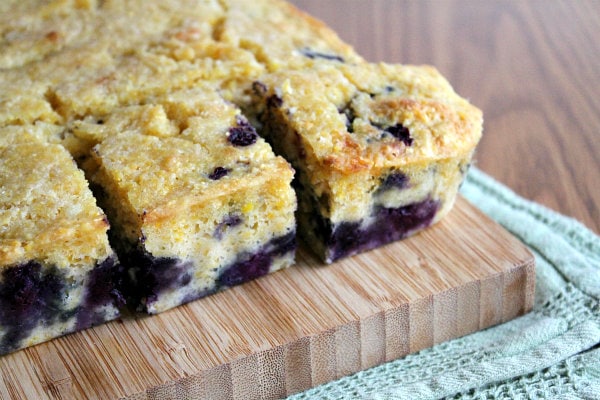 And it's stuffed with plenty of blueberries!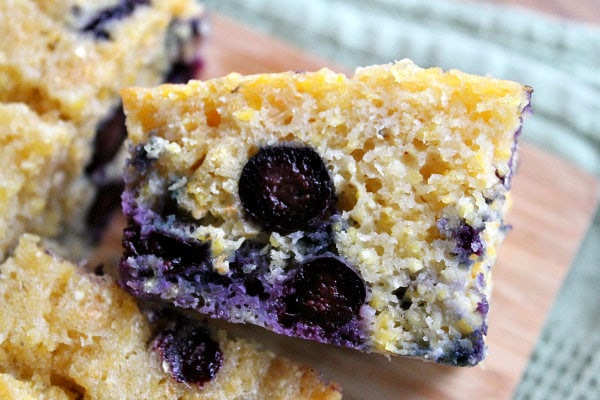 The blueberries are mixed into the batter along with coarse ground cornmeal, making the texture more interesting,  slightly crunchy, and incredibly moist.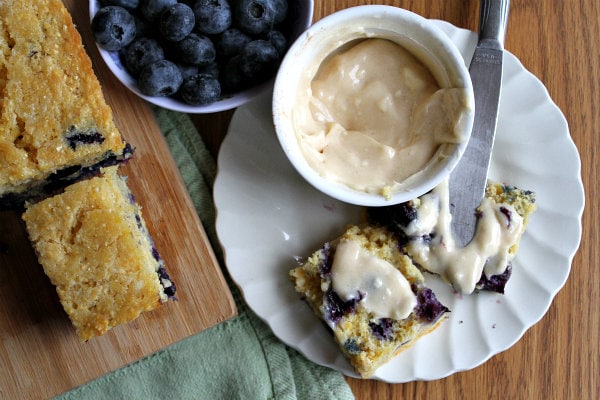 I made a simple honey- cinnamon butter to spread on top (1 stick softened butter + 1 tablespoon honey + 1/2 teaspoon cinnamon).  Another good combo = maple butter (1 stick softened butter + 1 tablespoon maple syrup).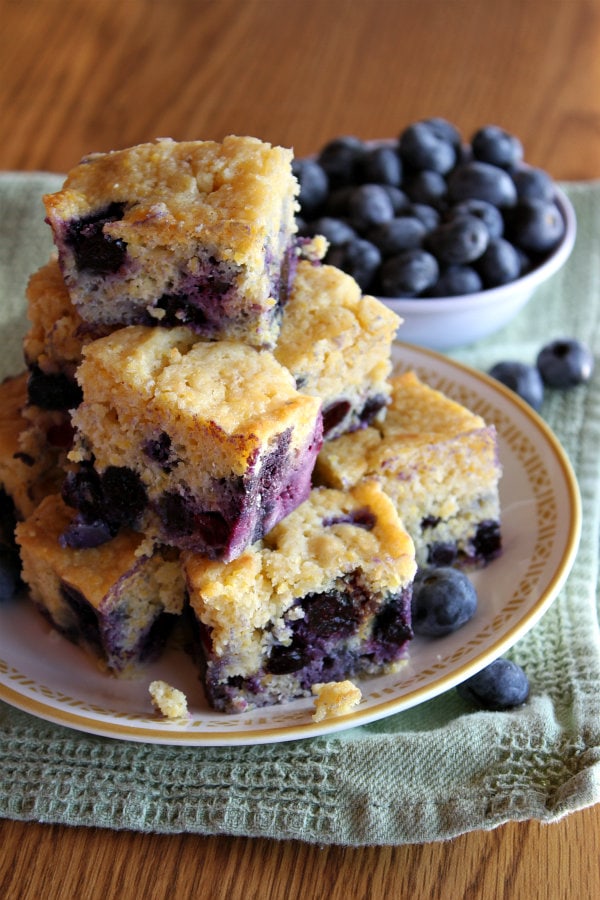 Think of it as a spin on the classic coffee cake- like Blueberry- Vanilla Cornbread Coffee Cake.  It's one you've gotta try this summer when blueberries are easy and inexpensive to find.  And you don't really have to go to Massachusetts to find them… but I wholly recommend it (since I love this place).  Are you lucky enough to live in a place where you can go blueberry picking?!
Blueberry Cornbread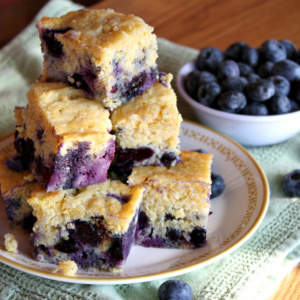 Yield:
16 pieces
Prep Time:20 min
Cook Time:40 min
Ingredients:
1 cup yellow cornmeal (stone/course ground works best)
1 cup Gold Medal® all-purpose flour
1/4 cup white granulated sugar
1/4 cup packed light brown sugar
1/2 teaspoon salt
1/2 teaspoon baking powder
1/2 teaspoon baking soda
2 large eggs
1 1/4 cups buttermilk
1 tablespoon vanilla extract
6 tablespoons (3/4 stick) unsalted butter
1 1/2 cups fresh blueberries, divided
Directions:
1. Preheat the oven to 325 degrees F. Spray an 8-inch square pyrex or metal pan with nonstick spray.
2. In a large bowl, whisk together the cornmeal, flour, sugars, salt, baking powder and baking soda.
3. In a small bowl, whisk together the eggs, buttermilk and vanilla. Add to the dry ingredients, then pour in the melted butter too. Mix just until incorporated (don't over-mix). Stir in 1 cup of the blueberries. Scatter the remaining 1/2 cup of blueberries on top.
4. Pour the batter into the prepared pan and bake for 40 minutes, or until the edges turn golden and a toothpick inserted into the center comes out mostly clean.
More blueberry baking love from your favorite food blogs:
Blueberry Lemon Cheesecake Bars by Inspired Taste
Buttermilk- Blueberry Breakfast Cake by Alexandra's Kitchen
Blueberry- Yogurt Waffles by Two Peas and Their Pod
Blueberry Doughnut Muffins by My Baking Addiction
Gluten-Free Blueberry Crumble Crisp by Gluten Free Goddess