This cake is the perfect summery blend of flavors: Blueberry Lime Pound Cake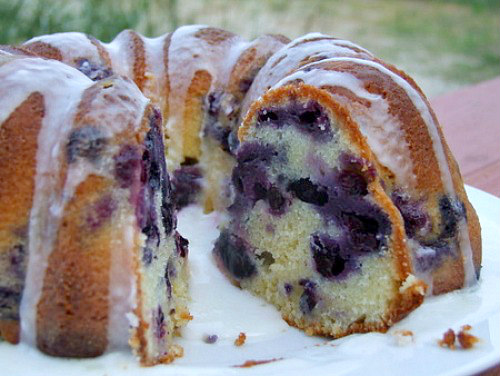 Blueberry Lime Pound Cake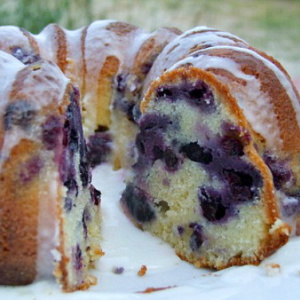 Yield:
12 servings
Prep Time:30 minutes
Cook Time:50 minutes
Ingredients:
CAKE:
8 ounces (1 cup) unsalted butter, softened (plus a little more for the pan)
2 1/3 cups all-purpose flour (plus a little more for the pan)
1 1/2 teaspoons baking powder
1/4 teaspoon + 1/8 teaspoon salt
1 3/4 cups granulated white sugar
3 teaspoons finely grated lime zest
6 ounces cream cheese, softened
4 large eggs, at room temperature
1 large egg yolk, at room temperature
2 1/2 cups room-temperature blueberries (about 13 ounces), washed and dried
GLAZE:
1 cup powdered sugar
2 Tablespoons freshly squeezed lime juice; more as needed
Directions:
Preheat oven to 350°F. Butter and flour a 12-cup bundt pan.
Prepare the cake: Whisk together flour, baking powder and salt into a medium bowl; set aside.
Put sugar and lime zest in a small bowl; use wooden spoon to press lime zest into sugar and incorporate to make a lime-scented sugar.
In a large bowl, beat butter and cream cheese with an electric mixer on medium speed until smooth, about 1 minute. Add lime-sugar and beat on medium speed until light and fluffy, 1 to 2 minutes. Add whole eggs one at a time, mixing well after each addition (scrape bowl, as needed). Beat in egg yolk. Reduce mixer speed to low and slowly add the flour mixture (scrape bowl, as needed). Beat at medium speed until batter is smooth and light (about 20 more seconds). Using a rubber spatula, gently fold in the blueberries.
Scoop batter evenly into prepared pan, spreading it with the rubber spatula. Tap the pan lightly against the counter to eliminate any air pockets. Bake until a wooden skewer inserted in the center comes out clean, 50 to 55 minutes. Set the pan on a wire rack to cool for at least 10 minutes and then invert onto the rack, remove the pan, and let cool completely.
Glaze the cake: In a small bowl, whisk the powdered sugar and lime juice together until smooth. The glaze should be thin enough to pour, but thick enough to stick to the cake and not run completely down the sides. If too thin, add more powdered sugar. If too thick, add more lime juice. Put a baking sheet under the rack to catch drips; drizzle the glaze over the top and sides of the cake. Let glaze set fully before transferring to a cake plate to serve.