This Blueberry Lime Pound Cake has the perfect summery blend of flavors.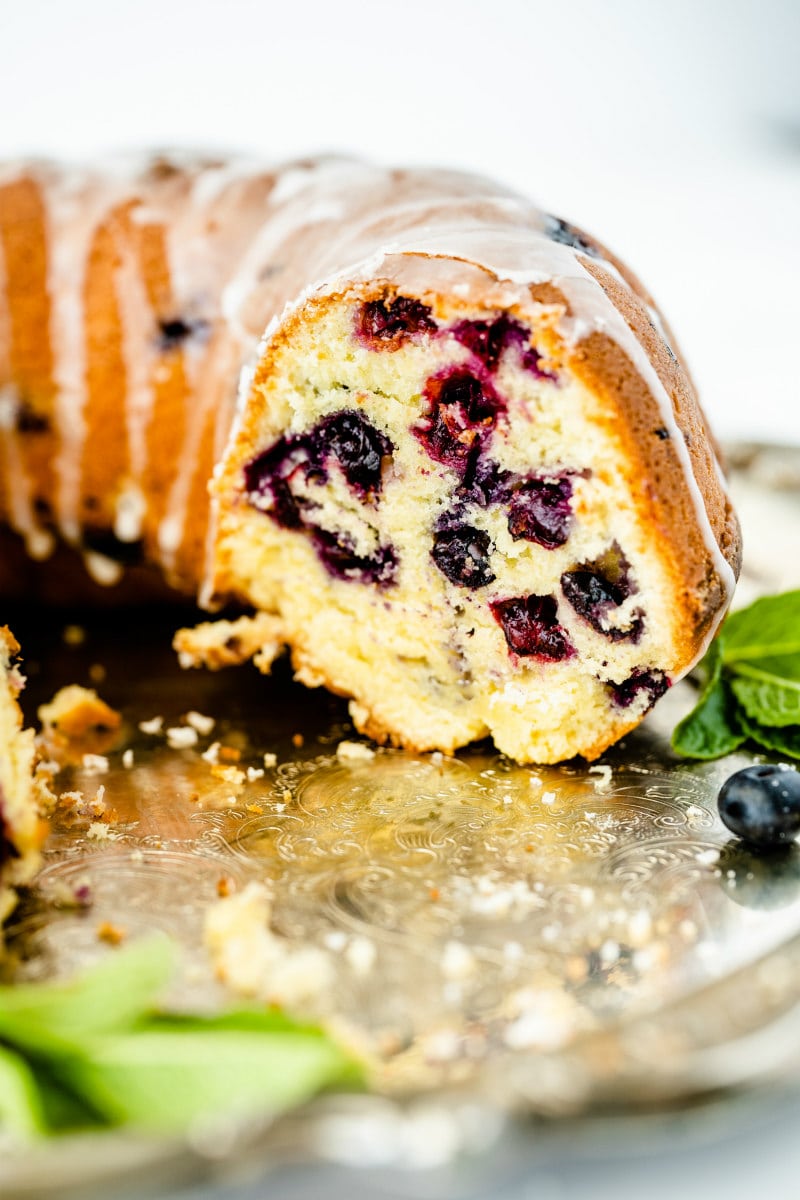 This Blueberry Lime Pound Cake is a cake you can make for a lot of occasions. It's a nice snacking cake to have on hand. It's beautiful to serve as dessert at a summer barbecue. And it would be nice for a wedding or baby shower too. This is a pound cake that is moist and delicious on its own, or you can add a little whipped cream and additional blueberries to bump up the "wow" factor. I spotted this recipe in an issue of Fine Cooking magazine many years ago, and I've made it quite a few times since then.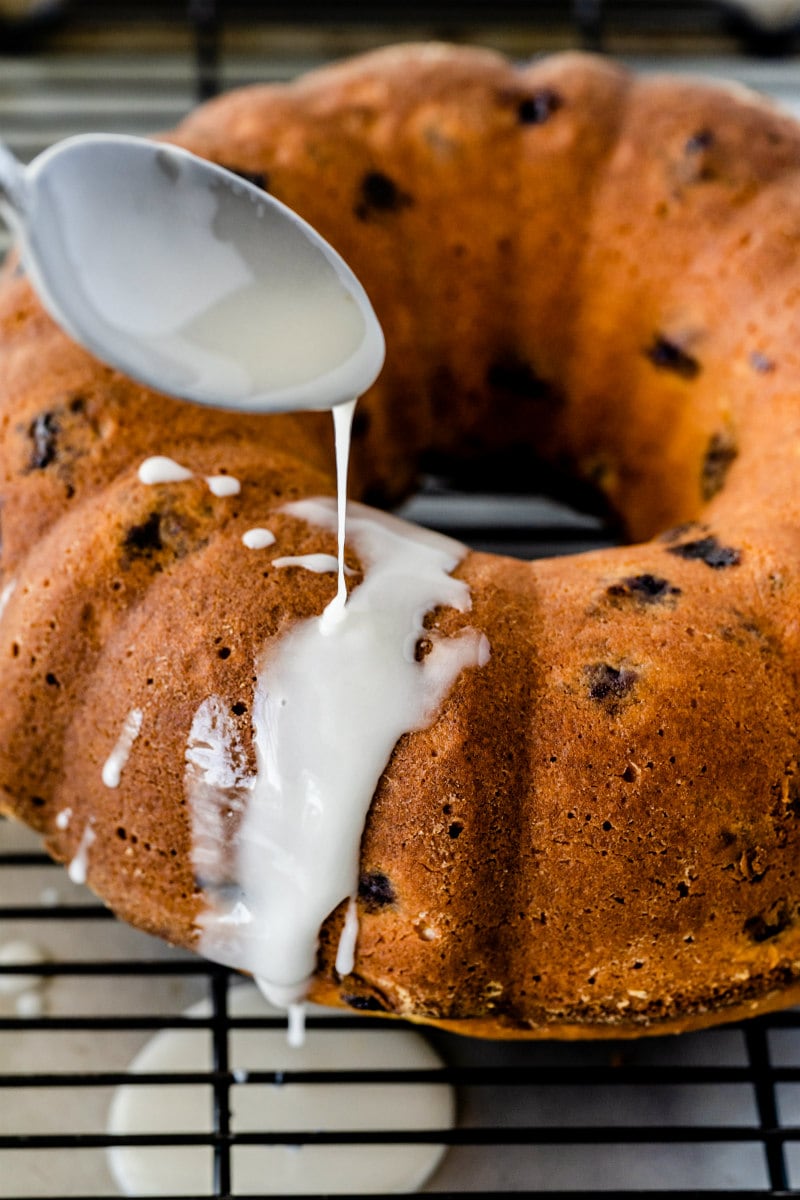 This is your typical pound cake recipe with added cream cheese. The only outlier is that you'll take lime zest and sugar and combine those together to make a "lime sugar" to use in the recipe. Use a 12-cup bundt pan to bake your blueberry lime pound cake.
When making the glaze for the cake, the consistency is important. You want it thick enough so that it sticks to the cake and runs down the side a little bit. If the glaze is too thin, it will just run down the cake and not leave much of a glaze behind on the cake.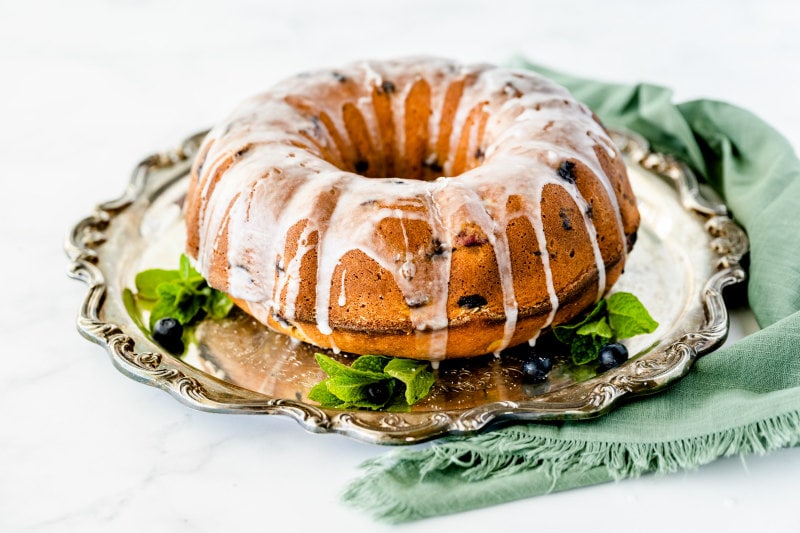 About blueberries:
My fridge is always stocked with an abundance of fresh blueberries all summer long. My favorites are the big, fat juicy ones… the ones that taste amazing when tucked into a bowl of fresh fruit with a dollop of vanilla yogurt and a sprinkle of granola. Ideally, there should be a small splash of blueberry juice spilling into your mouth when you bite into a quality blueberry. Those are the best.
Here's a tip for you. When baking with blueberries (or any fruit), make sure that your fruit is at room temperature. Cold fruit straight from the refrigerator may prevent your dessert from baking evenly.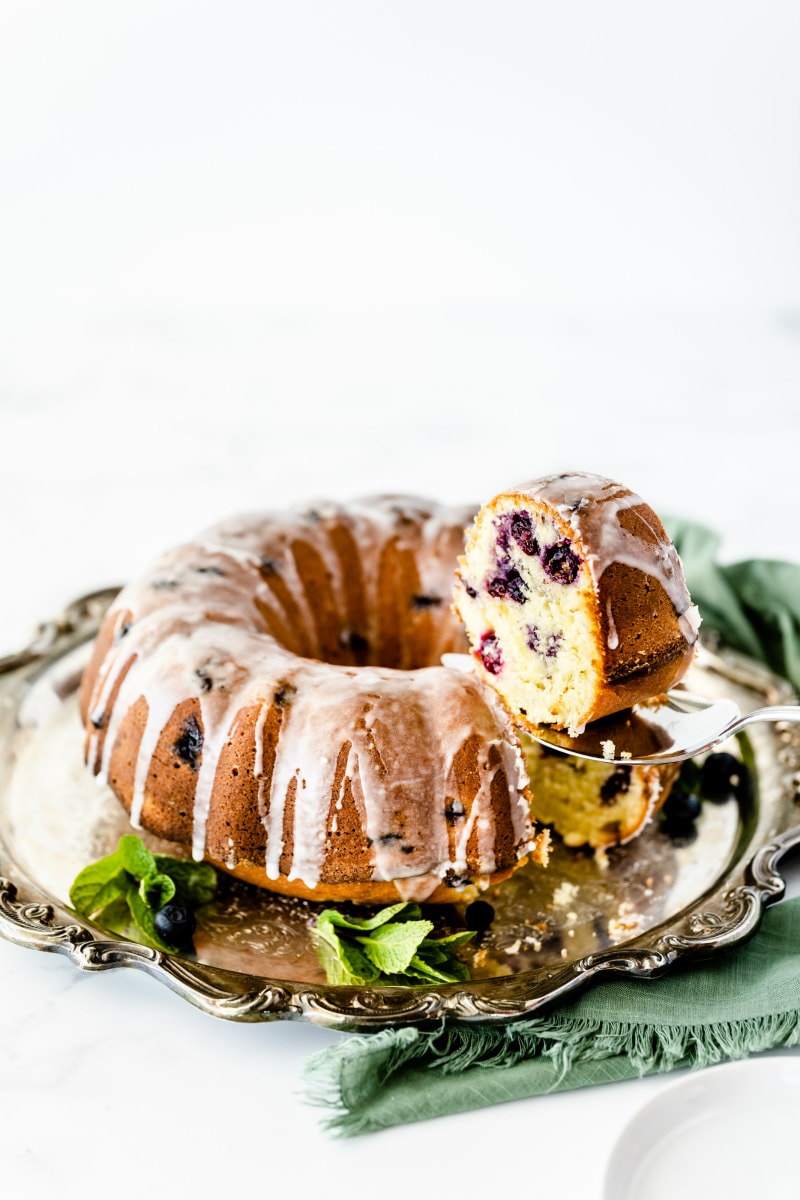 Why is it called a pound cake?
A pound cake is traditionally made with a pound of each of the following ingredients: butter, sugar, eggs and flour. This Blueberry Lime Pound Cake does not have that ratio, but it's a dense, heavy cake that is more like a pound cake than a tender and light cake.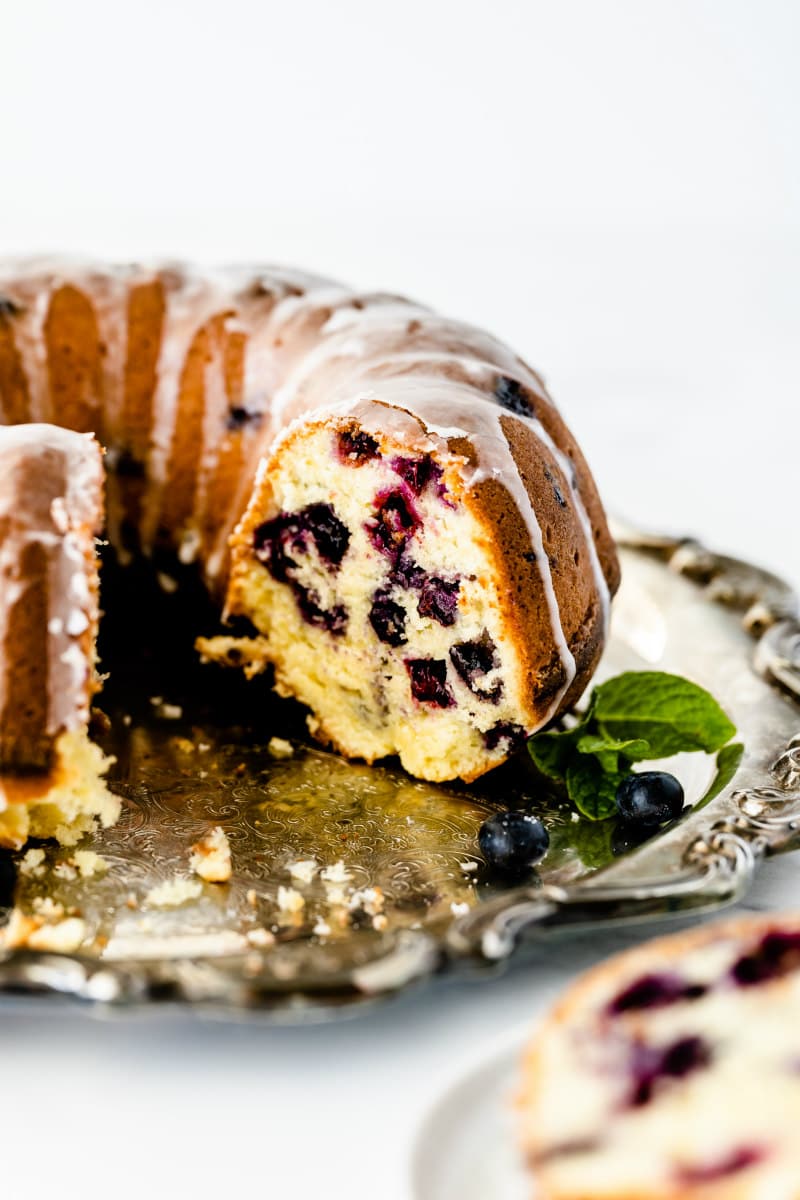 Why bake with room temperature ingredients?
You'll notice in the recipe that it calls for using room temperature ingredients. A general rule for this is if a recipe calls for using room temperature ingredients, you should use room temperature ingredients. It's not that the author of the recipe is trying to make your life difficult. There is actually some science behind the method of using room temperature ingredients in baking that makes sense. Using room temp ingredients will give your cakes a fluffier, lighter texture. Think about what it's like when you try to beat cold butter with sugar… it's a chunky mess, right? Room temperature ingredients will blend together more easily and give you a smoother batter. In other words, using room temperature ingredients can make a difference in a more positive outcome for your baked goods.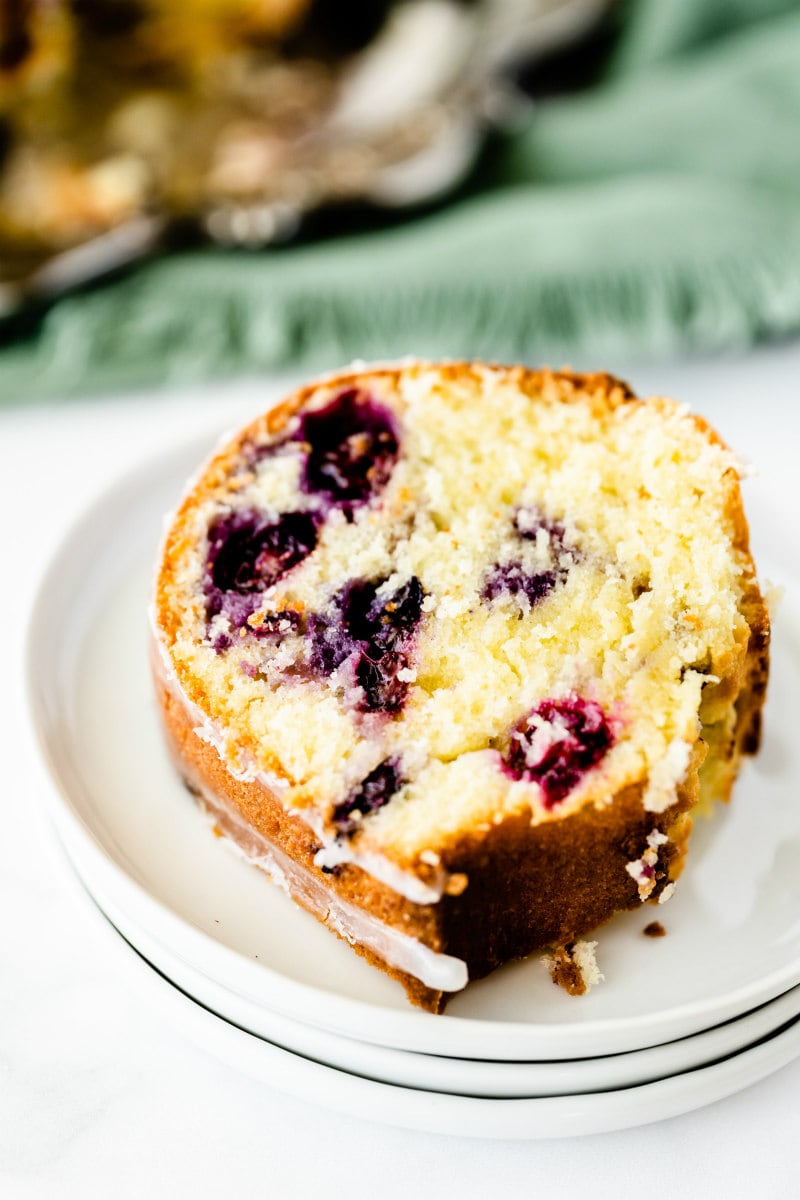 We love this Blueberry Lime Pound Cake! It's very summery, moist and tastes fabulous. I think this cake tastes even better on day two. This recipe is a keeper. Enjoy!
Here are a few more recipes using blueberries that you might like to try:
Blueberry Lime Pound Cake
Such a delicious and summery cake recipe!
Recipe Details
Ingredients
CAKE:
2 1/3

cups

all purpose flour

1½

teaspoons

baking powder

1/2

teaspoon

salt

1¾

cups

granulated white sugar

3

teaspoons

finely grated lime zest

1

cup (2 sticks)

unsalted butter,

at room temperature

6

ounces

cream cheese,

at room temperature

4

large

eggs,

at room temperature

1

large

egg yolk,

at room temperature

2½

cups

room temperature blueberries,

rinsed and dried
GLAZE:
1

cup

powdered sugar

2

tablespoons

freshly squeezed lime juice

(more, as needed)
Instructions
Preheat oven to 350°F. Butter and flour a 12-cup bundt pan (or use baking spray).
PREPARE THE CAKE:
In a medium bowl, whisk together the flour, baking powder and salt.

In a small bowl, combine the sugar and lime zest; use a wooden spoon to press the lime zest into the sugar and incorporate to make a lime-scented sugar.

In a large bowl, use an electric mixer to combine the butter and cream cheese on medium speed until smooth, about 1 minute. Add the lime-sugar and beat on medium speed until light and fluffy, 1 to 2 minutes. Add the whole eggs one at a time, mixing well after each addition (scrape the bowl, as needed). Beat in the egg yolk. Reduce the mixer speed to low and slowly add the flour mixture (scrape the bowl, as needed). Beat at medium speed until the batter is smooth and light (about 20 more seconds). Using a rubber spatula, gently fold in the blueberries.

Scoop the batter evenly into the prepared pan, spreading it with the rubber spatula. Tap the pan lightly against the counter to eliminate any air pockets. Bake until a wooden skewer inserted into the center comes out clean, 50 to 55 minutes. Set the pan on a wire rack to cool for at least 10 minutes and then invert onto the rack, remove the pan, and let cool completely.
GLAZE THE CAKE:
In a small bowl, whisk together the powdered sugar and lime juice until smooth. The glaze should be thin enough to pour, but thick enough to stick to the cake and not run completely down the sides. If too thin, add more powdered sugar. If too thick, add more lime juice. Put a baking sheet under the rack to catch drips; drizzle the glaze over the top and sides of the cake. Let glaze set fully before transferring to a cake plate to serve.
Nutrition
Serving:
1
serving
,
Calories:
472
kcal
,
Carbohydrates:
63
g
,
Protein:
6
g
,
Fat:
23
g
,
Saturated Fat:
13
g
,
Cholesterol:
134
mg
,
Sodium:
171
mg
,
Potassium:
147
mg
,
Fiber:
1
g
,
Sugar:
43
g
,
Vitamin A:
790
IU
,
Vitamin C:
4
mg
,
Calcium:
57
mg
,
Iron:
2
mg