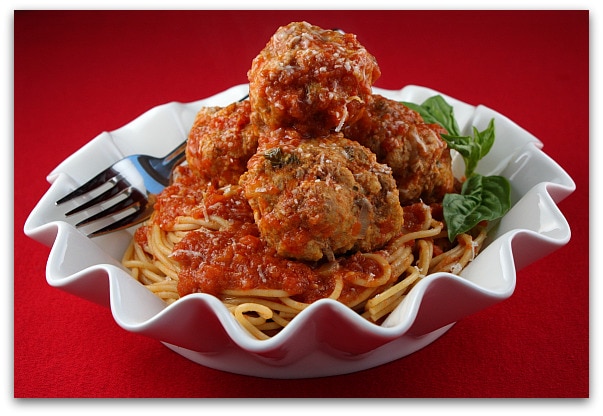 My family's favorite Spaghetti & Meatballs, based loosely on a Martha Stewart recipe.
Print Recipe
SPAGHETTI & MEATBALLS
www.RecipeGirl.com
1 Tbsp + 2 tsp. olive oil, divided
1/4 tsp crushed red pepper flakes
2 tsp minced garlic, divided
2 (28 ounce) cans whole peeled tomatoes, pulsed in blender or food processor until smooth
coarse salt
1/2 cup dried breadcrumbs
1 pound ground turkey
1 pound lean ground beef
1/2 cup freshly grated Parmesan or Romano cheese, plus more for serving
2 large eggs
1 Tbsp finely chopped fresh basil
1 Tbsp finely chopped fresh oregano
1/4 tsp freshly ground black pepper
1/4 cup finely chopped sweet onion
¼ cup whipping cream
16 ounces spaghetti
1. Heat 1 Tablespoon oil, the red pepper flakes, and 1 teaspoon garlic in a large saucepan over medium heat until garlic is sizzling, about 30 seconds. Stir in tomatoes and 1 teaspoon salt. Reduce heat to low; simmer about 30 minutes.
2. Place meats in a large bowl; add cheeses, egg, basil, oregano, ½ teaspoon salt, pepper, remaining 2 teaspoon oil and 1 teaspoon garlic, and the onions. Using your hands, mix until just combined. Moisten hands, and roll meat mixture into desired size for meatballs (about 1 1/2 to 2 inches). Place on baking sheet and refrigerate until ready to cook.
3. Stir cream into the sauce. Add meatballs to simmering sauce. Stir, cover and continue to simmer until meatballs are cooked all the way through (20 to 30 minutes).
4. Meanwhile, bring a large stockpot of water to a boil; add salt. Add pasta; cook until al dente, about 8 minutes. Drain; return pasta to pot. Add 1/2-cup sauce; toss. Serve pasta in bowls with meatballs and extra sauce, and cheese on the side.
Servings: 4
Recipe Source: Loosely based on a recipe from Martha Stewart Living
Leave a Comment