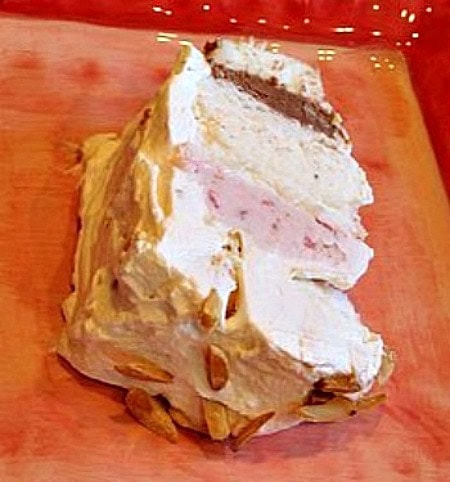 Angel Food Ice Cream Cake
Yield:
12 servings
Prep Time: 45 min + freeze time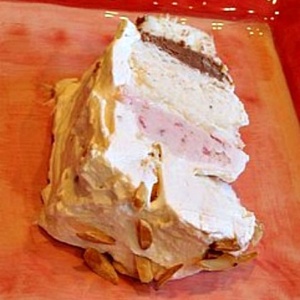 Ingredients:

CAKE:
One 10-inch store-bought angel food cake
1 pint French Vanilla ice cream
1 pint Strawberry ice cream
1 pint Chocolate Fudge ice cream

FROSTING:
2 cups heavy whipping cream
2 tablespoons powdered sugar
1 teaspoon vanilla extract
1/4 cup toasted slivered almonds

Instructions:

1. Wrap the cake in plastic wrap and place in freezer for about 30 minutes.

2. Let ice cream stand at room temperature for about 20 minutes.

3. Slice frozen cake horizontally into 4 equal layers (using a bread knife). Place bottom cake layer on desired serving plate. Spread layer with vanilla ice cream, leaving 1/2-inch border around the edge. Top with the second cake layer and repeat layers with strawberry ice cream, cake layer, chocolate and remaining cake layer.

4. Wrap the cake in plastic wrap and freeze at least 8 hours, or overnight.

5. When ready to serve, prepare frosting: Beat the whipping cream on high speed until foamy; gradually add sugar and vanilla, beating until stiff peaks form.

6. Remove cake from freezer and spread frosting on cake. Sprinkle with almonds. Slice to serve. Freeze any leftovers.

Tips:

Tips:
*If you prefer to make a homemade cake, try this Angel Food Cake recipe.
*Try sprinkling chocolate chips on top in place of almonds.