Homemade Bagels are easier to make than you might think. With a handful of simple ingredients, you can enjoy fresh-from-the-oven everything bagels, sesame bagels, or poppy seed bagels.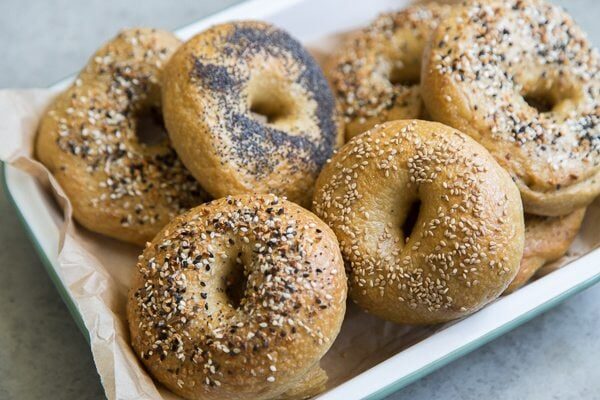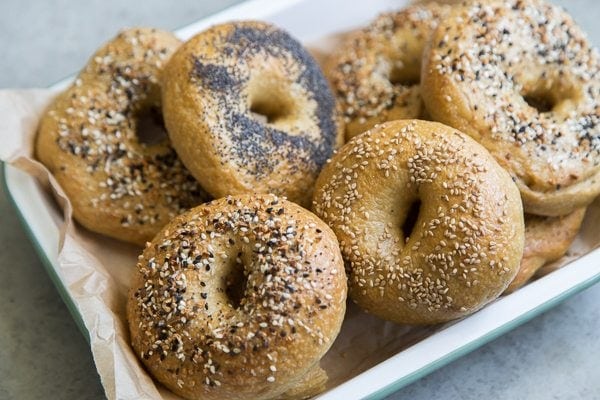 Why buy when you can DIY? Of course there are certain things that I'll never try to do myself. Electrical work, car repairs, and such can be left to the professionals. But when it comes to bread making, I love a good challenge and I am up for an adventure.
Bagels may seem daunting, but they're actually easy to make. The most time consuming part of this homemade bagel recipe is the overnight dough proofing time. The mixing of the dough is fairly straightforward. The use of instant yeast makes it a breeze, however, if you only have active dry yeast, I have also included instructions for that method as well.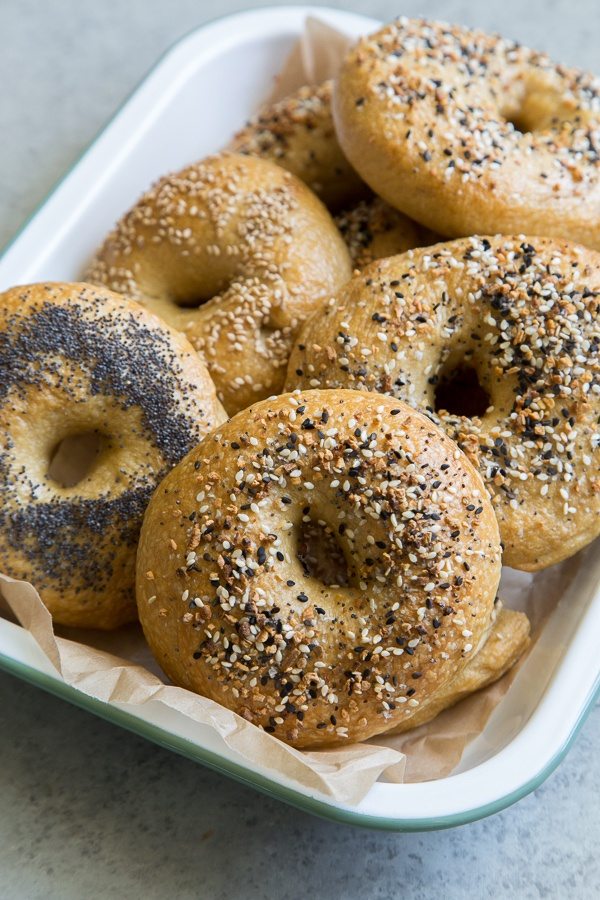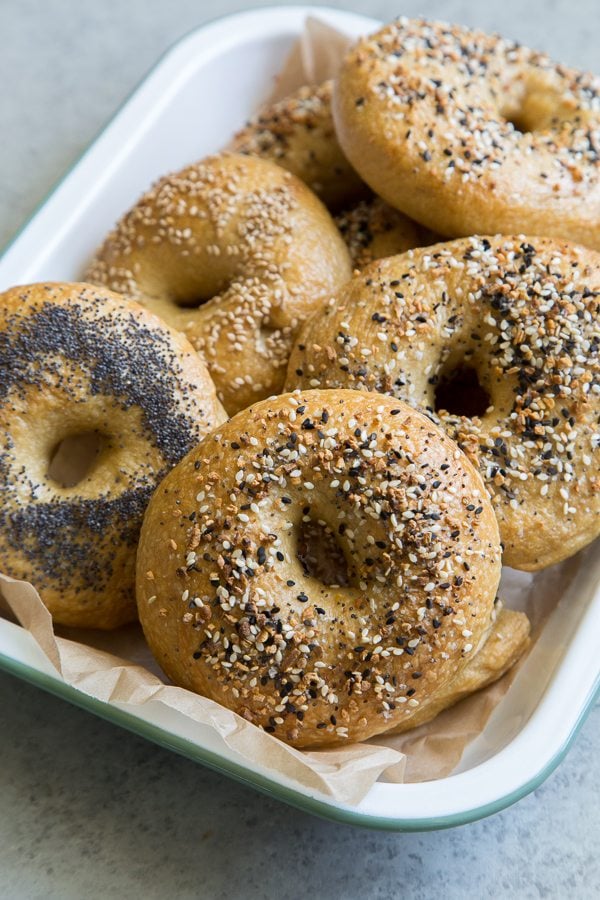 Most bagel recipes call for barley malt in the dough and poaching/boiling liquid. This isn't something people normally stock in their kitchen. I used molasses for this recipe. It's the perfect substitute. I've made bagels several times using this recipe, using both barley malt and molasses with successful results. I couldn't taste the difference between the two.
To make this dough, simply mix together warm water, instant yeast, molasses, bread flour, and salt. I highly suggest using a stand mixer. This dough is very tough and laborious to mix by hand. Do not substitute all-purpose flour for bread flour. Bagels require the use of a high protein flour (bread flour usually has 14-16% protein, while all-purpose flour usually has 9-12% protein). This higher protein content helps with gluten development lending to the iconic bite and chew of bagels.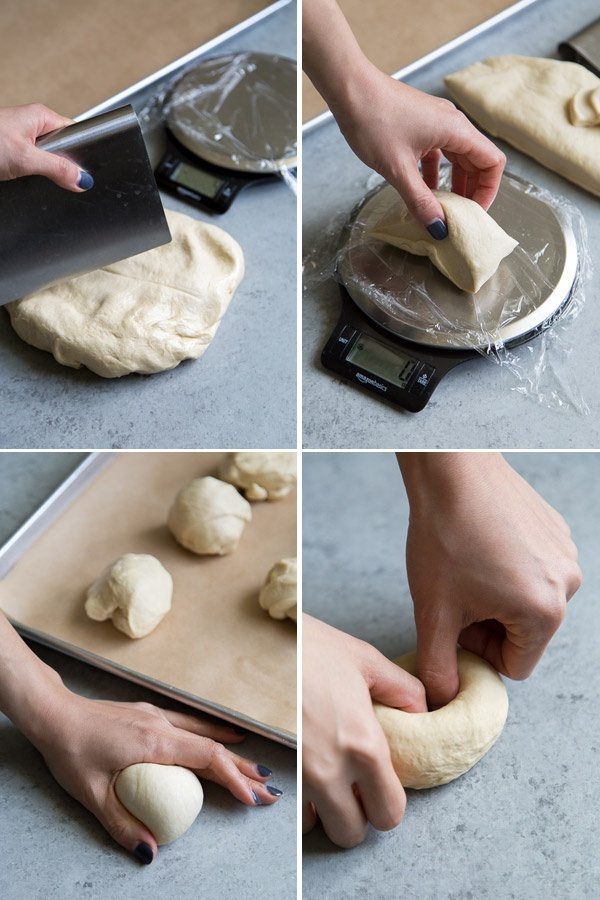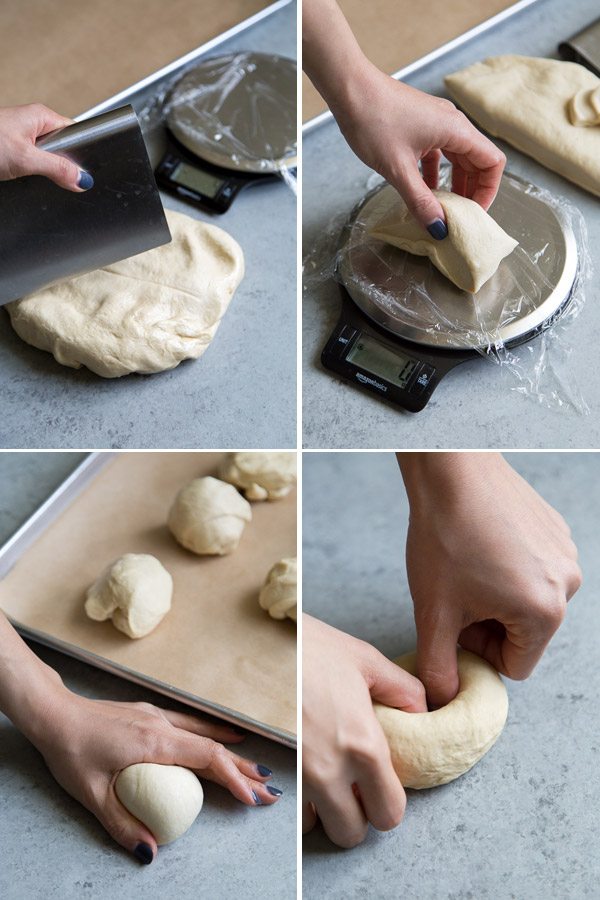 This recipe makes 8 bagels. You can easily double or triple the recipe to make more. While you can portion out the dough by eye, I prefer to use a kitchen scale to ensure that each bagel is the same weight. Roll each portion into a ball. Use your thumbs to make a hole in the center of each ball. Gently pull and stretch until the dough is a uniform sized ring.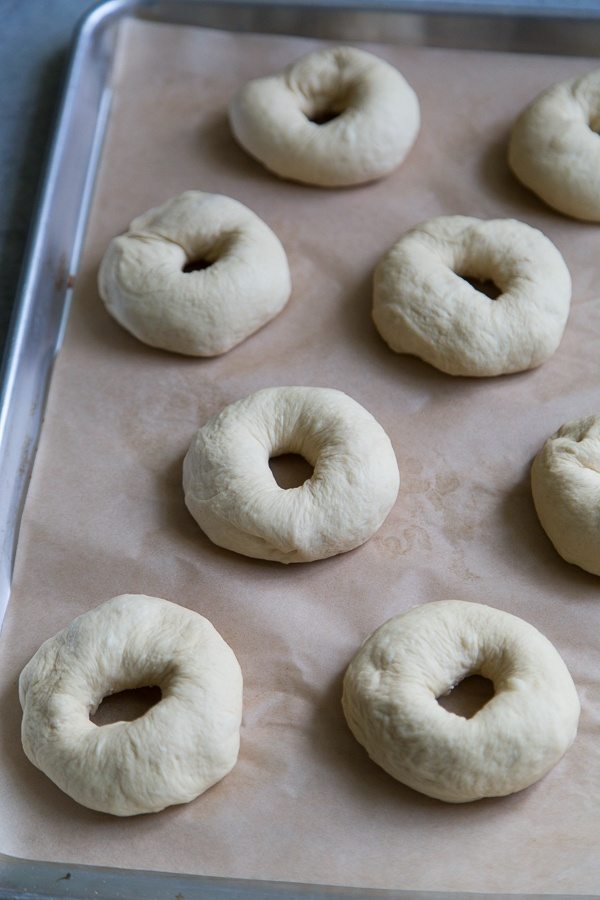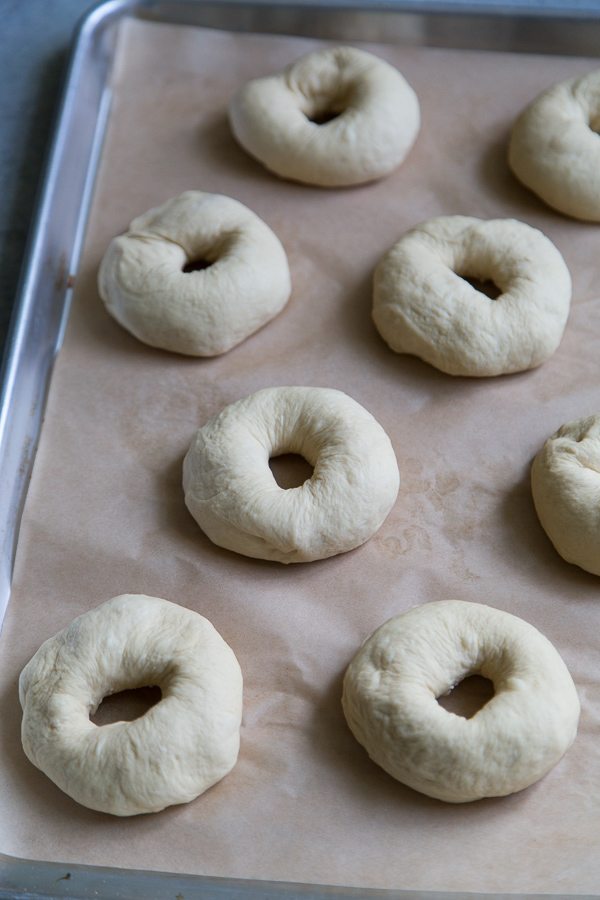 Cover the dough and let it chill in the fridge overnight. The following morning, the dough gets a quick bath in the poaching/boiling liquid. Afterwards, it's time to coat the dough with desired toppings (or keep them plain!).
There are countless variations on bagel toppings. My personal favorite- the everything bagel! Named so because it contains everything: poppy seeds, sesame seeds, garlic powder, onion flakes, salt and pepper.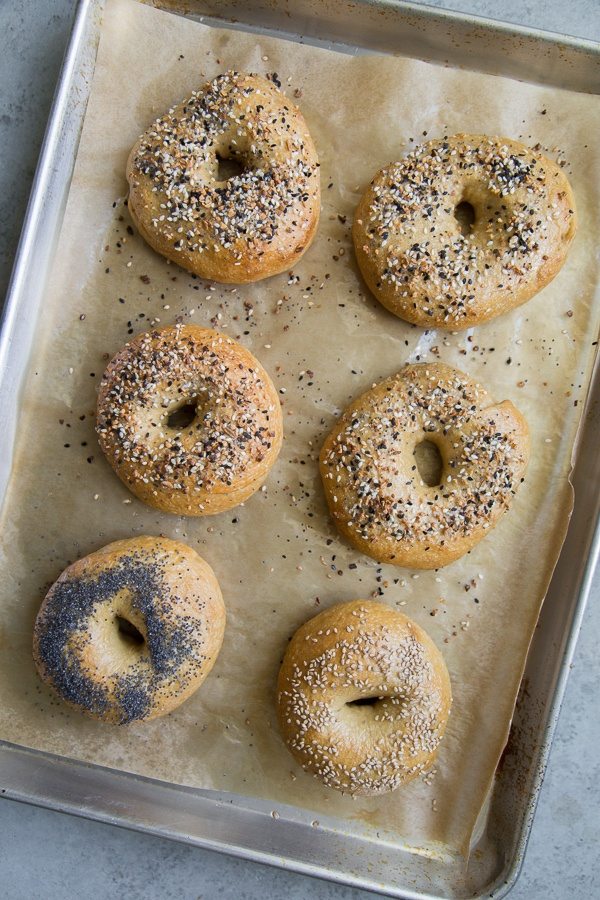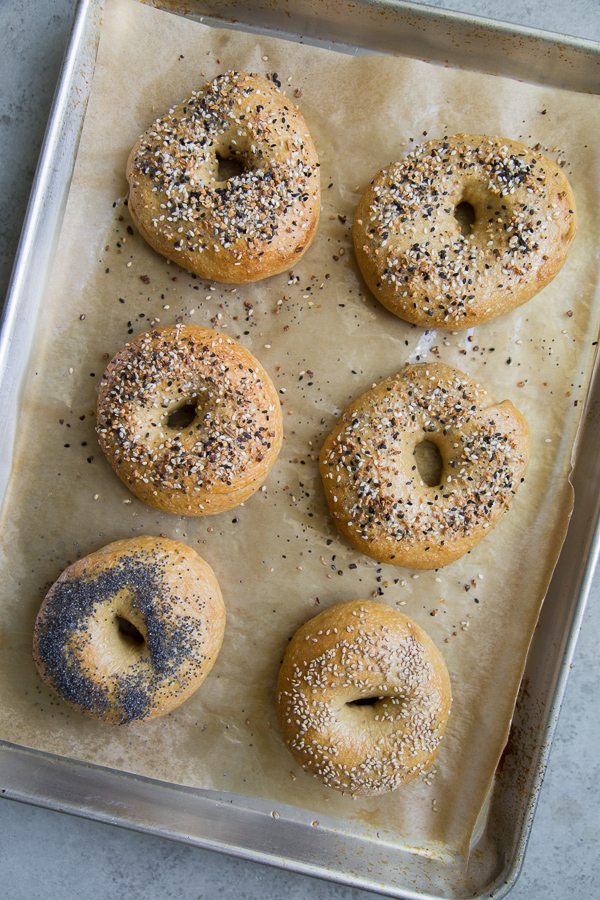 The dough gets baked in hot oven until the bagels are a nice and golden. And then it's finally time to reap your rewards. Slice the bagel in half and slather on the cream cheese!
Homemade Bagels
These aren't as difficult as you may think!
Recipe Details
Ingredients
DOUGH
1¼

cups

warm water

(about 110 degrees F.)

2

teaspoons

instant yeast

1

tablespoon

molasses

3½

cups

unbleached bread flour

1

tablespoon

kosher salt
POACHING LIQUID
4 to 6

quarts

water

1

tablespoon

kosher salt

1

tablespoon

baking soda
TOPPINGS
1

large

egg white

1

teaspoon

water

desired toppings: sesame seeds, poppy seeds, etc.
Instructions
DOUGH
In the bowl of a stand mixer whisk together water, yeast, and molasses. Attach dough hook attachment. With in the mixer running on low, add in bread flour and salt. Continue to mix until dough comes together. Once dough has formed, increase to medium speed and knead for 3 minutes. Let dough rest for 5 minutes and then knead on medium speed for another 3 minutes. At this point, the dough should be smooth, yet tough.

Transfer dough to a large greased bowl. Cover with plastic wrap and let rise at room temperature for 1 hour.

Divide dough into 8 equal pieces. Form each piece into a ball. Poke a hole through the center each ball using your thumb. Use both thumbs to gently stretch the dough until center hole is about 2-inches in diameter.

Place formed dough on a greased parchment lined sheet pan. Lightly mist bagels with cooking spray and cover with plastic wrap. Keep chilled in the fridge overnight (12-16 hours is ideal).
POACHING
Remove bagels from fridge and let it at room temperature for 10 minutes. Preheat oven to 450 degrees F.

Meanwhile, in a large pot, bring water to a boil. Make sure the water is at least 3-inches deep. Once boiling, reduce to a simmer and add salt and baking soda.

Gently place bagels into simmering poaching liquid using a slotted spoon. Add as many bagels as can comfortably fit in the pot. Let bagels cook on each side for one minute. Remove bagels and place domed side up on a lightly greased parchment lined baking sheet.
TOPPINGS and BAKING
Whisk together egg white and water until frothy. Brush egg whites over bagels and sprinkle desired toppings on top.

Bake for 10 minutes. Rotate baking sheets and bake for another 8 to 10 minutes until bagels are golden brown in color. Cool on wire rack before serving.
Notes
If using active dry yeast, combine yeast with warm water. Let sit for 5 to 7 minutes until mixture is fragrant and bubbly. Proceed with regular instructions.
When rotating baking sheet, check if bottoms of bagels are browning too fast. If so, simply place another baking sheet under current baking sheet and continue baking.
Nutrition
Serving:
1
serving
,
Calories:
228
kcal
,
Carbohydrates:
43
g
,
Protein:
9
g
,
Fat:
2
g
,
Saturated Fat:
0.3
g
,
Polyunsaturated Fat:
1
g
,
Monounsaturated Fat:
1
g
,
Sodium:
1334
mg
,
Potassium:
136
mg
,
Fiber:
2
g
,
Sugar:
2
g
,
Vitamin A:
1
IU
,
Vitamin C:
0.01
mg
,
Calcium:
49
mg
,
Iron:
1
mg
Here are a few more bread recipes you might enjoy: