Here's a dessert recipe that is completely perfect for fall:  Caramel Apple Bagel Bread Pudding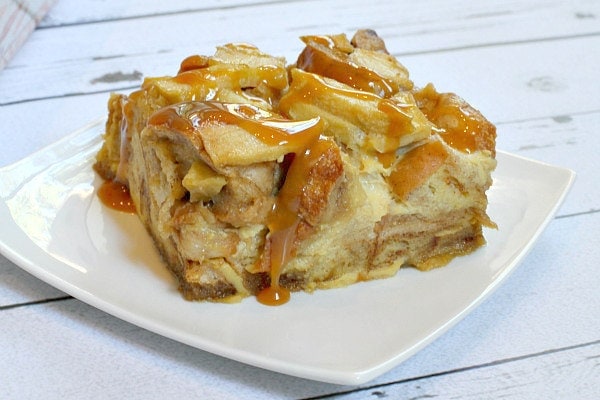 Bread pudding has always been such a big-time favorite in my house.  All of those layers of bread soaked with sweet milk and cinnamon (and in this case- apples too!) and baked to perfection.  Bread pudding perfection = crispy edges and bread still tender and warm.  The apples baked within the layers of the bread… as well as the drizzle of caramel on top make this an over-the-top kind of dessert.  Make it now!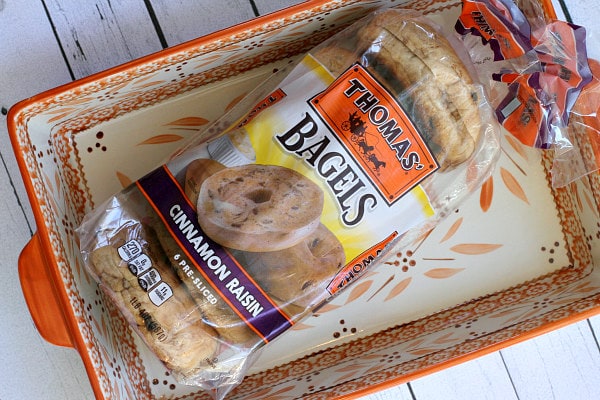 This bread pudding recipe is made unique by using Thomas' Cinnamon Raisin Bagels in place of traditional bread.  This already- flavored variety is perfect for bread pudding!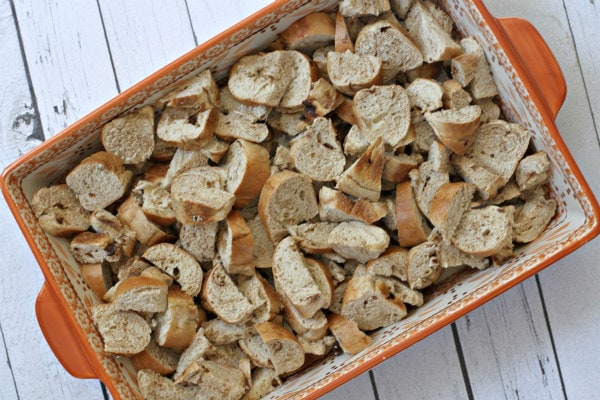 Just slice up the bagels into small pieces and set them into your baking dish.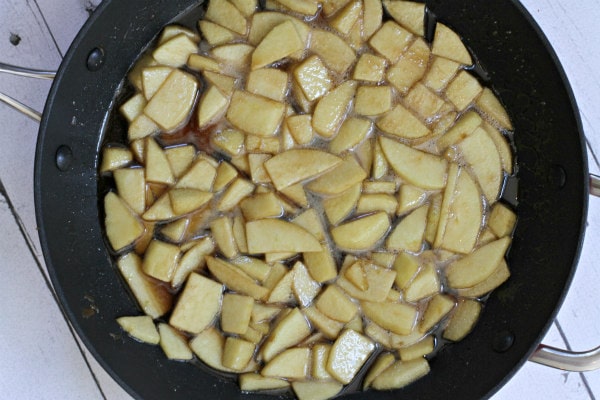 The apples for this recipe are lightly sauteed in butter and sugar until caramelized…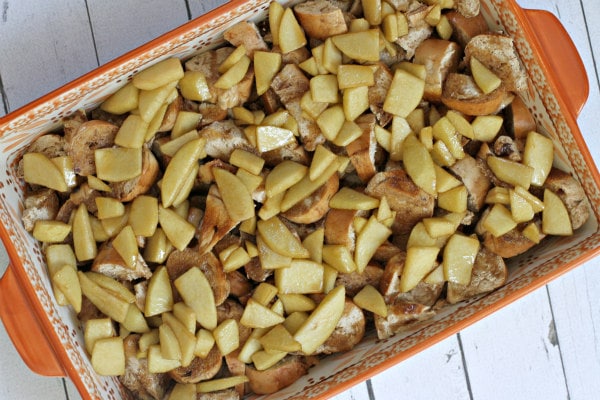 …then they're spooned on top of the bagel pieces.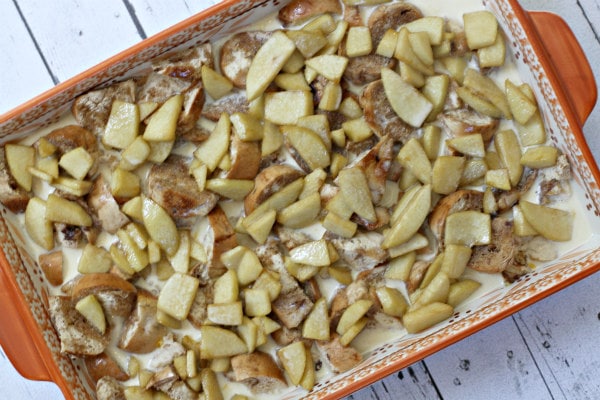 The secret to a good bread pudding is to make sure that the bread mixture is generously soaked with sweetened cream.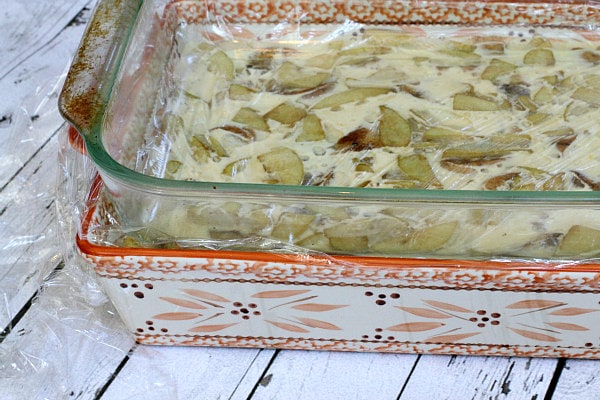 I like to cover the baking dish with plastic wrap and place another baking dish on top to weight down the bread and make sure it's completely submerged in the cream.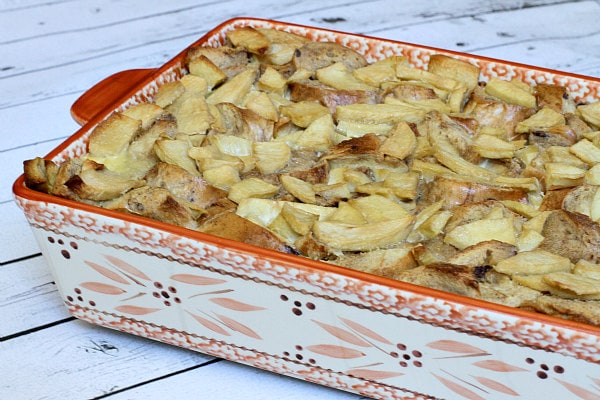 Here is the Caramel Apple Bagel Bread Pudding- fresh out of the oven.  You can see that it plumps up and properly rises tall while baking.
You want to slice it while it's still slightly warm, and drizzle some caramel syrup on top of individual servings.  Bread pudding is excellent saved in the refrigerator and re-warmed the next day (and the day after that) too!
Caramel Apple Bagel Bread Pudding
Yield:
8 servings
Prep Time: 35 minutes
Cook Time: 1 hour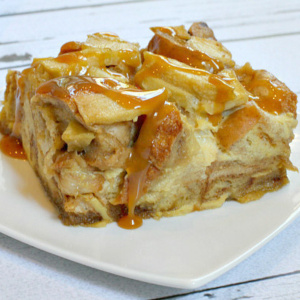 Ingredients:

One 1-pound bag of Thomas' Cinnamon Raisin Bagels

4 tablespoons (1/2 stick) unsalted butter

1 cup packed dark brown sugar
3 large Granny Smith apples, peeled and sliced
6 large eggs
1 quart (4 cups) half-and-half
½ cup granulated white sugar
2 tablespoons vanilla extract
½ teaspoon salt
jarred caramel sauce, warmed

Instructions:

Spray a 9x13-inch dish with nonstick spray.

 

Slice the bagels into small chunks and scatter on the bottom of the pan.
In a large skillet, melt the butter over medium heat, and add the brown sugar.

 

Stir until the butter and sugar are bubbling—continue to stir and cook for an additional 2 minutes.

 

Add the apples and continue to stir until apples are well-coated with the caramel mixture.

 

Cook and stir for an additional 2 minutes.

 

Spoon the apples on top of the bagel pieces in the pan.

 

Scrape the sugary juices evenly on top.
In a large bowl, whisk together the eggs, half-and-half, sugar, vanilla and salt until the sugar is dissolved.

 

Pour over the bagel/apple mixture in the pan.

 

Cover the pan loosely with plastic wrap, and place another pan on top to submerge the bagels in the liquid.

 

Let sit at room temperature for 30 minutes.
Preheat the oven to 350 degrees F.

 

Make sure there is a rack in the middle and another rack

 

on the bottom of the oven.

 

Place a rimmed baking sheet lined with foil on the bottom rack (this will catch any potential drips).

 

Remove the plastic wrap, cover the bread pudding with foil, and bake for 45 minutes.

 

Remove the foil and bake for an additional 15 minutes.

 

Let cool for at least a few minutes before servings.

 

Serve slices warm with a drizzle of caramel sauce.
SOURCE:  RecipeGirl.com
Here are a few more bread pudding recipes you might enjoy:
Disclosure:  I am working with Thomas' English Muffins and Bagels to create recipes using their products.  I love to work with brands that I use in my kitchen every day, and this is one of them!  Thank you for helping me to support great products.