We decided to invite friends for brunch last weekend.  And the most important part of our brunch was the dessert, of course:  Caramel Apple Cheesecake Cake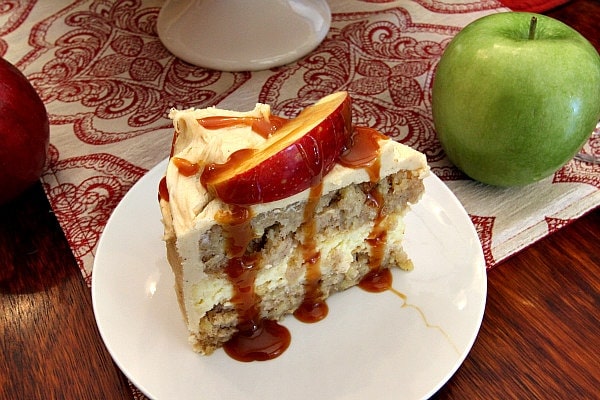 I wanted to create something with an autumn vibe.  And since I haven't created a new flavor of cheesecake cake for such a long time (my readers have been requesting a new one!), it was time to make that happen.  This dessert has two layers of a moist and delicious apple cake with a complete layer of cheesecake tucked in between.  The whole thing is covered with caramel frosting to create the "caramel apple" theme.  It's a must-make dessert for an autumn brunch or a holiday meal.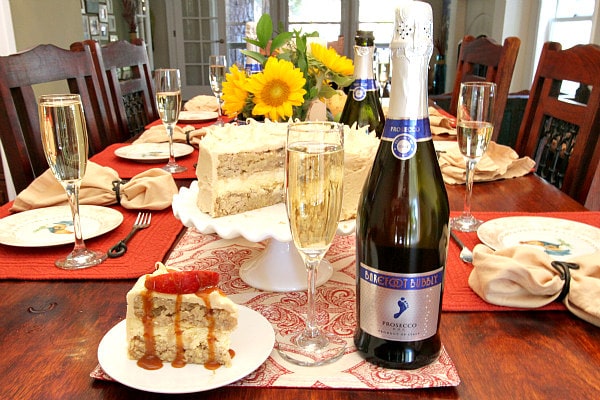 Barefoot Wine and Bubbly contacted me and asked if I could create a brunch item that would pair well with their Bubbly Prosecco.  I adore Prosecco, so I happily accepted the task.  This cake is special enough to be celebrated with Bubbly.  Bites of caramel apple cheesecake cake mixed with sips of Barefoot Bubbly Prosecco (with hints of pear, apple and peach flavors) is a good match indeed!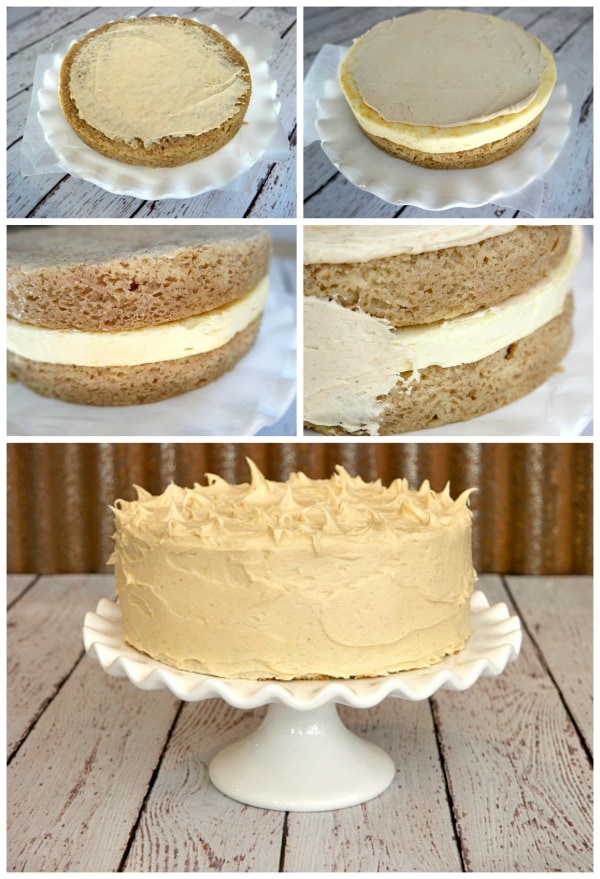 Here's how you assemble the cake:  one layer of cake is placed on your serving piece with a tiny bit of frosting spread on top (that frosting is going to be the "glue" to attach the next layer and keep it in place).  Cheesecake is placed on next.  In the instructions below, I show you how to "freeze" the cheesecake so that it is super easy to manipulate in the assembly (again… a little frosting on top of the cheesecake).  The next layer of cake goes on top.  And then you're ready to frost the whole thing with a generous layer of caramel frosting.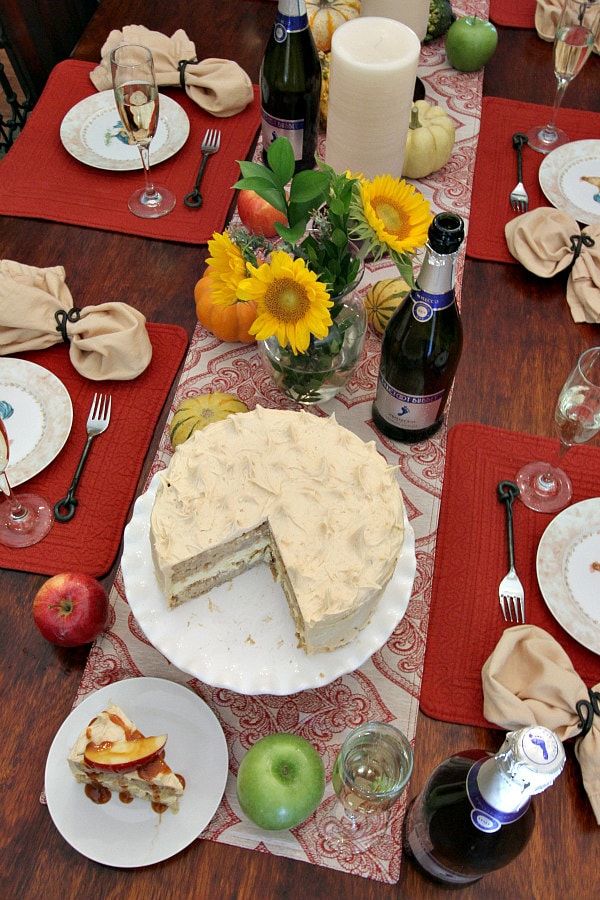 Here's a shot of my brunch dessert table.  Small decorative pumpkins, squash and apples– along with some pretty sunflowers complete the look of a festive and happy decor for Sunday brunch.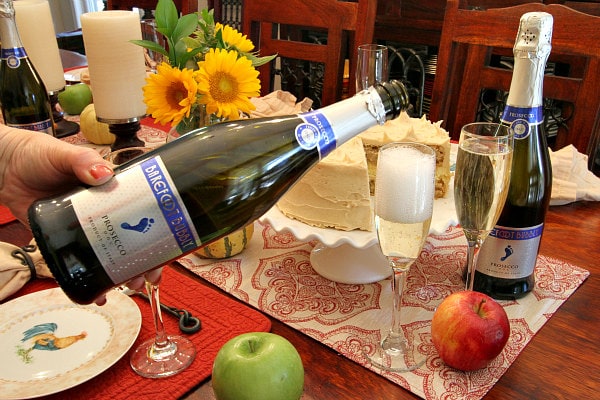 I must admit that the Barefoot Bubbly was a welcome surprise for my guests.  Bubbles create an atmosphere of celebration.  In this case, celebrating friends and cake was enough.  I have always been a fan of Prosecco (an Italian sparkling wine), and the Barefoot brand is delicious and affordable.  Hint:  it's great with a little orange or cranberry juice too!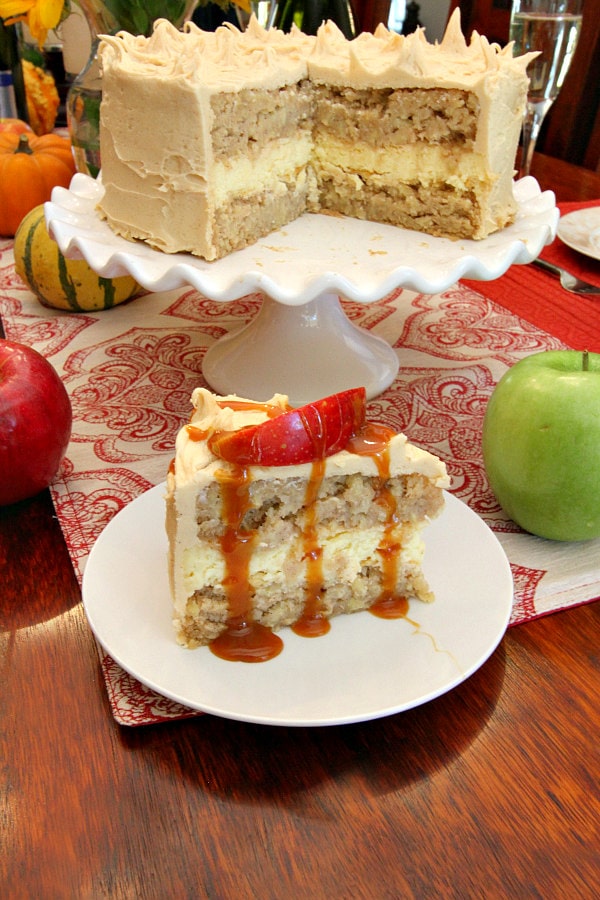 This new flavor of cheesecake cake created for the fall season is going to be perfect for any fall celebration.  The apple cake stays very tender and moist with the apple mixed into the cake… and cheesecake lovers will enjoy the extra dessert hidden in the middle.  The slice of apple on individual servings just gives everyone a hint as to the flavor of the cake.  The caramel drizzle puts it over the top!
Caramel Apple Cheesecake Cake
Yield:
10 to 12 servings
Prep Time: 45 minutes
Cook Time: 1 hour, 15 minutes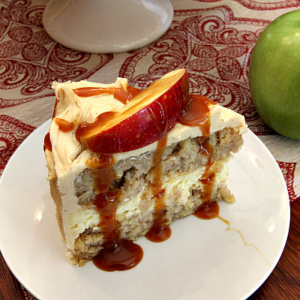 Ingredients:

Cheesecake:

Two (8-ounce) packages cream cheese, at room temperature
2/3 cup granulated white sugar
pinch of salt
2 large eggs
1/3 cup sour cream
1/3 cup heavy whipping cream
1 teaspoon vanilla extract

Cake:

2 cups all-purpose flour
2 cups packed brown sugar
2 teaspoons baking soda
2 teaspoons ground cinnamon
1/2 teaspoon baking powder
1/2 teaspoon salt
2 large eggs
1/2 cup (1 stick) butter, melted and slightly cooled
1 teaspoon vanilla extract
3 cups shredded peeled Granny Smith apples

Frosting:

1 cup (2 sticks) butter, at room temperature
5 cups powdered sugar
1/3 cup jarred caramel
1/2 teaspoon ground cinnamon
2 tablespoons heavy whipping cream
pinch of salt

Topping:

apple sliced
jarred caramel

Instructions:

Prepare the cheesecake layer: Preheat oven to 325 degrees F. Spray a 9-inch springform pan with nonstick spray.  In a large bowl, use an electric mixer to mix the cream cheese- blend until it is nice and smooth and creamy. Mix in sugar and salt and blend for 2 minutes, scraping down sides of the bowl as needed. Add eggs, one at a time, blending after each addition. Finally, mix in sour cream, whipping cream and vanilla. Mix until smooth. Pour the batter into the prepared pan. Bake the cheesecake for about 40 to 45 minutes. It should be set to the touch and not jiggly. Remove the cheesecake from the oven and let it cool on a wire rack for at least an hour. When it has cooled, place the pan into the freezer and let the cheesecake freeze completely. This can be done in several hours- or overnight.
Prepare the cake:  Preheat the oven to 350 degrees F.  Spray two 9-inch round cake pans with nonstick spray, line with a round of parchment and spray again.  In a medium bowl, whisk together the flour, sugar, baking soda, cinnamon, baking powder and salt.  In a large bowl, beat together the eggs, butter and vanilla.  Add the dry ingredients to the bowl and mix until well combined.  Stir in the shredded apples.  Bake 35 to 40 minutes, or until a toothpick inserted into the center comes out fairly clean.  Let the cake cool for at least 20 minutes, then turn out onto racks to cool completely.  Peel off the parchment paper and discard.
Prepare frosting:  In a large bowl, use an electric mixer to cream the butter.  Mix in the powdered sugar- a little at a time.  Add the caramel and the cinnamon and continue to mix until well combined.  Add the cream and mix until nice and creamy.
Assemble the cake: Place one cake layer into the center of a cake plate or platter. Spread it with a small amount of frosting (it will act as a sort of glue to keep the layers from sliding). Remove the cheesecake from the freezer, take off the sides of the pan, and slide a knife under the cheesecake to remove the frozen cheesecake from the pan. Measure your cheesecake layer against the cake layers. If the cheesecake layer turns out to be a slightly larger round than your cake, move it to a cutting board and gently shave off some of the exterior of the cheesecake to get it to the same size as your cake layers. Place the cheesecake layer on top of the first cake layer. Again, cover the cheesecake with a small amount of frosting. Place the 2nd cake layer on top of the cheesecake. To frost, start by adding a large scoop of frosting onto the top of the cake. Use a long, thin spatula to spread the frosting evenly across the top and then spread it down the sides of the cake too. Continue to spread over the top and spread down the sides until the cake is completely covered. Decorate, as desired. Keep this cake refrigerated.  Top individual servings with a slice of apple and a drizzle of caramel.

Nutrition:

This cake might seem like an arduous task, but you can most certainly do most of it one day and finish it up the next.  Bake the cake one day, let the layers cool completely, wrap them each in plastic wrap and then assemble and frost the next day. It should stay nice and moist.
It's important to line the cake pans with parchment paper- it will make the cakes come out of the pans easily, with no chunks left behind.
I highly recommend bake even cake strips- simply wrap them around the cake pan and they allow your cake to rise e-v-e-n-l-y!
SOURCE:  RecipeGirl.com
Here are a few more cheesecake cakes you might enjoy:
Disclosure:  This post is sponsored by Barefoot Wine and Bubbly.  I only support products that I already use in my kitchen.  Thank you for supporting companies that I choose to partner with.  This allows me to continue creating recipes and content that is creative and new.  All opinions shared are my own.