These have always been my son's favorite cookies, and I love that there's some whole wheat lurking inside: Honey Peanut Butter Chocolate Chunk Cookies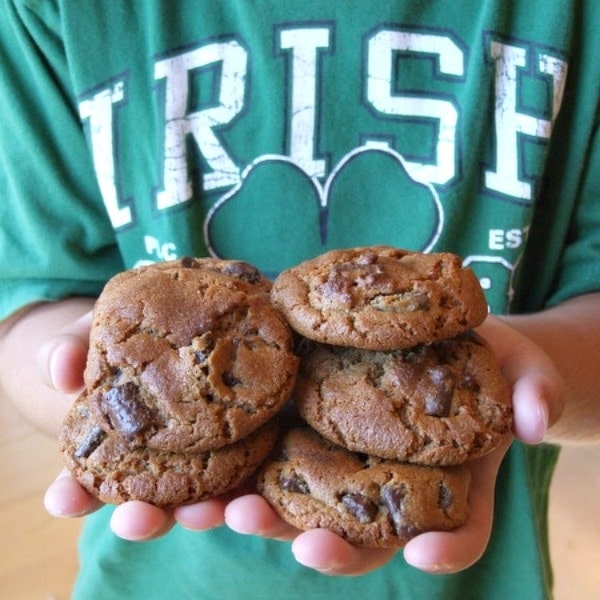 Honey Peanut Butter Chocolate Chunk Cookies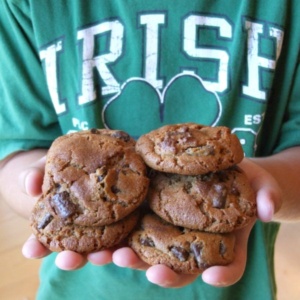 Yield:
About 25 cookies
Prep Time: 20 minutes + chill time
Cook Time: 10 minutes
Ingredients:
3/4 cup all purpose flour
3/4 cup whole wheat pastry flour
1/3 cup old-fashioned oats, whirled in a blender a few times to create more of an oat flour
1 teaspoon baking soda
1/4 teaspoon salt
1 cup natural smooth peanut butter
1 cup (packed) golden brown sugar
1/2 cup (1 stick) unsalted butter, at room temperature
1/4 cup honey
1 large egg
1 teaspoon pure vanilla extract
5 ounces semisweet chocolate, coarsely chopped (or use Nestle's Chocolate Chunks)
Directions:
In a medium bowl, whisk together the flours, oats, soda and salt; set aside.
In a large bowl, use an electric mixer to combine the peanut butter, brown sugar, butter, honey, egg and vanilla until well blended.
Stir half of the dry mixture into the peanut butter mixture. Add the second half and stir until all is well-blended. Stir in the chocolate.
Cover with plastic wrap and refrigerate until dough is firm and no longer sticky, about 30 minutes.
Preheat oven to 350°F. Butter 2 large baking sheets (or line with parchment paper).
With your hands, roll 1 heaping tablespoonful of dough for each cookie into 1 3/4-inch-diameter ball. Arrange cookies on prepared baking sheets, spacing 2 1/2-inches apart. Bake cookies until puffed, beginning to brown on top and still very soft to touch, about 10 to 12 minutes. Watch closely because they will burn if baked too long. Cool cookies on baking sheets for 5 minutes. Using a metal spatula, transfer the cookies to a rack to cool completely.
Nutrition:
*These cookies can be made 2 days ahead of intended serving time. Store in airtight container at room temperature.
SOURCE:  RecipeGirl.com (adapted from Bon Appetit)