Great Grandma's Peanut Butter Cookies are the best peanut butter cookies! They are slightly crunchy and flaky peanut butter cookies. The texture is perfect!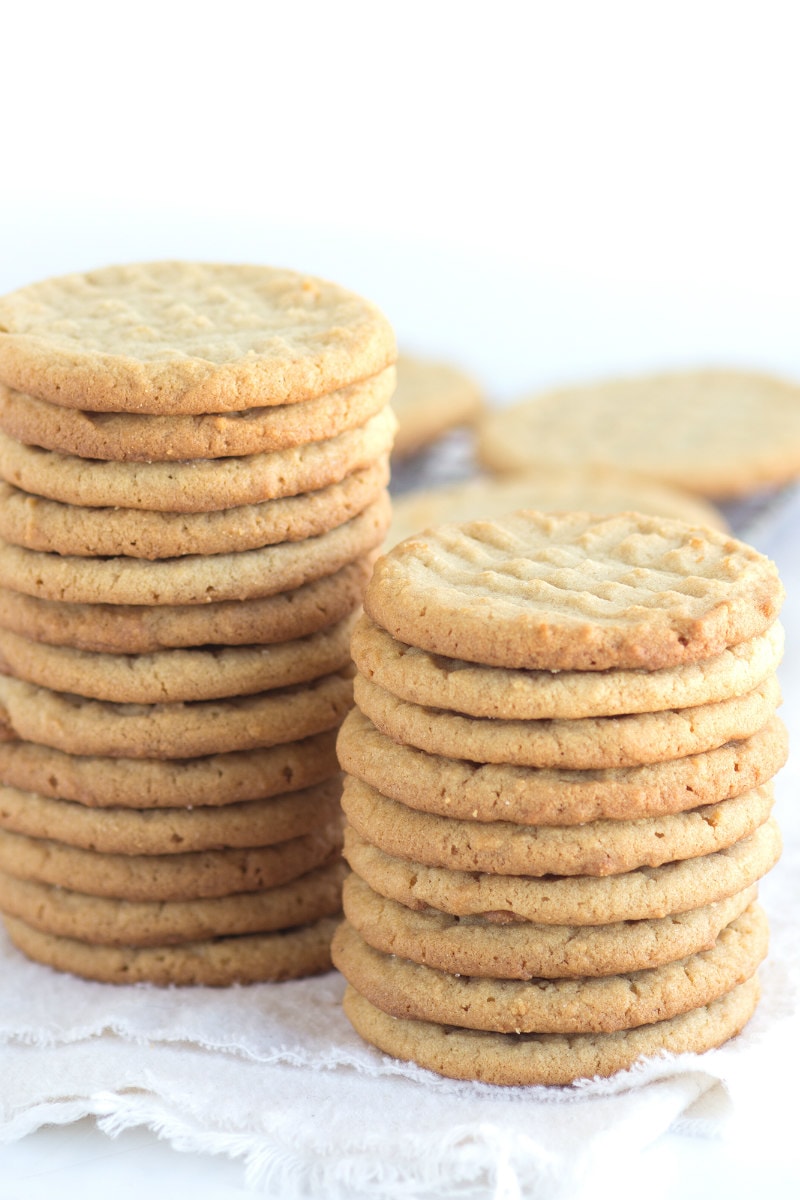 Peanut Butter Cookies started to become an American favorite in the early 1900's. You can bet that there were quite a few versions of how to make peanut butter cookies circulating at the time. Over the years, people have embraced peanut butter as a delicious cookie ingredient by making all kinds of interesting peanut butter cookie creations.
My great grandmother made the best peanut butter cookies. I'm sure she grabbed her recipe from a friend or relative, or perhaps it was shared in a community cookbook. Great Grandma's Peanut Butter Cookies are made with butter (not shortening), which adds a little softness to the slight crunch of the cookie. After you take a bite, you'll notice the flaky texture as it crumbles apart in your mouth.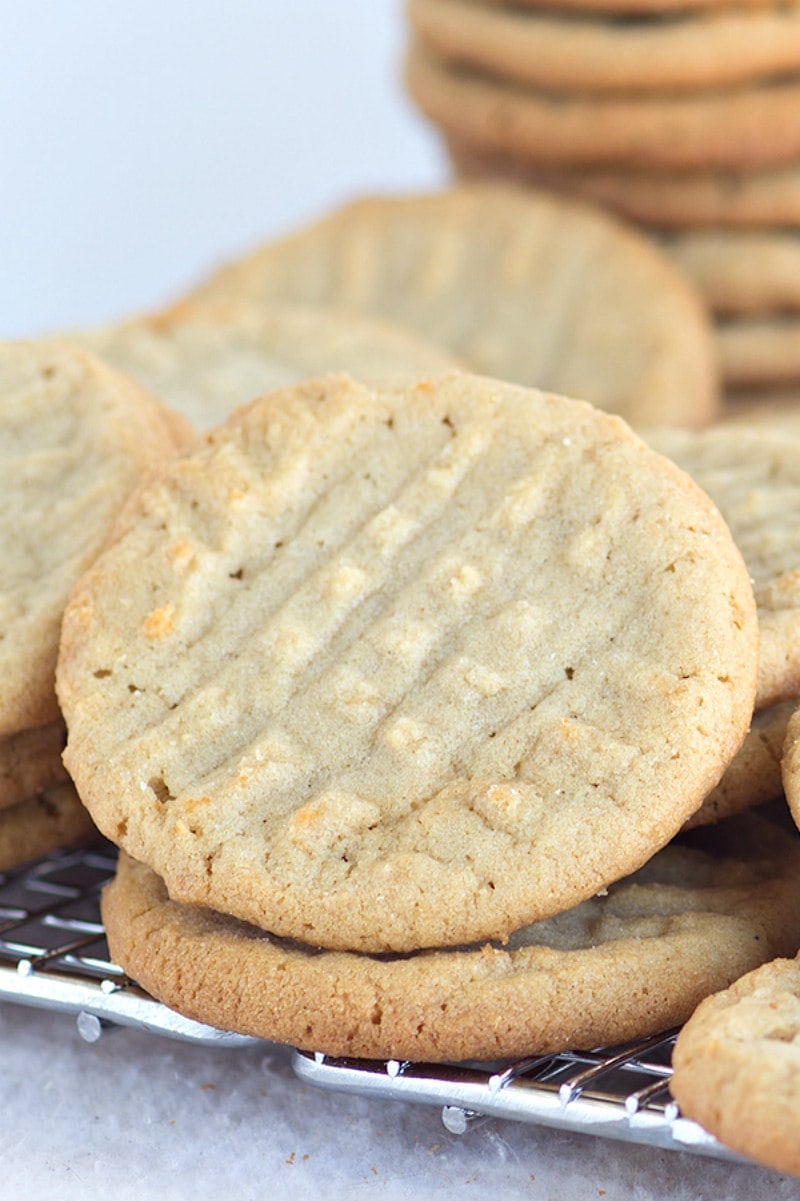 Lucky you that I'm sharing my Great Grandma's Peanut Butter Cookies recipe with the world! You know that those treasured recipes from grandmothers are the absolute best, right? Seriously, save all of your hand-written recipe cards from Mom and Grandma. You'll be so glad you did!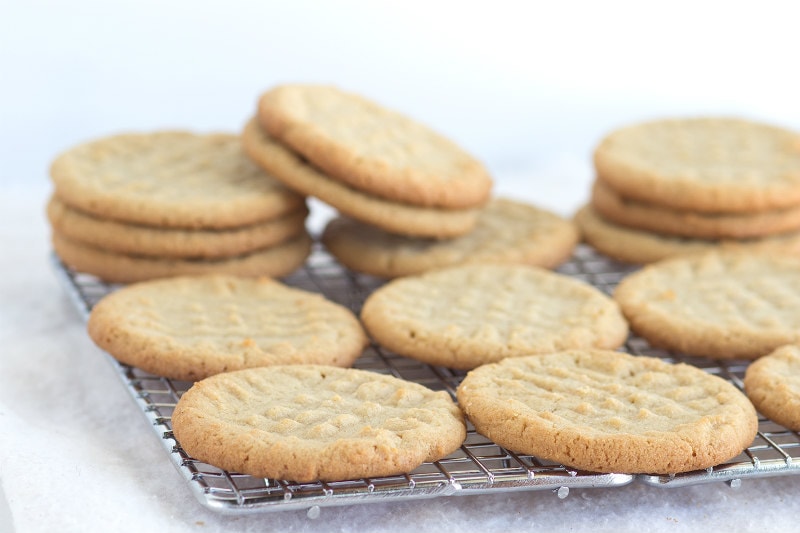 Peanut Butter Cookie questions you might have:
Why are my peanut butter cookies dry?
If you end up with crispy, crumbly cookies, there are a few reasons why that might have happened. Too much flour can cause a crumbly cookie. So perhaps you made a mistake in measuring? Don't try to use a butter substitute. Butter substitutes and margarine contain water and can actually cause crumbly texture since they lack the fat to coat all of the flour. And finally: overbaking can also cause a crumbly cookie. Watch the cookies closely, and take them out when they're done. Some ovens run hotter than others, so yours may bake them more quickly than the time suggested.
Why do you fork peanut butter cookies?
Peanut butter cookie recipes usually ask you to use a sugared fork to criss cross the dough after you put it on the baking sheet. Why do you have to do this?? Peanut butter cookie dough is denser than other types of cookie dough, which in turn makes it harder to bake through. Putting the criss-cross fork marks in the cookie dough balls actually flattens them for more even baking. When the cookies bake, they should come out soft with crispy edges where the hash marks have been formed.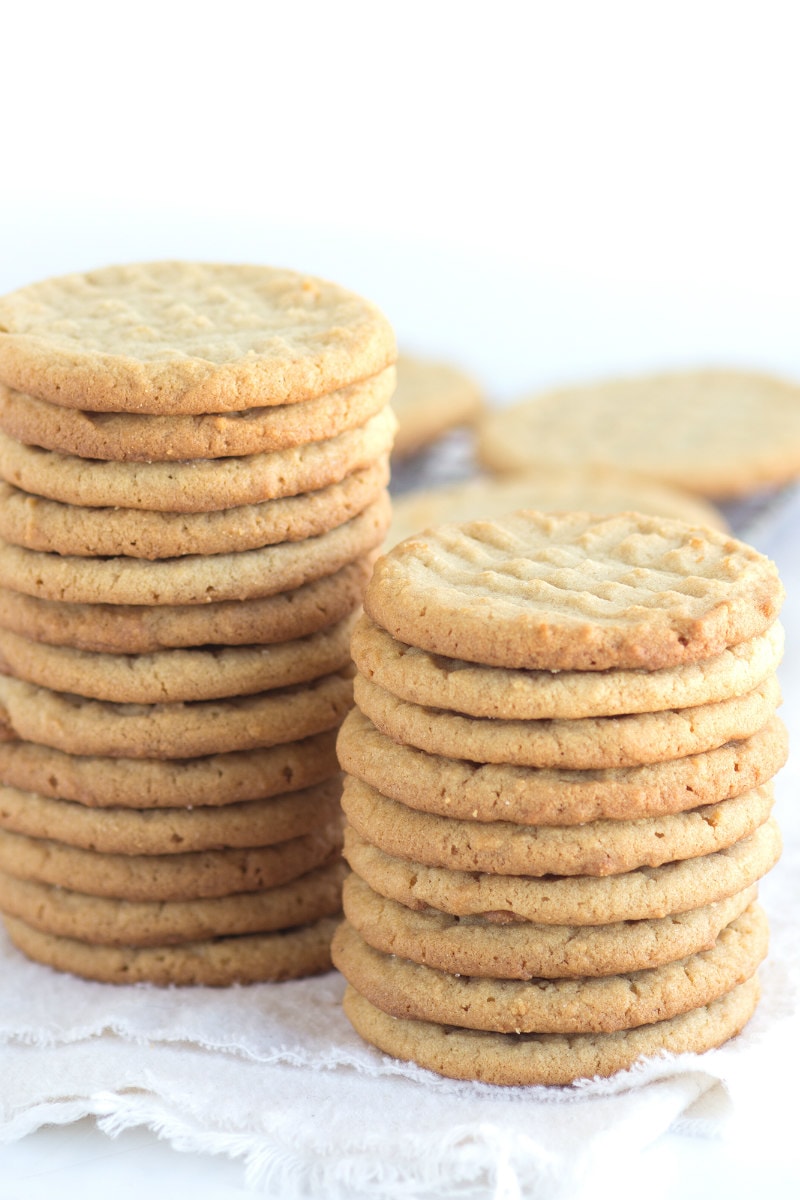 This recipe makes a huge batch, but with cookies that addicting… it's a good thing! Grandma's always make the best recipes. These are simply the best peanut butter cookies! They turn out to be thin, chewy and slightly crispy. Perfect!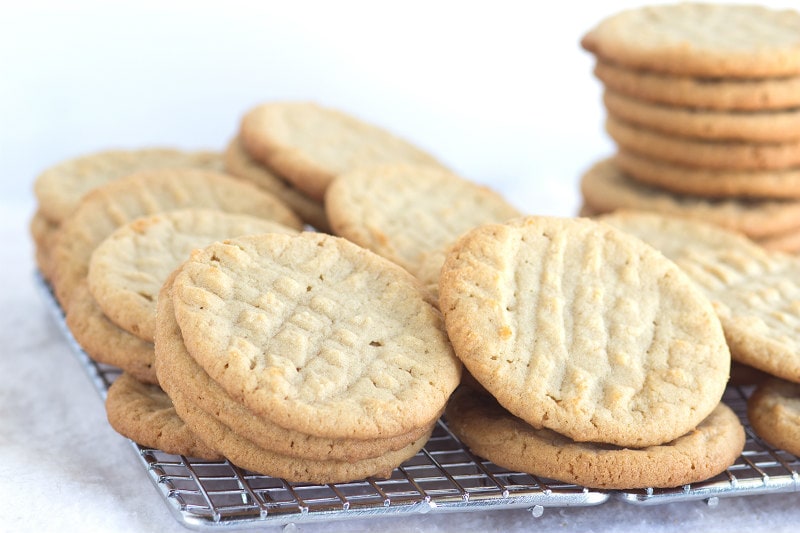 Here are a few more peanut butter cookie recipes you might like to try:
Great Grandma's Peanut Butter Cookies
A delicious peanut butter cookie recipe from Grandma!
Recipe Details
Ingredients
1

cup (2 sticks)

butter,

at room temperature

2

large

eggs,

beaten

1

teaspoon

milk

1

teaspoon

vanilla extract

1

cup

peanut butter

(smooth or chunky)

1

cup

packed light brown sugar

1

cup

granulated white sugar

2

cups

all purpose flour

1

teaspoon

baking soda

1/2

teaspoon

salt
Instructions
Preheat the oven to 350 degrees F. Line cookie sheets with parchment paper or spray with nonstick spray.

In a large bowl, use an electric mixer to combine the butter, eggs, milk and vanilla. Add the peanut butter and sugars to the egg mixture. Mix well- the mixture will be a little weird until the dry ingredients are added!

Sift the flour, soda and salt into a medium bowl. Gradually mix in to the wet mixture.

Drop by small teaspoonfuls onto foiled or lightly greased cookie pans (or use parchment paper). Press down lightly with sugared fork (crisscross to make design).

Bake for 10 to 12 minutes, or until cookies are set and no longer gooey. Cool well before storing in a covered container.
Notes
Don't use natural peanut butter for this recipe. It just won't turn out the best. Creamy peanut butter vs. crunchy peanut butter is entirely your preference.
Using a sugared fork will ensure that the fork will not stick to the dough.
Nutrition
Serving:
1
cookie
,
Calories:
97
kcal
,
Carbohydrates:
10
g
,
Protein:
1
g
,
Fat:
5
g
,
Saturated Fat:
2
g
,
Cholesterol:
15
mg
,
Sodium:
88
mg
,
Potassium:
40
mg
,
Sugar:
7
g
,
Vitamin A:
105
IU
,
Calcium:
7
mg
,
Iron:
0.3
mg