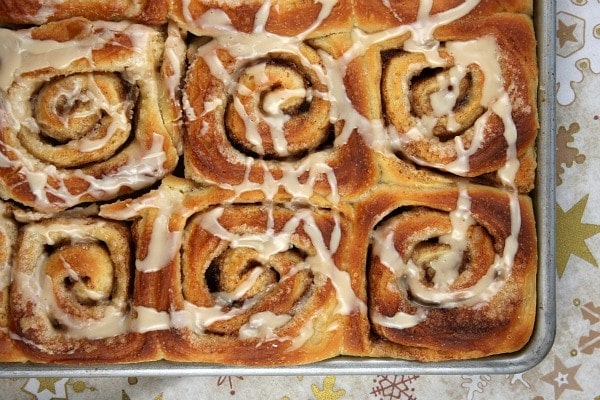 Grandma Billie's Cinnamon Rolls
Grandma Billie used to make these cinnamon rolls whenever we came to visit, but I especially remember eating them on Christmas morning.
Yield:
24 rolls
Prep Time: 45 min + rising time
Cook Time: 25 min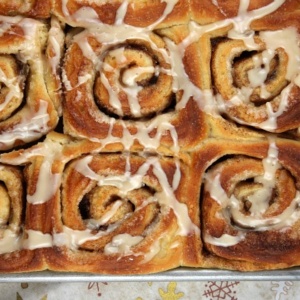 Ingredients:

DOUGH:
1/2 cup shortening
1 cup milk
1 (.25 ounce) package active dry yeast
1/2 cup warm water (105 to 110 degrees F)
3 large eggs
1/2 cup granulated sugar
1 teaspoon salt
5 to 6 cups all-purpose flour

FILLING:
3/4 cup butter (1 1/2 sticks), softened
granulated white sugar
light brown sugar
Ground cinnamon

GLAZE:
1 cup powdered sugar, sifted
1 to 2 Tablespoons milk
1/2 teaspoon vanilla extract

Instructions:

1. In a small saucepan, heat shortening and milk until shortening is melted. Remove from heat and let sit at room temperature for about 30 minutes, or cooled off to lukewarm.

2. Dissolve yeast in warm water and set aside until yeast bubbles in the water.

3. In the bowl of a stand mixer, beat together eggs, 1/2 cup sugar and salt until mixture is foamy. Mix in shortening/milk and yeast mixture.

4. Change to a dough hook and add flour 1 cup at a time (5 cups) until the flour is incorporated, stopping to scrape down sides as needed. The dough should come together in a ball and begin to lift from the bottom of the bowl. Add more flour a little as a time, as needed, until a ball of dough is formed and the dough is no longer sticky. Let the dough hook knead the dough for about 5 minutes.

5. Spray a medium bowl with nonstick spray. Scrape the dough into the bowl and turn it to coat all sides with the oil. Cover it with a clean dishtowel and set it in a warm place to rise for 1 to 2 hours, or until dough is nearly doubled.

6. Punch down risen dough and remove it to a well-floured surface. Roll out the dough into a large rectangle- about 1/4 to 1/2-inch thick- long side should be facing you (adding flour, as needed, to prevent the dough from sticking to the surface). Spread with softened butter. Sprinkle generously with a layer of white sugar followed by a layer of brown sugar and a good dose of ground cinnamon.

7. Beginning with the long side closest to you, begin rolling the dough over the filling until you've created one big log of rolled dough. Trim the end and then use a sharp knife to begin slicing 1-inch cuts of cinnamon roll. Carefully remove the cut rolls to an oiled pan.

8. Instructions for baking these later: Cover pans with plastic wrap and keep them in the refrigerator up to one day. When you're ready to bake, take them out of the fridge, remove the plastic wrap and cover them with a clean dishtowel. Put them in a warm place to rise- until they're about doubled in size. If you'd like to have these first thing in the morning, you can put them in a cold oven (turn on the light, but not the heat) and leave them overnight. They should be risen and ready to bake in the AM. Continue to step 10.

9. Instructions for baking these now: Cover pans with a clean dishtowel and put them in a warm place to rise (1 to 2 hours)- until they're about doubled in size.

10. Preheat oven to 350 degrees F. Remove dishtowel and bake cinnamon rolls 15 to 20 minutes, just until golden. Remove from oven and let cool for a few minutes.

11. Whisk together glaze ingredients, adding enough milk to create drizzling consistency. Drizzle over warm rolls and serve immediately.

Tips:

*The temperature of the water to mix with the yeast is important. If it's too hot, it might kill the yeast. Watch for the yeast to bubble- if it doesn't bubble, your yeast is likely no longer active & you should try a new packet.
*If you don't have a stand mixer, use a regular hand mixer through step 3. Then stir in the flour a cup at a time (5 cups) until it's incorporated; transfer dough to a floured surface and continue to work the dough, kneading it for 5 to 8 minutes, continuing to add flour, as needed, until the dough comes together to form a ball and is no longer sticky. Then continue w/ step 5.
*I like to use two 1/4-sheet pans (12 rolls in each) to bake these. Use any rimmed baking sheets or two 9x12 pans.