Here's a beautiful loaf of yeasted bread to make from scratch: Rich Egg and Butter Bread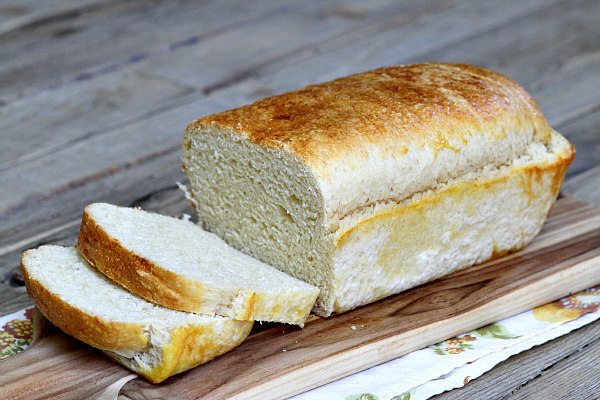 If I had to name a food that my family is particularly attached to, I'd probably say it was bread. Not just any bread… but freshly baked, awesome bread. It's tough to resist eating half a loaf of something like that all in one sitting. This bread dough is infused with butter- a whole stick of butter. It's lightly sweetened, but the essence of the baked loaf is buttery and the added egg helps with the rich flavor too.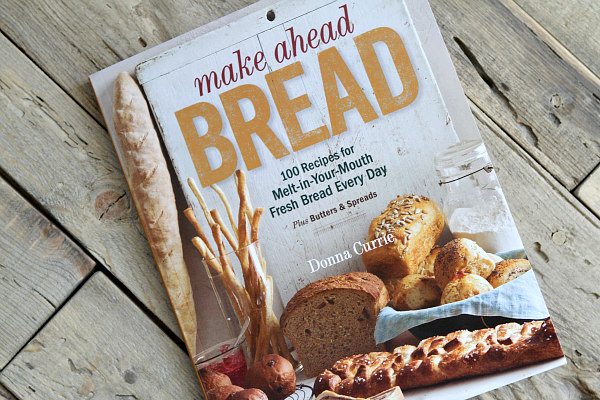 This recipe come from a cookbook by Donna Currie: Make Ahead Bread: 100 Recipes for Melt-in-Your-Mouth Fresh Bread Every Day (Taunton Press- copyright 2014). This book is focused on teaching the home cook how to make all sorts of flavorful yeast breads using an easy 2-step process of mixing, kneading and chilling on day one and baking on day 2. Here are a few recipes that I've bookmarked to make: Rustic Sourdough Bread, Oatmeal- Honey Date Loaf, Savory Monkey Bread, Blueberry and Cream Cheese Buns with Lemon Zest, Cinnamon Swirl Bread, Gluten Free Dinner Rolls, Honey Potato Buns, Sourdough English Muffins, Nutella Swirl Rolls, Whole Wheat Pita Bread, Whole Wheat and Parmesan Pizza Crust and Chocolate Croissants. There are a few recipes at the end of the book that call for leftovers of the bread recipes that are made in the book… and also a few recipes for butters and spreads. It's a great book to add to your cookbook collection if you've been wanting to bake more bread from scratch.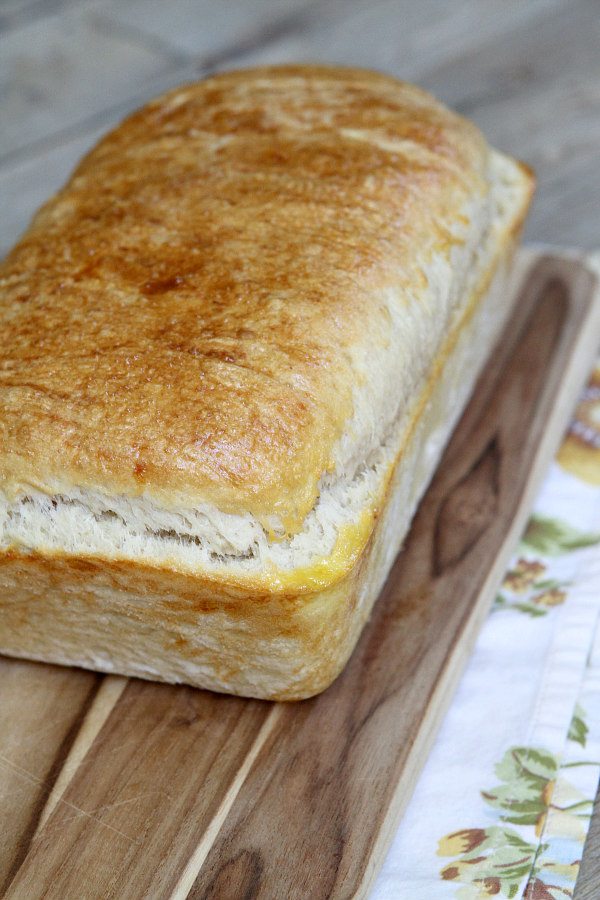 It's important to note that I'm not much of a bread baker. Sure, I bake banana bread and other quick breads quite often… but yeast breads aren't something I make every week. I'm perfectly capable of making yeast breads, so I have no excuse to offer. And every time I make a loaf like this, I'm perfectly pleased with the result. As it turns out, they are never as difficult to make as you think they are.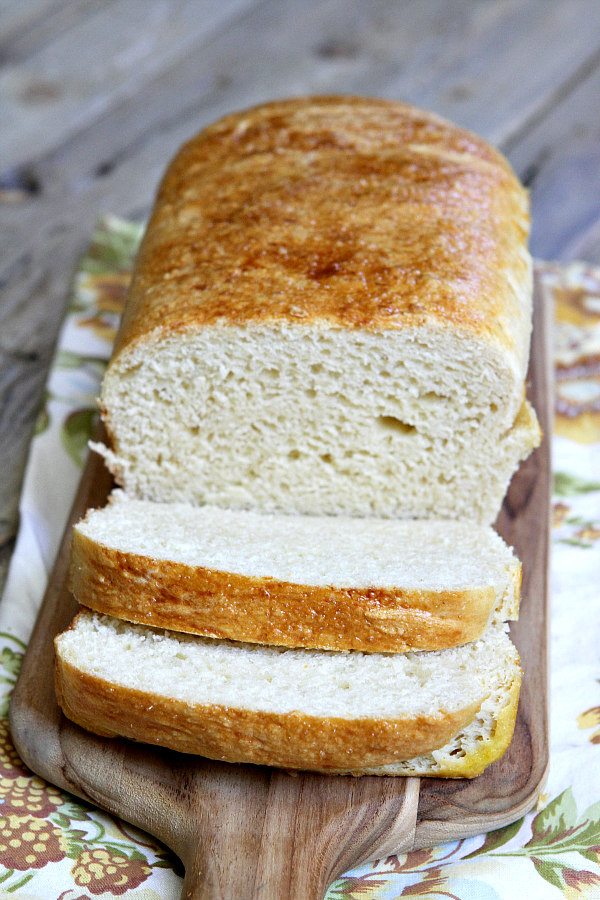 This recipe is most easily made in a stand mixer because the butter really needs to be incorporated well into the dough (doing that by hand might be a jolly mess). The way the recipe works: prep, rising and refrigeration overnight… then bake the next day. Baking happened this morning for my loaf, and my family enjoyed toasted slices topped with a little bit of jam. I sent my son off to school today with a peanut butter + jelly sandwich made with this Egg and Butter Loaf too. We were all pleasantly surprised with this beautiful loaf of bread. It's a great recipe!
Rich Egg and Butter Bread
Make this bread one day, let it rise overnight, and bake the next day!
Recipe Details
Ingredients
3

cups (13.5 ounces)

bread flour,

plus more as needed

2½

teaspoons

active dry yeast

½

cup

room temperature water

¼

cup

heavy whipping cream

2

large

eggs

1

tablespoon

granulated white sugar

1

teaspoon

kosher salt

8

tablespoons (1 stick)

unsalted butter,

at room temperature

nonstick baking spray

egg wash

(1 egg whisked with 1 tablespoon water)
Instructions
DAY ONE (PREP DAY)
In a stand mixer with a dough hook, combine the flour, yeast, water, cream, eggs and sugar; knead until the dough is smooth.

While the mixer is running, add the salt and butter, 1 tablespoon at a time, kneading until the butter is incorporated each time. The dough will be sticky until the butter is fully incorporated.

Cover the bowl with plastic wrap and let the dough rise until it has doubled in size, about an hour in a warm room. Meanwhile, spray a 9x5 inch loaf pan with baking spray.

Turn the dough onto a lightly floured surface and pat it into a rough 8 inch square. Fold the top half to about the middle of the dough and press the edge down to secure it. Fold the top over again, this time to within about an inch or so of the bottom. Press the edge to seal. Now pull the bottom of the dough up to meet the dough roll you've created and seal the seam. Pinch the ends closed and place the dough, seam-side-down, in the prepared loaf pan. Cover the pan with plastic wrap; refrigerate overnight or up to 24 hours before baking. The dough should be fully risen after about 6 hours, but a longer rest is good for it.
DAY TWO (BAKING)
Take the pan out of the refrigerator and preheat the oven to 350 degrees F. Remove the plastic wrap and brush the top of the bread with egg wash.

Bake the bread until it is richly browned and the internal temperature reaches 190 degrees F. on an instant-read thermometer, about 50 minutes. Remove the bread from the pan and cool completely on a rack before slicing.
Notes
Because of the large amount of butter in this bread, it needs to be added at the end of kneading or it would be difficult for the gluten to form properly. Adding butter to dough when you're kneading by hand is messy. It can be done, but I highly recommend using a stand mixer to do the work for you.
Nutrition
Serving:
1
serving
,
Calories:
3935
kcal
,
Carbohydrates:
542
g
,
Protein:
116
g
,
Fat:
143
g
,
Saturated Fat:
80
g
,
Polyunsaturated Fat:
12
g
,
Monounsaturated Fat:
37
g
,
Trans Fat:
4
g
,
Cholesterol:
787
mg
,
Sodium:
2562
mg
,
Potassium:
1254
mg
,
Fiber:
25
g
,
Sugar:
16
g
,
Vitamin A:
4520
IU
,
Vitamin C:
0.4
mg
,
Calcium:
255
mg
,
Iron:
9
mg
Here are a few more bread recipes you might enjoy: