Spicy Hummus- Avocado Dip
Spicy Hummus- Avocado Dip
Yield: About 4 cups Prep Time: 10 minutes
I was a little hesitant to use *hot* sauce in this dip, but the hummus and avocados cool it off and it was not super spicy. This dip was a HUGE hit at a tailgate party- first thing gobbled up in a sea of food!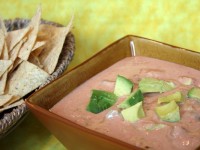 Ingredients:
10 ounces of prepared hummus
16 ounces of *hot* Pace Picante Sauce, or other sauce/salsa
2 medium, ripe avocados, diced
tortilla chips for dipping
Directions:
In a medium bowl, mix hummus, hot sauce and avocados. Refrigerate until ready to serve. Serve with tortilla chips.
Source: Adapted slightly from Tailgating Ideas.com
4 Responses to "Spicy Hummus- Avocado Dip"
Leave a Comment