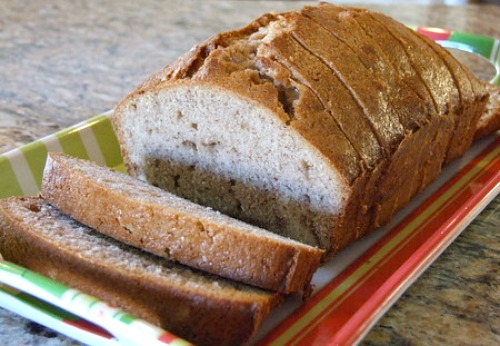 Yield: 1 loaf
Prep Time: 25 min
Cook Time: 45 min
Cinnamon Swirl Bread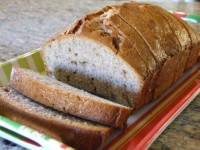 Ingredients:
CINNAMON SWIRL:
1/3 cup granulated white sugar
1/2 cup finely chopped pecans or walnuts, toasted
2 teaspoons ground cinnamon
BREAD:
1 cup granulated white sugar
2 cups all-purpose flour
1 teaspoon baking powder
1/2 teaspoon salt
1 large egg
1 cup milk
1/3 cup vegetable or canola oil
Directions:
1. Preheat oven to 350°F. Grease and flour 9x5x3-inch loaf pan.
2. In a small bowl, combine swirl ingredients; set aside.
3. Prepare bread: In a large bowl, whisk together sugar, flour, baking powder and salt. Make a well in the center of the flour mixture; set aside.
4. In a separate bowl, beat egg with a fork; stir in milk and oil. Add egg mixture to flour mixture. Stir just until moistened- batter will be lumpy.
5. Pour half of the batter into prepared pan. Sprinkle with half of the cinnamon mixture. Pour remaining batter on top and sprinkle again with remaining cinnamon mixture. Use a knife to dip into the batter and swirl it around in a circlular motion.
6. Bake 45 to 50 minutes or until a toothpick inserted in the middle comes out clean.
7. Cool pan on rack for 10 minutes, then remove loaf to wire rack to cool completely. Wrap and store bread overnight before slicing for best flavor.
Leave a Comment