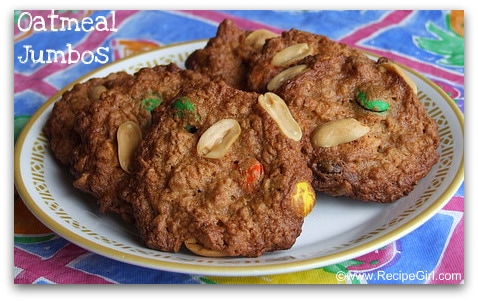 OATMEAL JUMBOS
www.RecipeGirl.com
1 cup smooth peanut butter
1/2 cup butter, softened
1 1/2 cups brown sugar, packed
1/2 cup granulated white sugar
1 1/2 tsp baking powder
1/2 tsp baking soda
3 large eggs
2 tsp vanilla extract
4 cups quick-cooking rolled oats
3/4 cup chopped peanuts
1 1/2 cups M & M's
additional M&M's and peanuts (optional)
1. Preheat oven to 350°F.
2. In a large bowl, with an electric mixer, beat peanut butter and butter together on medium speed until smooth (about 30 seconds). Add the sugars, baking powder and baking soda; beat until combined. Beat in eggs and vanilla until combined. Stir in the oats, peanuts and M&M's.
3. Place rounded heaping Tablespoons of dough onto ungreased cookie sheet, leaving a couple of inches in between cookies.
4. Bake 13 to 16 minutes or until edges are lightly browned. If you've made smaller cookies, check them after about 10 minutes.
5. Cool on cookie sheet for 2 minutes, and then transfer to a wire rack to cool completely.
Yield: About 3 dozen cookies
Cooking Tips
*If you'd like the cookies to look 'visually' more attractive, stick a few more peanuts and M&M's onto the top of each glob of dough.
Recipe Source: Adapted from Better Homes and Gardens
PRINT THIS RECIPE using your browser's 'print' function. It's automatically formatted to print recipe & picture only.
RATE THIS RECIPE[ratings]