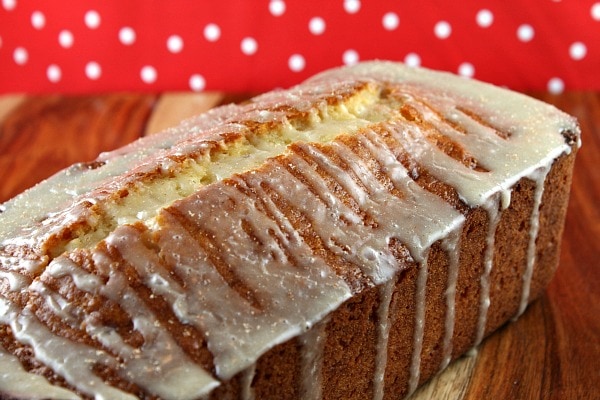 Yield: 1 loaf
Prep Time: 25 min
Cook Time: 45 min
Glazed Eggnog Bread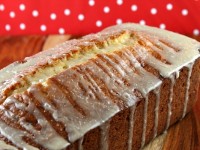 Ingredients:
LOAF:
2 1/4 cups all-purpose flour
2 teaspoons baking powder
1/2 teaspoon salt
1/4 teaspoon freshly grated nutmeg
2 large eggs
1 cup granulated white sugar
1 cup eggnog (low fat is fine)
1/2 cup salted butter, melted
1 teaspoon vanilla (or eggnog extract, if you have it)
1/2 teaspoon rum extract, optional
EGGNOG ICING
1/2 cup powdered sugar
1/4 teaspoon vanilla extract
Dash freshly grated nutmeg
2 to 3 teaspoons eggnog
Directions:
1. Preheat the oven to 350 degrees F. Grease the bottom and 1/2 inch up the sides of a 9-by-5-by-3-inch loaf pan.
2. In a large bowl, whisk together flour, baking powder, salt, and nutmeg. Make a well in the center of the flour mixture and set aside.
3. In a medium bowl, combine the eggs, sugar, eggnog, melted butter, vanilla, and rum extract (if using). Add egg mixture to the flour mixture and stir just until moistened (batter will be lumpy).
4. Spoon batter into the prepared pan. Bake for about 45 to 50 minutes. Check for done-ness by inserting a toothpick into the center of the loaf -- it should come out clean. Cool in the pan on a wire rack for 10 minutes. Remove from pan and cool completely on a rack.
5. Prepare icing: Combine sugar, vanilla, and nutmeg. Stir in enough eggnog to reach drizzling consistency. Drizzle cooled loaf with icing. Grate a little bit of fresh nutmeg over the icing, then let icing set completely before wrapping loaf.
13 Responses to "Eggnog Bread"
Leave a Comment