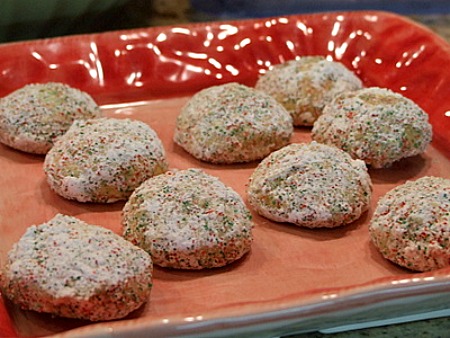 HOLIDAY NUGGETS
www.RecipeGirl.com
2 cups flour
½ tsp salt
¾ cup shortening
¼ cup butter, softened
½ cup powdered sugar, sifted
additional powdered sugar
1 Tbs vanilla extract
1 tsp almond extract
½ cup almonds, chopped finely
1. Preheat oven to 325 degrees F.
2. In medium bowl, or bendable mat, sift the flour and salt.
3. In large bowl, cream shortening, butter and powdered sugar.
4. Blend in extracts and nuts. Add dry ingredients gradually and mix until dough is smooth.
5. Shape dough into small balls, using 1 T. of dough for each cookie. Place on ungreased cookie sheet and flatten slightly.
6. Bake 20-25 minutes.
7. Roll warm cookies in powdered sugar.
Yield: 2-3 dozen
Cooking Tips
*You may need to refrigerate the dough for a little while to get it firm enough to roll into balls.
**These cookies can easily be made into Christmas cookies by adding red and green granulated sugar to the powdered sugar.
Leave a Comment