Peanut Butter- Oatmeal Chocolate Chunk Cookies
Yield: 5 dozen cookies
Prep Time: 30 min + chill time
Cook Time: 13 min
Peanut Butter- Oatmeal Chocolate Chunk Cookies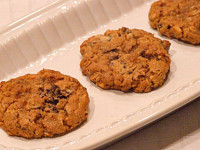 Ingredients:
3 cups old- fashioned oats
1 cup all-purpose flour
1 teaspoon baking soda
2 teaspoons ground cinnamon
1/4 teaspoon freshly grated nutmeg
1/4 teaspoon salt
1 cup (2 sticks) unsalted butter, at room temperature
1 cup peanut butter (chunky or smooth)
1 cup granulated white sugar
1 cup packed light brown sugar
2 large eggs
1 teaspoon vanilla extract
9 ounces bittersweet chocolate, chopped into chunks
Directions:
1. Position racks in oven to divide the oven into thirds. Preheat oven to 350°F. Line two baking sheets with parchment paper or silicone mats.
2. In a medium bowl, whisk together oats, flour, baking soda, spices and salt. Set aside.
3. In a large bowl, beat butter, peanut butter, sugar and brown sugar on medium speed until smooth and creamy. Add the eggs one at a time, beating for 1 minute after each addition, then beat in the vanilla. Reduce mixer speed to low and gradually add dry ingredients, mixing just until blended. Stir in chocolate. If you have time, chill dough for about 2 hours, or for up to 1 day (chilling the dough will give you more evenly shaped cookies.)
4. If the dough is not chilled, drop rounded Tablespoonfuls 2 inches apart onto the baking sheets. If the dough is chilled, scoop up rounded Tablespoons, roll the balls between your palms and place them 2 inches apart on the sheets. Press the chilled balls gently with the heel of your hand until they are about 1/2-inch thick.
5. Bake for 13 to 15 minutes, rotating the sheets from top to bottom and front to back after 7 minutes. The cookies should be golden and just firm around the edges. Lift the cookies onto cooling racks with a wide metal spatula- they'll firm as they cool.
6. Repeat with remaining dough, cooling the baking sheets between batches.
Tips:
*You may also substitute 1 1/2 cups of chocolate chips for the chopped chocolate.
*These cookies will keep at room temperature in an airtight container for about 4 days.
*Wrapped and frozen these cookies will keep for 2 months. You may also freeze the batter in scoops and bake fresh cookies directly from the freezer.
Leave a Comment