This recipe has been featured in a post on The Recipe Girl blog:  Buster Bars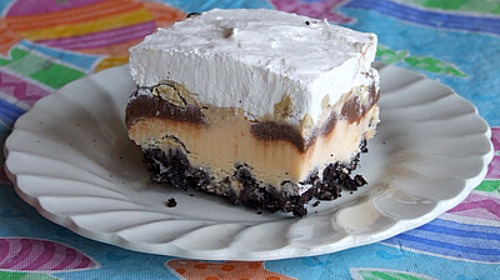 Buster Bars

Yield: 15 servings

Prep Time: 20 min + freezing time

If you really love fudge and oreos, this is the dessert for you! We made this on our beach vacation, and it made enough to munch on for a few days. It was also nice to be able to pop it out of the freezer when relatives stopped by.

Ingredients:

1 package Oreo cookies, crushed
1/2 gallon vanilla ice cream, softened
1 (16 ounce) jar of hot fudge sauce
1 1/2 cups peanuts
1 quart Cool Whip

Directions:

1. Line bottom of 9x13" dish with crushed Oreos. Spread softened ice cream over Oreos. Place the dish in the freezer and allow time for the ice cream to freeze again.

2. Spread fudge sauce on top of vanilla ice cream. Sprinkle peanuts on fudge, then Cool Whip over peanuts. Freeze again.

3. Cut into squares and serve.