Caesar Salad with Pancetta & Roasted Tomatoes
This recipe has been featured in a post on The Recipe Girl blog: Best Salads of 2007. This salad is gluten-free adaptable– please see tips below the recipe…
Yield: 6 servings
Prep Time: 30 min
Cook Time: 30 min
Caesar Salad w/ Pancetta & Roasted Tomatoes
The roasted tomatoes really add a wonderful flavor to the salad.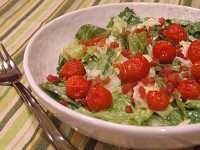 Ingredients:
3/4 pound pancetta,sliced 1/2-inch thick
2 pints cherry tomatoes
olive oil
salt & freshly ground black pepper
2 large heads Romaine lettuce
1 cup freshly grated Parmesan cheese
DRESSING:
1 large yolk at room temperature
2 teaspoons Dijon mustard
2 large garlic cloves, chopped
8 medium anchovy fillets (optional)- I leave these out
1/2 cup freshly squeezed lemon juice (about 3 lemons)
2 teaspoons kosher salt
1/2 teaspoon freshly ground black pepper
1 1/2 cups extra-virgin olive oil
1/2 cup freshly grated Parmesan cheese
Directions:
1. Preheat oven to 400°F.
2. Cut pancetta into 1/2-inch cubes and cook it in a skillet over medium-low heat for 10-15 minutes, until browned and crisp. Remove to paper towels and drain.
3. Place the tomatoes on a baking sheet and coat with olive oil. Sprinkle with salt and pepper. Roast for 15- 20 minutes, until soft.
4. Wash the lettuce leaves carefully and spin- dry in a salad spinner. Stack the leaves on a cutting board and cut them crosswise into 1 1/2-inch slices. Place them in a large mixing bowl.
5. For the dressing, place the egg yolk, mustard, garlic, anchovies (if using), lemon juice, salt and pepper into the bowl of a food processor filled with a steel blade. Process until smooth. With the food processor running, slowly pour the olive oil through the feed tube and process until thick. Add 1/2 cup grated Parmesan cheese and pulse a couple of times.
6. Toss the lettuce with enough dressing to moisten well. Add 1 cup grated Parmesan and toss. Divide the lettuce among 6 to 8 plates and sprinkle with pancetta and roasted tomatoes.
Tips:
*If you're wishing to prepare this recipe as GLUTEN FREE, just make sure that the pancetta you are purchasing is free of gluten.
Leave a Comment