Toffee Chip Snickerdoodles & The Food Blogger Bake Sale
It's no secret that I'm rather fond of baking.  I (almost) always have homemade cookies individually wrapped in the freezer… ready to throw into lunches and available for munching when the craving for sweets is irresistible.  Loaves of banana and pumpkin bread are often lurking deep inside my freezer and there are often a few muffins in there too.  I bake so often that these goodies are often replaced before they can even begin to disappear.  And so I was rather surprised the other day when I reached into the freezer to grab a cookie… and there was not a single cookie to be found.  Time to make cookies…. a Snickerdoodle variety.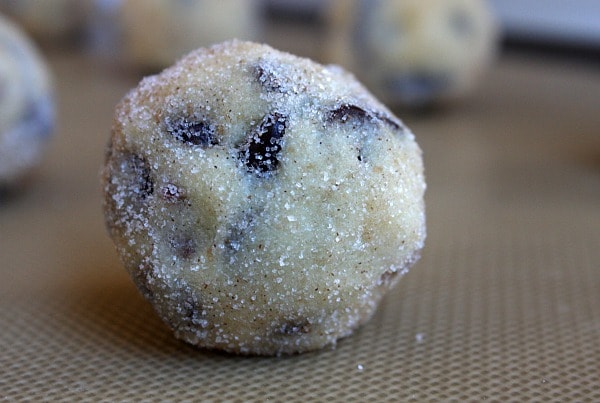 Classic Snickerdoodles are my favorite cookie ever.  So I'm often whipping up different kinds of Snickerdoodly things.  This Snickerdoodle cookie is stuffed with toffee chips and chocolate chips.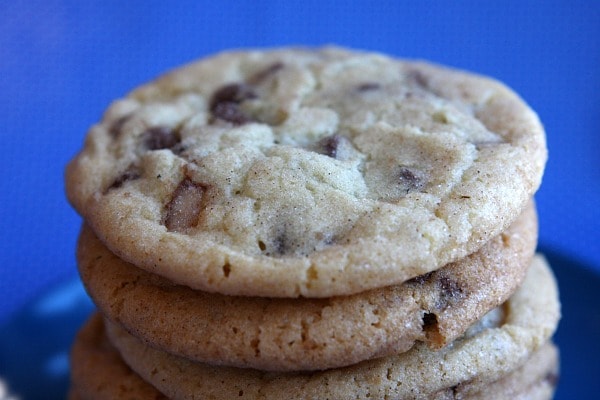 They turn out to have a crispy exterior and a tender, chewy center.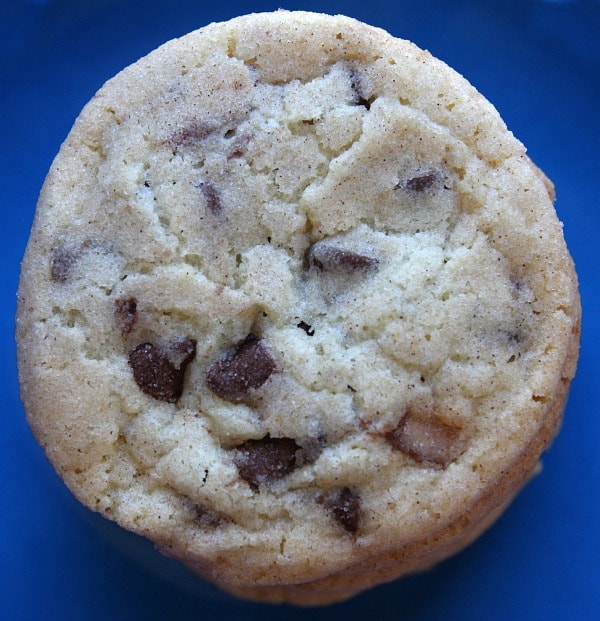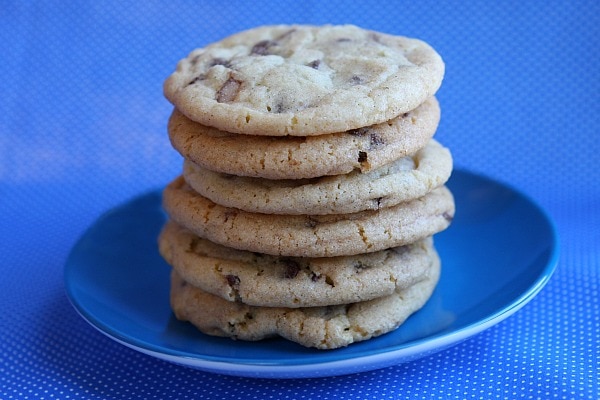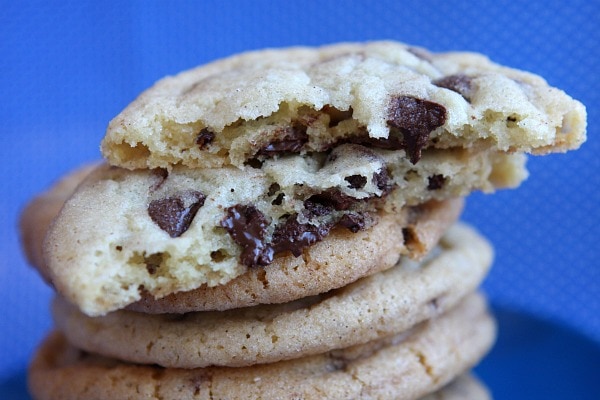 They're pretty much your standard Snickerdoodle cookie with a good dose of toffee and chocolate in every bite.  If you like the flavor of cinnamon and chocolate together, I think you'll enjoy these.  And they freeze well, of course 🙂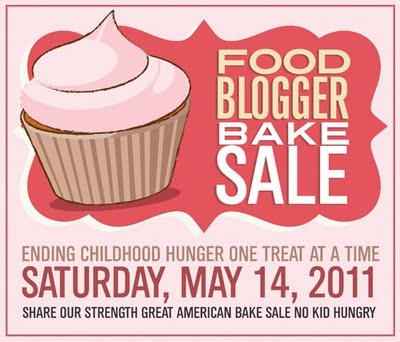 Have you heard about the Nation-Wide Food Blogger Bake Sale?   Mark your calendars for May 14th, 2011. Organized by the fabulous Gaby Dalkin of What's Gaby Cooking, food bloggers from across the country will unite to end childhood hunger by holding bake sales in their states. Readers will have the opportunity to taste the baked goods from their favorite food blogs at each state's bake sale location.
Funds raised through the Food Blogger Bake Sale support Share Our Strength's efforts to end childhood hunger in America. Nearly one in four—children in America face hunger, that's more than 17 million kids!! Despite the good efforts of governments, private-sector institutions and everyday Americans, millions of our children still don't have daily access to the nutritious meals they need to live active, healthy lives. More information on Share Our Strength can be found here.   Last year the bake sales raised over $1 million, and this year we are shooting to raise even more! Check Gaby's Post to see if there is a Food Blogger Bake Sale being organized near you.
If you're in San Diego, our San Diego Food Blogger's bake sale will be taking place at Great News Cooking School (1788 Garnet Ave) in Pacific Beach.  Come by on May 14th, 10am to 2pm and help support Share Our Strength by purchasing some baked goods from San Diego Food Bloggers (these people know how to bake!)  I'll be there too! Not sure what I'm baking yet… but you can bet I'll bring some of my favorites.  And if you'd like to donate to Share Our Strength, please visit our Team Page to make a donation.
Yield: About 3 dozen cookies
Prep Time: 20 min
Cook Time: 16 min
Toffee Chip Snickerdoodles
An alternative variety for Snickerdoodle and Chocolate Chip Cookie lovers...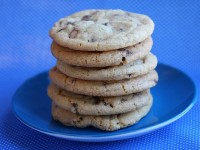 Ingredients:
2 1/2 cups all-purpose flour
2 teaspoons cream of tartar
1 teaspoon baking soda
1/4 teaspoon salt
2 cups granulated white sugar, divided
1 teaspoon ground cinnamon
1 cup (2 sticks) unsalted butter, at room temperature
2 large eggs
1 1/2 teaspoons vanilla extract
1 1/3 cups semi-sweet chocolate chips
2/3 cup chopped Heath bar chocolate toffee
Directions:
1. Preheat oven to 350 degrees F. Line baking sheets with parchment paper or silpat mats.
2. In a medium bowl, sift together flour, cream of tartar, baking soda and salt. In a separate, small bowl, stir together 1/2 cup of sugar and the cinnamon; set both bowls aside.
3. In a large bowl, use electric mixer to beat butter and remaining 1 1/2 cups sugar until blended together (about 1 minute). Add eggs and vanilla extract; mix until blended (about 1 minute). Add flour mixture and mix just until incorporated. Stir in chocolate chips and toffee pieces.
4. Scoop out a heaping Tablespoonful of dough and use your hands to roll it into a ball. Roll in the cinnamon-sugar mixture. Repeat with remaining dough. Place cookies 3 inches apart on the cookie sheets (I baked 8 at a time and found that was perfect).
5. Bake cookies until edges are golden, centers are still golden and no longer look raw in the middle- about 16 minutes. Cool cookies on baking sheet for at least 5 minutes, then remove to a rack to cool completely.
Tips:
*If you don't have access to Heath candy bars- you can always use packaged toffee bits or some other kind of toffee candy bar.
18 Responses to "Toffee Chip Snickerdoodles & The Food Blogger Bake Sale"
Leave a Comment