When I asked Facebook fans the other day about the possibility of me posting a new casserole recipe, I received an overwhelming response. It seems that there are a lot of casserole-lovers out there! I live in San Diego- not really the Casserole Capital of America. People here eat grilled chicken, tofu hot dogs and salad with no dressing. Casseroles are among the evils that aren't spoken here in SoCal. Whatever. I eat casseroles. Must be because all of my distant Swedish relatives live in Minnesota, where comfort food is more welcome. It's in my genes. And probably my jeans too. The good news is that I lightened this one up as much as I thought I could: Chicken Spaghetti Casserole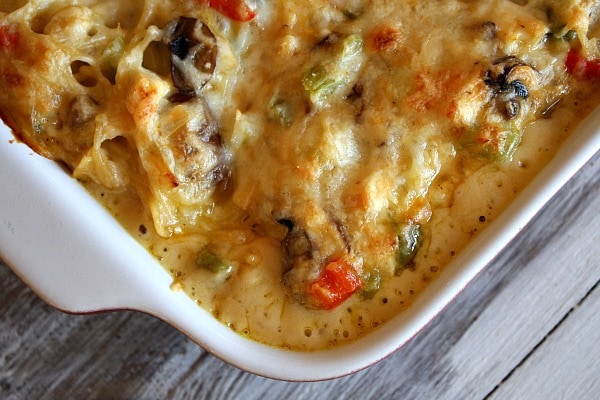 This is quite the cheesy casserole, and I mean that in a good way. It's hard to lighten up on cheese since low fat cheeses do not tend to melt nicely, so I charged straight ahead and used full-fat cheese for this recipe. Don't worry- you'll see the calorie count in the end (which is actually not too terribly bad).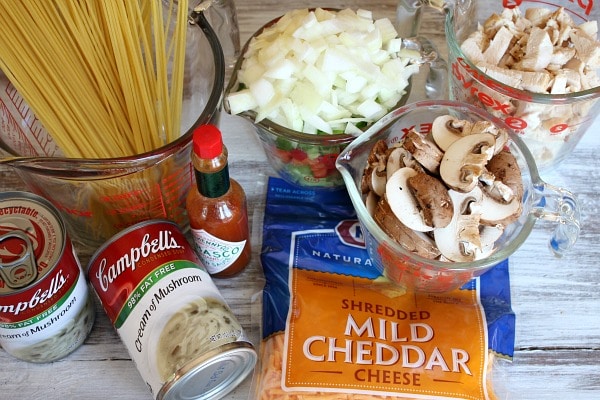 Here's what you'll need for this recipe. Yep, we're doing something I rarely do on my recipe site: using Cream of Mushroom Soup. If that scares you, head over to Deliciously Organic and snatch Carrie's homemade Cream of Mushroom Soup recipe, which looks pretty darn good.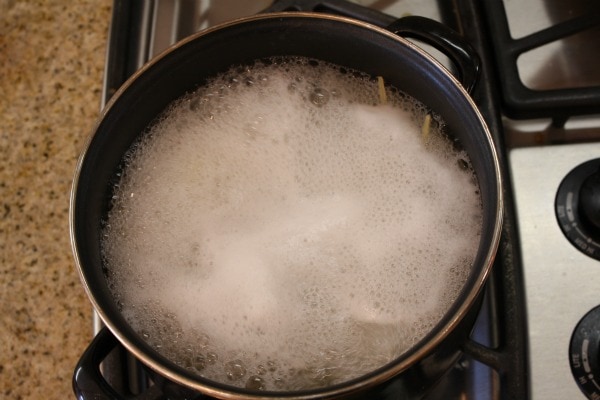 Boil the pasta, just so it's kinda al dente (still has a slight bite to it).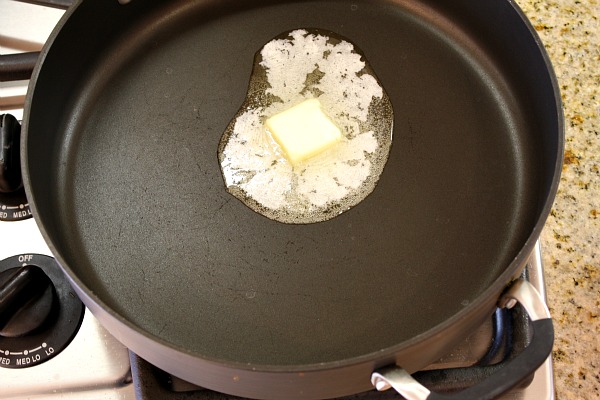 Melt 1 tablespoon of butter in a pan.  Just a tablespoon.  We don't need a whole stick or anything like that since we're just going to sauté the veggies in it.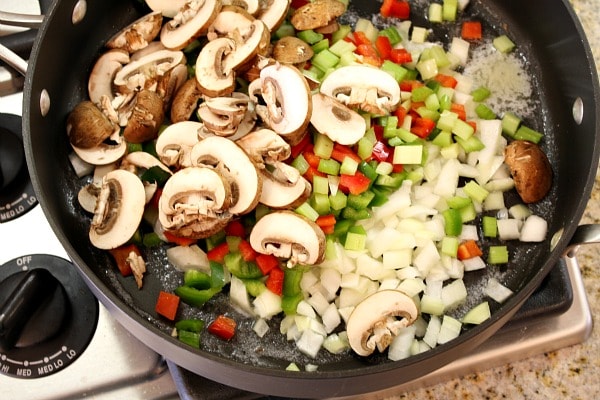 Cook the veggies in that melted butter, just until they're a little bit softened up.  Here's where you can get creative.  If you don't like my choice of veggies (or more importantly, if your family refuses to eat certain veggies), change it up and add in what you'd like.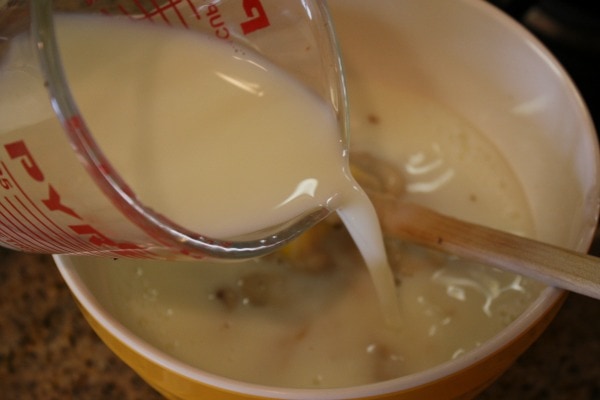 Mix nonfat milk with fat-free cream of mushroom soup.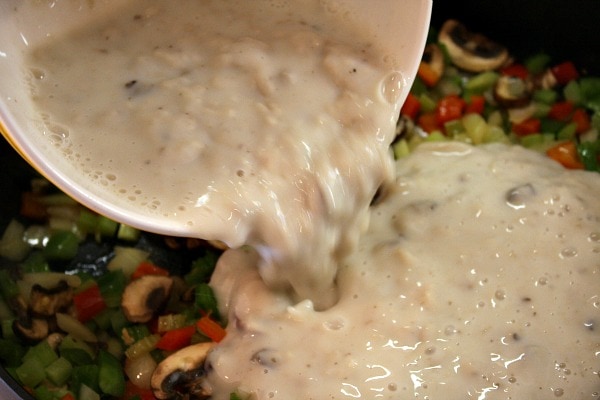 Pour that sauce into the veggies.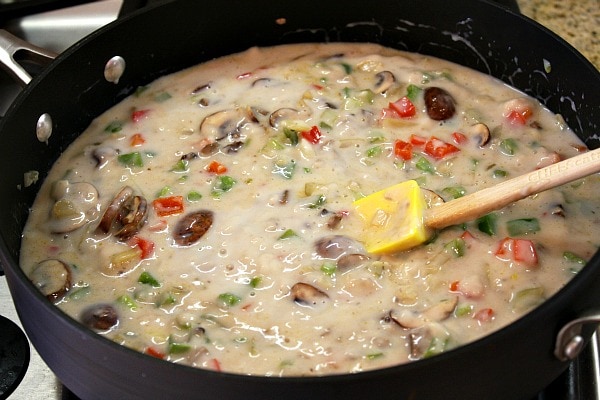 Mix it up.
Add cheese.  The real stuff.  I used extra sharp cheddar because I like that it gives a little extra bang of flavor.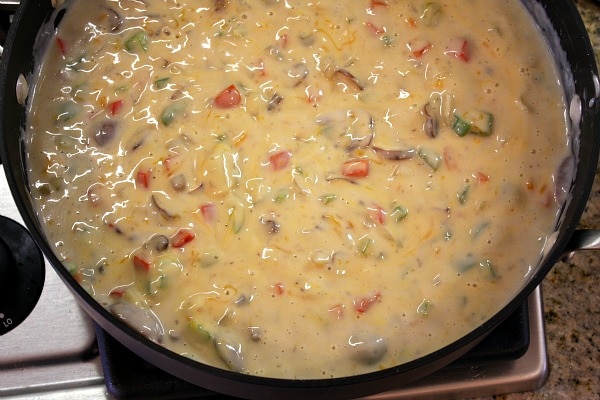 It melts into the sauce nicely.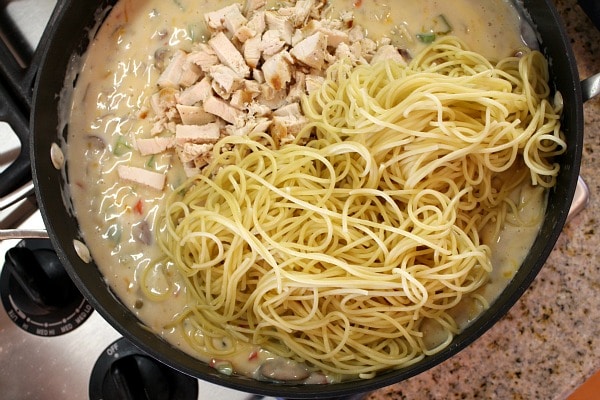 Mix in chopped, cooked chicken and the pasta.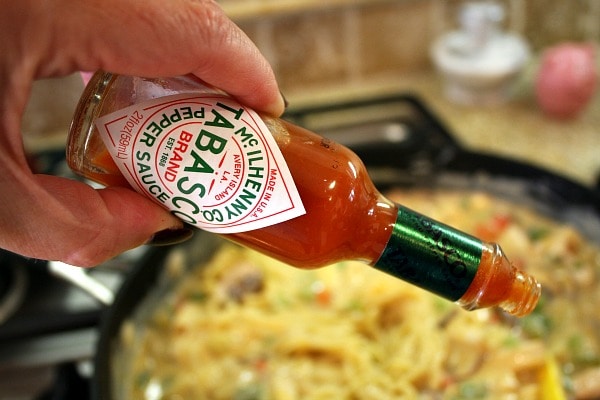 Add some tabasco for flavah.  And salt and pepper…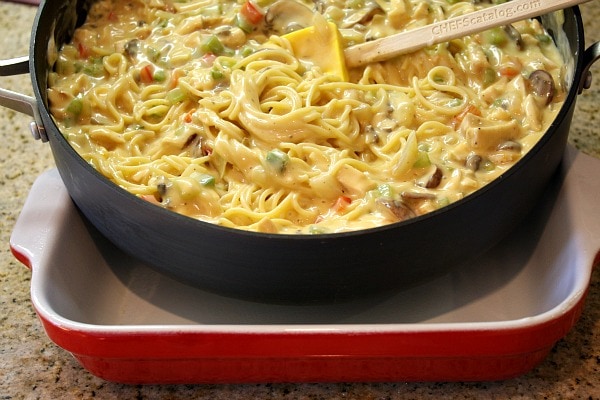 Pour it into a greased baking dish.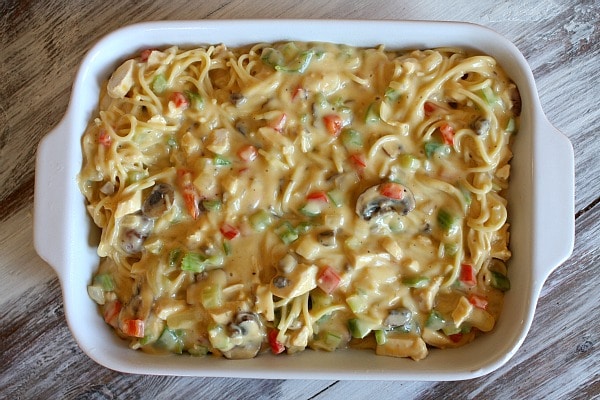 It looks purdy, don't it?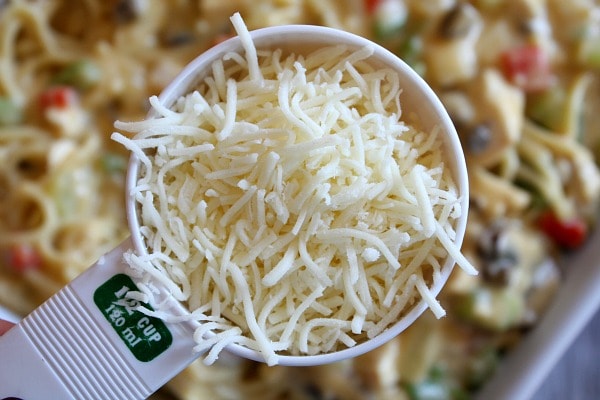 More cheese.  I chose Monterey Jack.  The real stuff.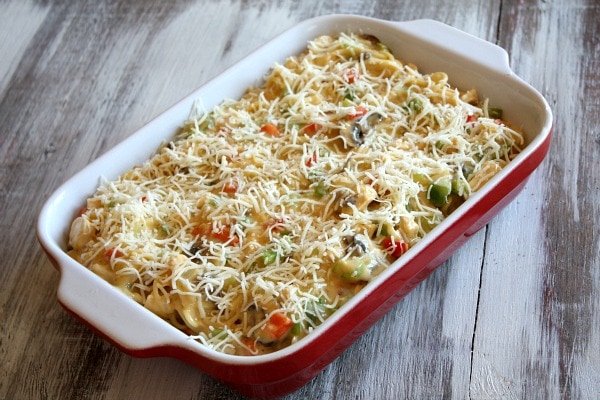 Sprinkle it on the top.
Bake it for a half hour or so, and it comes out all bubbly and hot and melty.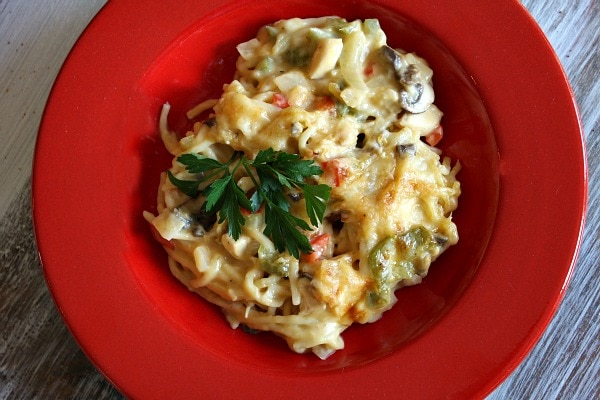 Dish it up and eat!
Since I've been using My Fitness Pal (tracking my calories and exercise), I went ahead and figured out the nutritional information for this one and have included that as well as weight watcher points within the printable recipe below.  It's definitely not a weight watcher kind of recipe, but if you're on that sort of a diet and you feel like splurging… at least you know the details and can plan for it.  I'm a firm believer in eating what you want on a diet… normal stuff in moderation.  That's what I did with this recipe.  I had my serving, and that's it!  Big side salad to go with.  Perfect, and it was filling and satisfying too!
Chicken Spaghetti Casserole

Yield: 6 servings

Prep Time: 25 min

Cook Time: 35 min

Ingredients:

7 ounces thin spaghetti
1 tablespoon salted butter
2 cups sliced mushrooms
1 medium onion, chopped
1/2 cup chopped celery
1/2 cup chopped green bell peppers
1/2 cup chopped red bell peppers
Two 10.75-ounce cans 98% fat free cream of mushroom soup
1 cup nonfat milk
8 ounces sharp cheddar cheese
2 cups cooked, chopped chicken
1 teaspoon Tabasco sauce
salt and pepper, to taste
1/2 cup shredded Monterey Jack cheese

Directions:

1. Preheat oven to 350 degrees F. Spray a 2-quart casserole dish with nonstick spray.

2. Cook pasta according to package directions, but only cook it until it's al dente (you still want a little bite to it). Drain the pasta and set it aside.

3. Melt butter in a large, deep skillet over medium heat. Add mushrooms, onion, celery and bell peppers. Cook until the vegetables have softened, 4 to 5 minutes. In a medium bowl, mix milk and soup until smooth. Add this mixture to the vegetables in the pan. Stir in cheddar cheese. Continue to heat the mixture until the cheese has melted and the sauce is smooth. Add in chicken, pasta and tabasco, and season to taste with salt and pepper. Pour the mixture into the prepared casserole dish. Sprinkle Jack cheese on top.

4. Bake for 35 minutes, or until the casserole is hot and bubbly and golden brown.

Tips:

*If you're trying to figure out a serving size for this casserole, simply use a knife to divide the pan into 6 equal servings. There's your serving size (it's pretty substantial)!

*Leftovers of this casserole are great for a couple of days after making it.

*Turn this casserole into a day-after-Thanksgiving meal by adding leftover turkey instead of chicken.

Nutritional Information per serving:

Serving size:

1/6th of the casserole

Calories per serving:

490.5

Fat per serving:

22.5g

Saturated Fat per serving:

12.3g

Sugar per serving:

3.3g

Fiber per serving:

2.7g

Protein per serving:

31g

Cholesterol per serving:

89.3mg

Carbohydrates per serving:

39.4g

WW POINTS per serving:
Points Plus Program: 13 Old Points Program: 11