Do you have any friends on that Raw Food Diet? … that diet where you eat all raw foods with the thought that raw food is better for your body? I have to admit- I couldn't do it. I cook and bake every day, and I kind of like my food cooked! This salad, however, may please everyone. It happens to be an *uncooked* vegetable salad, which is the kind of side dish that you wish for on a hot and humid summer day where the thought of turning on the oven or the stove is pretty unbearable: Fresh Corn, Zucchini and Tomato Salad with Honey- Lime Vinaigrette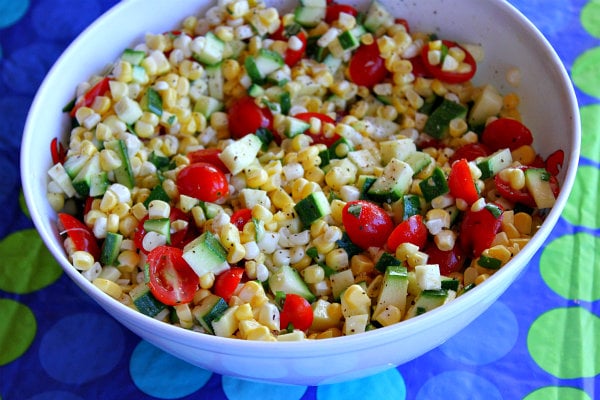 See, none of that is cooked.  If that sounds weird to you, it shouldn't.  I served up this salad at a summer BBQ recently and told no one that was a raw salad.  And guess what?  They loved it!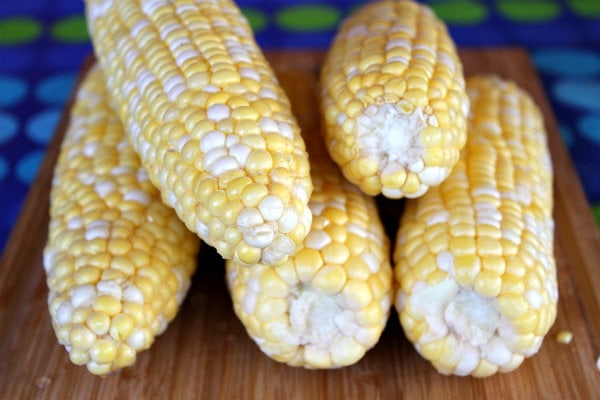 It all starts with fresh corn.  Visit your local Farmer's Market and find some gorgeous, fresh sweet corn.  The sweeter and fresher your corn, the better your salad will be.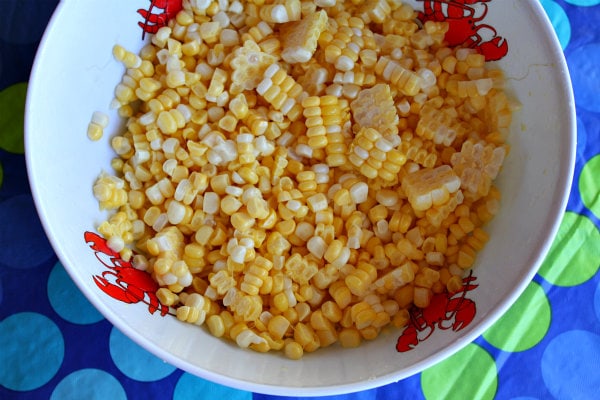 Shuck your corn and rinse it too, getting as many of the silky strings off as you can.  Cut the corn off the cob.  The best way to do this is to stand it up inside of a deep bowl like this one and use a knife to cut down the sides of the cob. The corn will gather into the bowl.
Next add diced zucchini (again… raw!)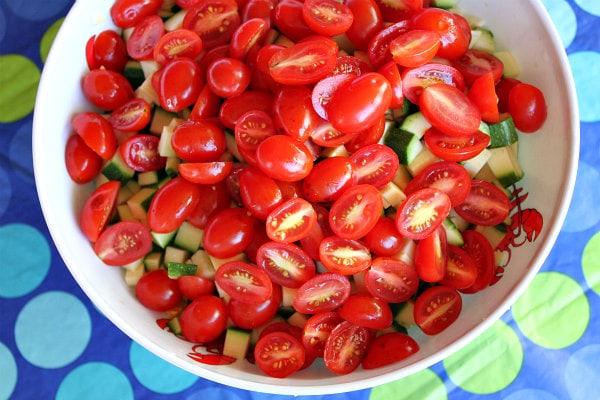 Then add some halved pear or cherry tomatoes.  This time of year you can find them multi-colored, and they'll be fresh and sweet too.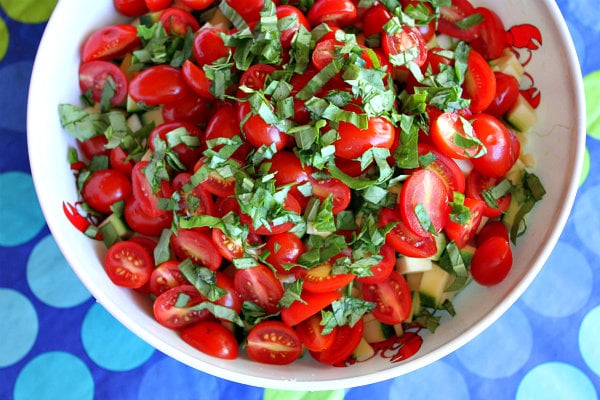 And finally, add some slivered fresh basil.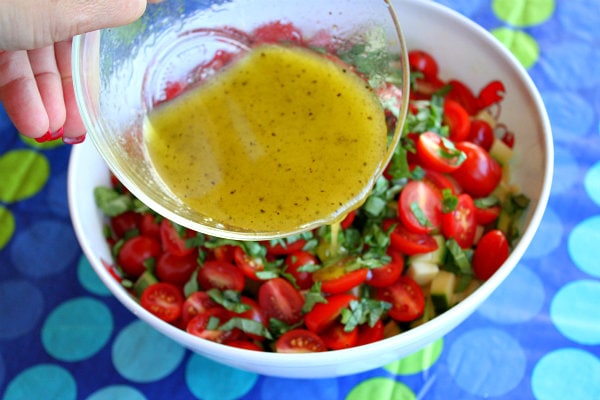 Drizzle in a simple Honey-Lime Vinaigrette and toss.  Cover and refrigerate for a couple of hours to let all of the vegetables get nice and chilled and take on the flavors of that vinaigrette.
Sprinkle with a generous dose of salt and pepper, and serve!
This salad just so happens to be dairy-free, gluten-free, low-fat and Weight Watcher's friendly too!  See the recipe below for nutritional details.  And let me know how you like it!
Fresh Corn, Tomato and Zucchini Salad

Yield: 8 servings

Prep Time: 20 min

Ingredients:

6 medium to large corn on the cob (shucked and rinsed)
3 small to medium zucchini, rinsed
1 pint pear or cherry tomatoes, halved
1/4 cup slivered fresh basil leaves
4 tablespoons white wine vinegar
2 tablespoons extra-virgin olive oil
1 tablespoon honey
1 tablespoon freshly squeezed lime juice
salt and freshly ground black pepper, to taste

Directions:

1. Cut corn off the cob by placing it upright in a deep bowl and cut down the sides of the cob with a sharp knife.

2. Dice zucchini into 1/2-inch pieces (leave skin on) and add to the bowl. Add tomatoes and basil.

3. In a separate small bowl, whisk together the vinegar, olive oil, honey and lime juice. Pour the vinaigrette over the salad and toss to combine. Cover the salad with plastic wrap and refrigerate for at least one hour and up to 4 hours until ready to serve. Toss again before serving to re-distribute the dressing. Add salt and freshly ground black pepper just before serving.

Tips:

*If the salad sits in the refrigerator overnight, it may gather additional liquid from the fresh vegetables. Just drain any additional liquid and enjoy the leftovers.

Nutritional Information per serving:

Serving size:

Recipe divided into 8 servings

Calories per serving:

118

Fat per serving:

4.3g

Saturated Fat per serving:

.6g

Sugar per serving:

6.6g

Sodium per serving: ,span class="sodium">157g

Fiber per serving:

2.5g

Protein per serving:

2.5g

Cholesterol per serving:

0mg

Carbohydrates per serving:

20g

WW POINTS per serving:
Points Plus Program: 3 Old Points Program: 2

Nutritional info is based on added 1/2 teaspoon salt & 1/4 teaspoon pepper