Truly the most perfect Chocolate Frosting Recipe I've ever made! See how glossy and perfect it is???  It's the best, and you must try it!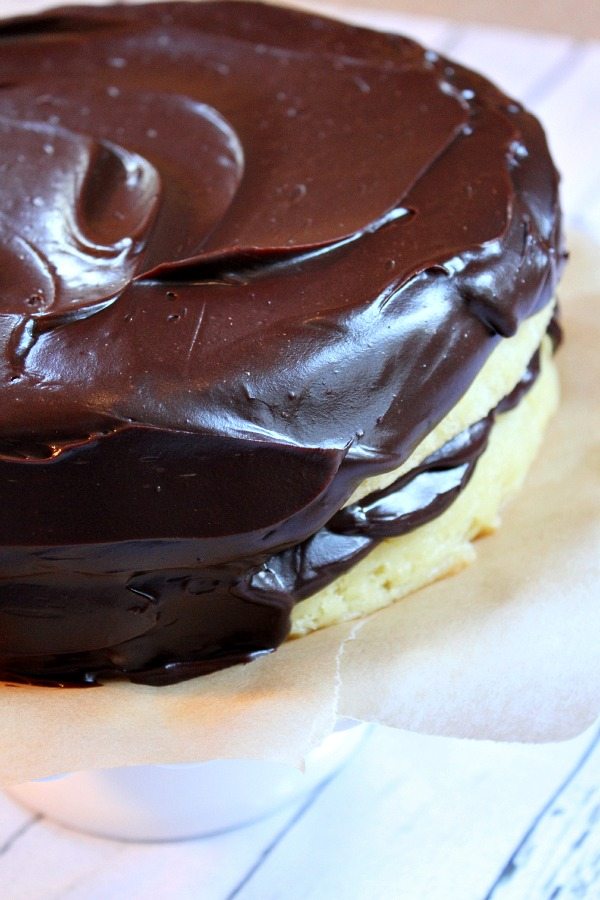 Turns out I've been messing around with cake and frosting recipes this week. I have SO many delicious results to share with you, and I'm super excited about that!! Cake is awesome… especially on Tuesdays. You see, Tuesday is my Weigh-In Day for my weight loss challenge. So basically I get to weigh myself in the morning and then bake to my heart's content (aka cheat big-time) in the afternoon. Then all is back to normal on Wednesday and into the following week. Does that sound like a good plan?? I figure you can't be perfect 100% of the time. Otherwise, you set yourself up for failure.
This frosting is AMAZING. It's shiny and smooth and perfect, and it glides on just right. I'm not even that crazy about chocolate, but I am in love with this chocolate frosting recipe. It's perfect for a two-layer cake, and it would frost about 36 cupcakes.  That cake you see there, I'll be sharing tomorrow.  All was completely awesome.
Chocolate Frosting Recipe

Yield: About 4 cups of frosting

Prep Time: 10 min

Cook Time: 5 min

Ingredients:

1/2 cup (1 stick) salted butter
1 1/2 cups granulated white sugar
1 1/4 cups unsweetened cocoa powder
1 1/4 cups heavy whipping cream (from the carton)
1/4 cup sour cream (don't use light or fat-free)
1 teaspoon instant espresso powder
2 teaspoons vanilla extract

Directions:

1. In a medium saucepan, melt the butter. Whisk in the sugar and cocoa powder. In a separate bowl, whisk together the cream and the sour cream. Slowly add this to the pan, whisking it in until well combined and smooth. Mix in the espresso powder and heat until the sugar has dissolved. Remove from heat and stir in the vanilla.

2. Let the icing sit at room temperature until it is a good consistency for icing your cake or cupcakes. To speed up the process, place it in the refrigerator. Keep an eye on it and take it out when it firms up enough to ice. If it gets too firm, you can always stick it in the microwave for a few seconds to soften it up again.

Tips:

*this recipe will make enough frosting for a two-layer cake, and MAYBE enough for a 3-layer cake. It will also be enough to frost about 36 cupcakes.

SOURCE: RecipeGirl.com (adapted from Cuisine at Home)
Other chocolate frosting recipes you may enjoy:
Chocolate Cream Cheese Frosting by Cupcake Project
Sugar Free Chocolate Frosting by RecipeGirl
Rich Chocolate Vegan Frosting by View From the Great Island
The Best Chocolate Buttercream for Cupcakes by Brown Eyed Baker
Dark Chocolate Frosting by Beantown Baker