Easy Glazed Sweet Potatoes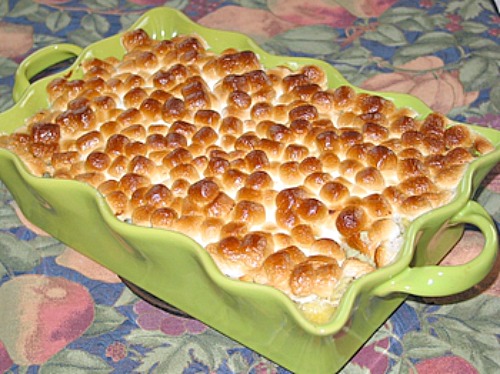 Yield: 6 servings
Cook Time: 7 min
Easy Glazed Sweet Potatoes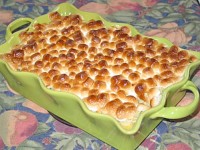 Ingredients:
2 pounds sweet potatoes, cooked (see tips below for cooking)
2/3 cup packed light brown sugar
6 tablespoons butter
2 cups mini marshmallows
Directions:
1. Cube potatoes and place in a microwave-safe 2 quart casserole dish. Sprinkle with brown sugar and dot with butter. Microwave on high 7 to 8 minutes, or until hot and bubbly.
2. Spoon the glaze over the potatoes and stir lightly. Sprinkle with marshmallows. Cover and let sit for 5 minutes. If you'd like your marshmallows to look toasty, give them a minute or two under the oven broiler.
Tips:
*If you are preparing this recipe as gluten-free, just be sure to use fresh sweet potatoes and use a brand of marshmallows that is known to be GF.
*If you are cooking your sweet potatoes, preheat oven to 350 degrees F. Spray the bottom of a glass or non-stick baking dish with nonstick spray. Wash and peel the sweet potatoes. Cut them into medium size pieces. Place the cut sweet potatoes in the baking dish and turn them so that they are coated with the olive oil. Bake for 60 minutes or until soft. Slice them into bite-sized pieces and proceed with the recipe.
Leave a Comment