Paula Deen's Orange Brownies
This recipe has been featured in a post on The Recipe Girl blog: Paula Deen's Orange Brownies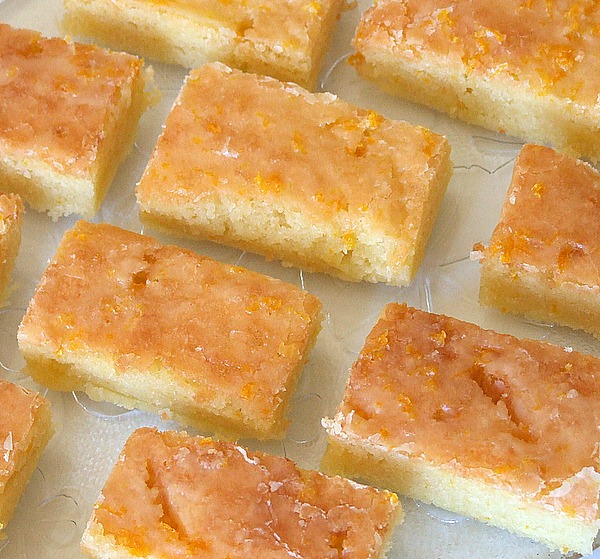 Yield: 24 squares
Prep Time: 15 min
Cook Time: 30 min
Paula Deen's Orange Brownies
Okay, so they're not *really* brownies, but this orange version is absolutely delicious...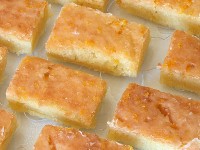 Ingredients:
1 1/2 cups all-purpose flour
2 cups granulated sugar
1 teaspoon salt
1 cup (2 sticks) butter, softened
4 large eggs
2 teaspoons pure orange extract (or orange oil)
1 teaspoon grated orange zest
GLAZE:
1 cup powdered sugar, measure then sift
1 teaspoon finely grated orange zest
2 Tablespoons + fresh orange juice
Directions:
1. Preheat oven to 350°F. Grease 13x9-inch pan.
2. Prepare brownies: In a mixing bowl, whisk together flour, sugar and salt. Add butter, eggs, orange extract and orange zest and beat with handheld mixer until well-blended. Pour batter into prepared pan and bake for 30 minutes, or until light golden brown and set. Remove from oven and pierce top of entire cake with a skewer or a fork.
3. Prepare Glaze: Combine all ingredients in a bowl, stirring until smooth. Add more juice, if needed to create a pouring consistency. Pour glaze over cake. Cool cake and cut into squares.
Tips:
*Do you have to use the orange extract? Yep... if you want the super-orangey flavor that is supposed to come out in these brownies to really show up, you'll need the orange extract. You can pick up a good orange extract that doesn't have that *artificial* flavor at Whole Foods, or you can find orange oil at baking/cooking supply stores.
Source: RecipeGirl.com (Adapted from Paula Deen)
19 Responses to "Paula Deen's Orange Brownies"
Leave a Comment