Here's an easy-to-make breakfast treat that is delicious too:  Egg Muffins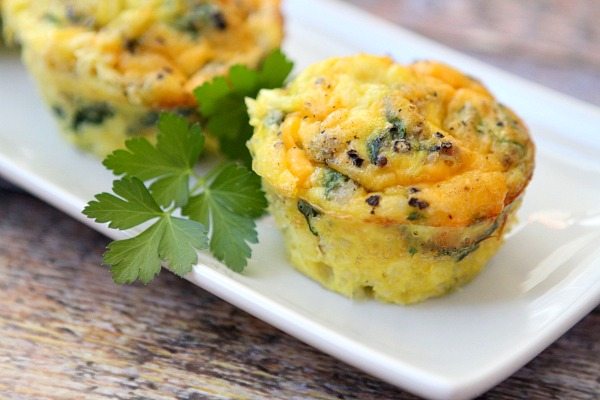 Hey, it's weekend breakfast time!  By now, I've explained extensively how I feel about weekend breakfasts.  Shove the cereal aside and make something special!  Saturday and Sunday are your two days not to be stressed-out and tired.  Sleep in, put together some sort of tasty breakfast, and get on with your relaxing day, right?!  These little egg muffins aren't any kind of chore to make at all.  They're just eggs scrambled with a little milk and adding in your desired fixings.  I cleaned out my fridge for these guys and used sausage, spinach and the last of my cheddar cheese hunk.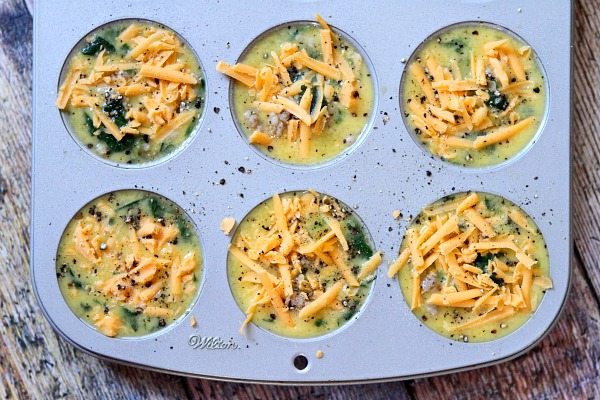 30 minutes in the oven… while you make the coffee, flip on the TV to watch recorded episodes of Scandal, Shark Tank  or The Walking Dead (favorites in our house!)  Then your muffins are ready to eat.  We served ours with a scoop of chunky salsa.  They'd also be good with some sour cream and/or (GASP!) ketchup.  That all depends how you like to adorn your eggs.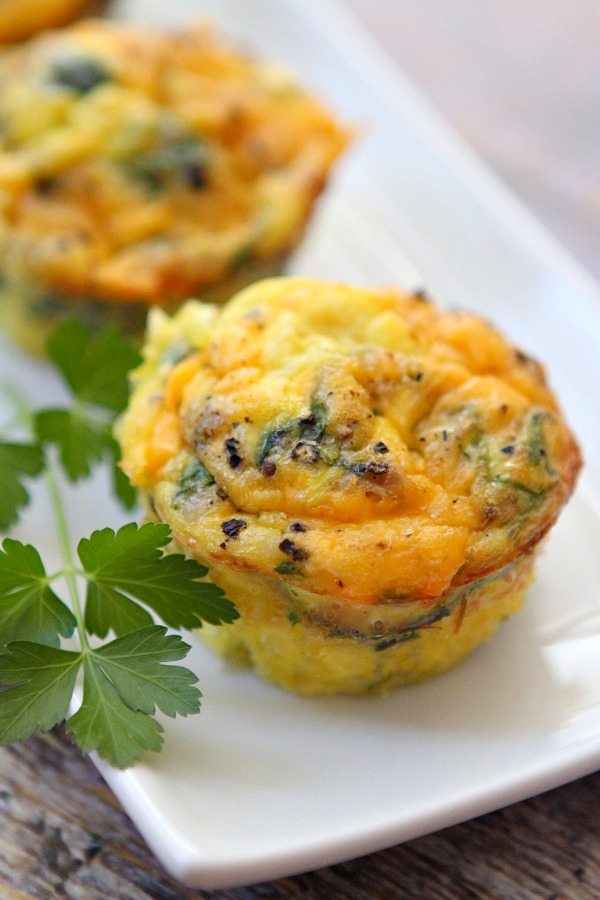 If you're not into spinach, you can certainly throw some broccoli pieces in there or bell pepper.  Crumbled, cooked bacon would be awesome too.  Use whatever cheese is your favorite.  If you want to lighten up on the eggs, it's okay to use half egg whites and half whole eggs.  I have a small family, so we just made 6, but you can certainly double the recipe and make an entire dozen.
The most important thing:  enjoy your breakfast, and kick-off the weekend in a delicious way!
Yield: 6 or 7 egg muffins
Prep Time: 20 min
Cook Time: 30 min
Egg Muffins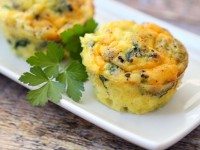 Ingredients:
3/4 cup cooked and crumbled sweet Italian sausage (I use two links)
2 small handfuls fresh spinach, chopped
6 large eggs
1/4 cup milk
1/3 cup shredded cheese (I use cheddar)
salt and freshly ground black pepper, to taste
salsa, for serving (totally optional, but totally good)
Directions:
1. Preheat the oven to 350 degrees F. Spray 6 or 7 muffin cups with nonstick spray.
2. After you cook the sausage, scoop it into a paper towel-lined bowl to drain and cool, then wipe out the pan with a paper towel. Quickly cook the spinach in the same pan, just until wilted. Let it cool, then squeeze any excess moisture out of it.
3. In a medium bowl, whisk together the cooled sausage and spinach with the eggs and milk. Scoop into the prepared muffin tins (I find it easiest to use a 1/3 cup measuring cup) almost to the top. Sprinkle cheese on top. Then give each one a good dose of salt and pepper.
4. Bake 25 to 30 minutes, or until egg is cooked through. Easy way to check the egg: touch the middle of the muffins... if they are still wet and gooey, they'll need a little more time in the oven. They should feel cooked through.
5. Serve egg muffins immediately- with salsa, if desired.
Tips:
*Egg muffins are pretty versatile- sub in other ingredients for the sausage and spinach, if you prefer.
More egg-in-a-muffin-tin recipes you might enjoy:
Ham and Cheese Baked Egg Cups by The Lemon Bowl
Cheesy Egg White Veggie Breakfast Muffins by Ambitious Kitchen
Eggs Benedict Cups by Budget Gourmet Mom
Green Chile and Cheese Egg Muffins by Kalyn's Kitchen
Mini Bacon and Egg Toast Cups by Fifteen Spatulas
35 Responses to "Egg Muffins"
Leave a Comment