This recipe has been featured in a menu on the site- Mother's Day Brunch.  This dish is gluten-free adaptable: see tips below the recipe…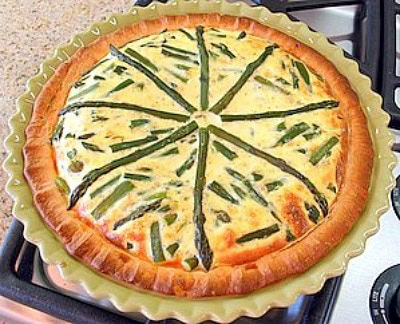 Asparagus Quiche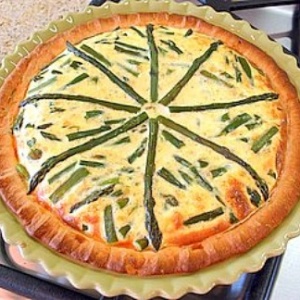 This is one delicious quiche.
Yield:
12 servings
Prep Time: 30 min
Cook Time: 45 min
Ingredients:
1 1/2 pounds asparagus
1 refrigerated pie crust, unbaked
8 slices bacon, quartered and cooked until crisp
8 ounces Swiss cheese, shredded
4 large eggs
1 1/2 cups whipping cream
1/8 teaspoon nutmeg, ground
1/8 teaspoon salt
1/8 teaspoon pepper, freshly ground
Directions:
1. Wash asparagus; cut off white, rough ends. Scrape down toward the ends with a vegetable parer to get rid of the tougher, exterior of the asparagus. Save 12 of the best spears for decoration. Cut the rest of the asparagus into 1/2-inch pieces. Cook in 1 quart of boiling salted water until tender (or steam them)- just for 3 to 4 minutes. Drain and rinse in cold water.
2. Place pie crust in 11" pie plate and flute the edges. Refrigerate.
3. Preheat oven to 375 degrees F.
4. Sprinkle bottom of pie shell with bacon, then cheese, then cut-up asparagus.
5. In a medium bowl, beat eggs with cream, nutmeg, salt and pepper until well combined. Pour cream mixture into the pie shell, and arrange asparagus spears on top in spoke fashion.
6. Bake 40 minutes, or until puffy and golden. Serve warm.
Tips:
*Thinner asparagus work best, and if you have to you may also use 20oz. frozen asparagus spears.
*If you're preparing this recipe as GLUTEN FREE, use a GF pie crust (available at Whole Foods) and just make sure that the brand of bacon you are using is designated as GF.