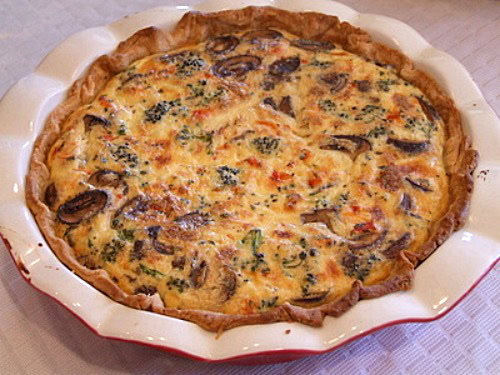 Lobster Quiche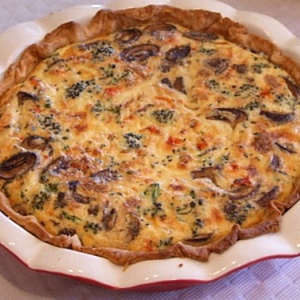 If you can get your hands on some lobster, it makes for a delicious quiche...
Yield:
6 to 8 servings
Prep Time: 20 min
Cook Time: 30 min
Ingredients:
8 ounces cremini mushrooms, stems removed & cut into 1/4-inch slices
1 cup small broccoli florets
1 Tablespoon minced onion
1 Tablespoon butter
1 cup whole milk
1 cup whipping cream
3 large eggs, beaten lightly
1 pound cooked lobster, drained & chopped
1/2 teaspoon dry mustard
1/4 teaspoon basil
salt & freshly ground black pepper to taste
1 unbaked 9-inch pie shell
Directions:
1. Preheat oven to 450°F.
2. Sauté mushrooms, broccoli and onion in the butter in a skillet until the onion is tender and the vegetables have released their liquid; drain. Whisk the milk, light cream and eggs in a bowl until blended. Stir in the lobster and sautéed vegetables. Add the dry mustard, basil, salt and pepper and mix well.
3. Pour the lobster mixture into the pie shell. Bake for 10 minutes. Reduce oven temperature to 325 degrees and bake for 20 to 30 minutes longer or just until the center is firm.
Tips:
*Another idea... serve with a tossed green salad for a light summer dinner.