If you spot a live lobster at the market, don't be afraid… they're easy to cook! > How to Steam Lobster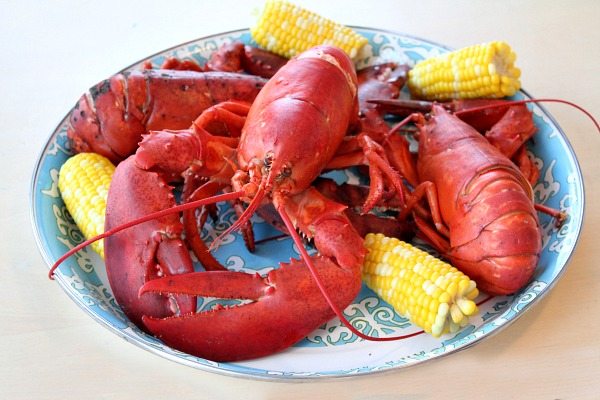 Every summer on our beach vacation to Massachusetts, we eat lobster rolls like crazy (duh), but we always eat whole lobsters at least once. Sure, you can order lobster at a restaurant for a gazillion dollars, or you can find them on sale at a seaside market (or buy them cheaper on the docks as the fishermen come in!) Cooking them at home is a much more affordable option, and it's super easy to do.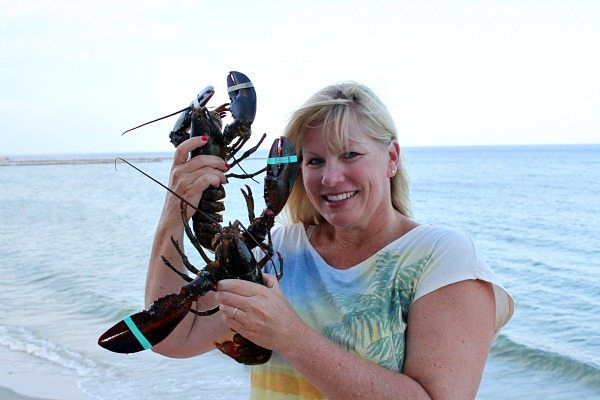 Yeah, here's me getting wild and crazy with some live lobster. They rubber-band the pinchers so you're totally safe from attack. I'll admit that I used to be completely freaked out by the idea of cooking these things while they're still alive. It's freaky, and it seems kind of mean, right? Well, I've gotten to the point where I've done it so many times now that it doesn't really bother me much anymore. You've gotta eat. And lobster is something that is (um… really good) to eat in my book.
First you need to make sure you have a big pot with a steamer insert and a lid. I include specifics on size of pot needed for how many lobsters in the recipe below.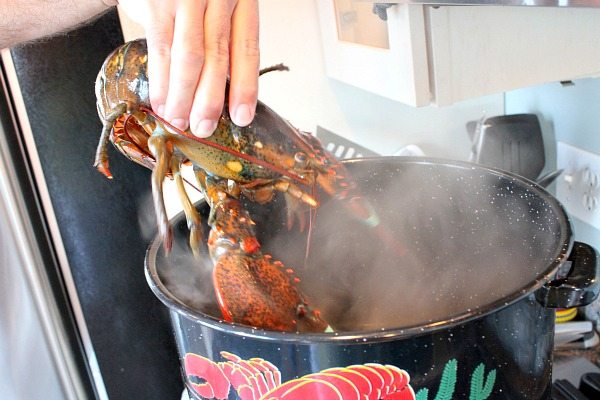 Once you have two inches of salted water at a rolling boil, you're going to put your live lobsters into the steamer insert.
Then place the lid on top and steam for 12 to 15 minutes. That's it! They're cooked and ready to eat.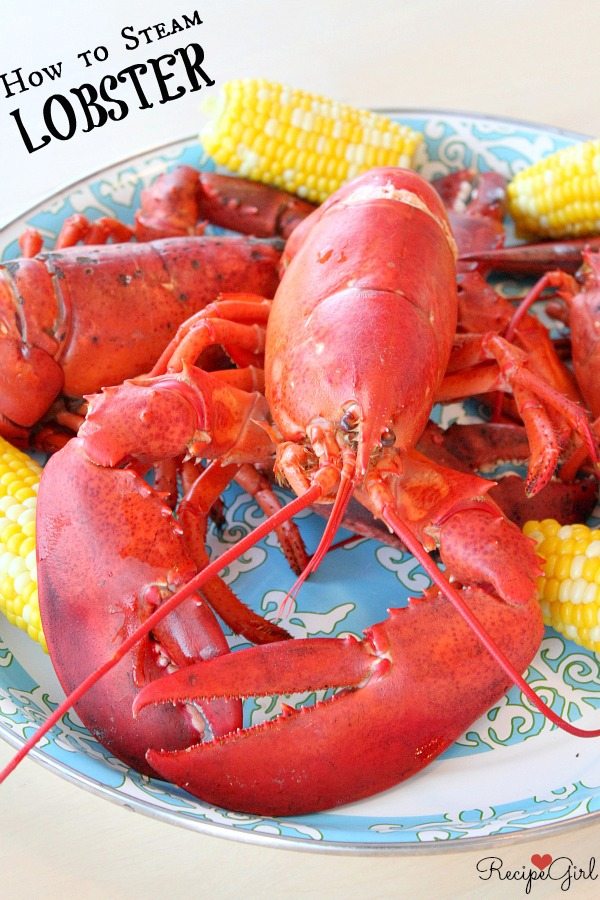 Place the steamed lobsters on a platter to cool. You're going to want them to be cool to the touch before you attempt to crack them open and devour the lobster meat inside. You'll need melted butter, lemon slices, and lots of napkins and wet wipes. You'll also need a large bowl to set in the center of the table for discarding the shells as you remove the lobster meat. I like to serve lobster with corn on the cob and a good hunk of sourdough bread.
Here is a great tutorial showing you how to crack open a lobster and eat it > How to Crack and Eat a Lobster by The Kitchn
Enjoy your lobstah!
How to Steam Lobster
It's so much simpler than you might think!
Recipe Details
Ingredients
Four

1½ to 2 pound

live lobsters

1

tablespoon

sea salt

melted butter and lemon slices,

for serving
Instructions
Find a pot with a steaming rack that is large enough to hold the lobsters comfortably. A 4-5 gallon pot should work for about 8 pounds of lobster. Fill the pot with about 2-inches of water. Add sea salt to the water and bring the water to a boil.

Put your live lobsters onto the steamer rack and place the lid on top. It should take 12 to 15 minutes to cook the lobsters through (12 minutes for 1.5-pound lobster and 15 for one that is closer to 2 pounds). It's easiest if all of your lobsters are roughly the same size!

Remove lobsters to a platter to cool. Serve with melted butter and lemon slices.
Notes
Cooked lobsters will turn bright red.
Cooked lobster meat will be white instead of translucent.
Some say you can check doneness by pulling on an antenna and if it comes out easily then it's done. (This does not always work for me. I just time 12 to 15 minutes for the size indicated and they turn out great!).
1 pound lobsters should be done in about 8 minutes.
2

½

pound lobsters (if you should be so lucky) take about 20 minutes.
Nutrition
Serving:
1
serving
,
Calories:
196
kcal
,
Protein:
42
g
,
Fat:
2
g
,
Saturated Fat:
0.5
g
,
Polyunsaturated Fat:
1
g
,
Monounsaturated Fat:
1
g
,
Trans Fat:
0.03
g
,
Cholesterol:
323
mg
,
Sodium:
2819
mg
,
Potassium:
508
mg
,
Vitamin A:
10
IU
,
Calcium:
214
mg
,
Iron:
1
mg