This recipe has been featured in a menu on the site- Mother's Day Brunch. This dish is gluten-free adaptable– see tips below the recipe…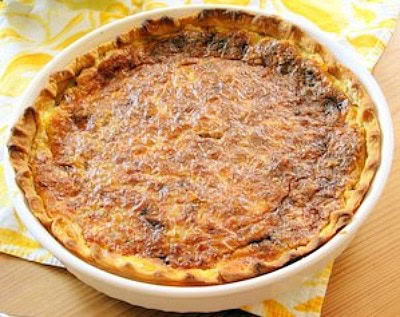 Blue Cheese & Walnut Quiche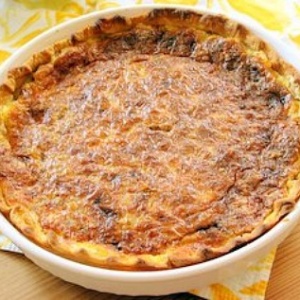 I brought this to a brunch that I was invited to. Everyone raved about it. The flavor of the blue cheese in an egg dish really was wonderful.
Yield:
8 servings
Prep Time: 15 min
Cook Time: 50 min
Ingredients:
1 pie crust (store bought or homemade)
3 large eggs
2 Tablespoons all-purpose flour
1/4 teaspoon freshly grated nutmeg
1/2 teaspoon salt
1/2 teaspoon white pepper
1 cup heavy whipping cream
1/2 cup milk
2 1/4 cups grated Swiss or Gruyere cheese
1/2 cup blue cheese, crumbled
2 Tablespoons minced red onion
1/4 cup chopped walnuts
Directions:
1. Preheat oven to 375 degrees. Gently place pie crust into 9-inch round pie pan or quiche pan. Pinch the rim decoratively and prick crust with a fork. Bake the crust for 10 minutes. Pull out to cool while you prepare the filling.
2. In large bowl, whisk together eggs, flour, nutmeg, salt and pepper. Blend in the cream and then the milk.
3. In separate bowl, combine Swiss and blue cheeses and then sprinkle them into the prepared pastry shell. Sprinkle the red onion and walnuts over the cheese. Gently pour in egg mixture to fill the pastry shell.
4. Place the filled pan on a baking sheet and bake quiche for 35-40 minutes, or until custard is just set. Watch the edges of the crust and cover with foil or a pie-crust cover if it's browning too much. Let quiche rest 8-10 minutes before slicing and serving.
Tips:
*To prepare this recipe as GLUTEN FREE, you'll need to use a GF pie crust (I've seen them at Whole Foods- or make it homemade). You'll also need to sub GF flour for the all-purpose, and sub another cheese for the blue- try goat or feta instead.