Simply delicious: Baked Chicken Breasts Stuffed with Zucchini and Goat Cheese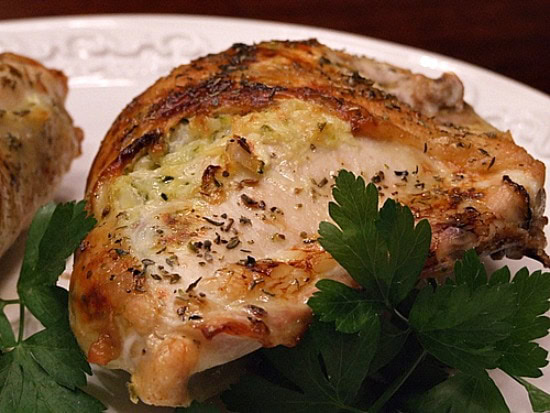 Baked Chicken Breasts Stuffed with Zucchini and Goat Cheese
The filling is wonderful- it keeps the chicken moist as can be.
Yield:
4 servings
Prep Time: 40 min
Cook Time: 30 min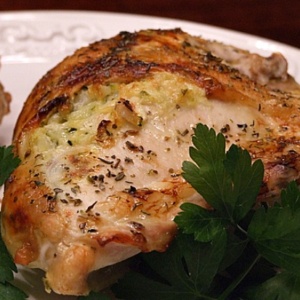 Ingredients:

1 pound zucchini
salt
2 tablespoons extra-virgin olive oil, plus extra for brushing
1 medium onion, finely chopped
4 ounces crumbled goat cheese, at room temperature
3 tablespoons unsalted butter, at room temperature
1 large egg
1/3 cup freshly grated Parmesan cheese
4 bone-in skin-on chicken breast halves (about 12 ounces each)
Herbes de Provence for sprinkling

Instructions:

1. Preheat oven to 375°F.

2. Shred zucchini, sprinkle with salt, wrap in paper towels, and let stand for 15 minutes. Squeeze the zucchini dry. In a large skillet, heat 1 tablespoon of the oil over medium heat. Add the zucchini and sauté until crisp- tender, 2 to 3 minutes; remove from skillet and let cool. In the same skillet, heat the remaining 1 tablespoon oil, add the onion, and sauté until translucent, about 5 minutes; remove from the heat and let cool.

3. In a small bowl, beat together the goat cheese and butter until blended. Add the egg and beat until smooth. Mix in the zucchini, onion, parsley and cheese.

4. Using your fingers, loosen the skin from the chicken breasts leaving one side attached, and force the zucchini stuffing underneath the skin of each breast. Brush each stuffed breast with olive oil and sprinkle lightly with the herbes de Provence.

5. Place chicken in a roasting pan and bake for 25 to 30 minutes. Serve at once.

Tips:

*If you have leftover stuffing, place it into an ovenproof dish and cook it up into a little mini-souffle. Yum!