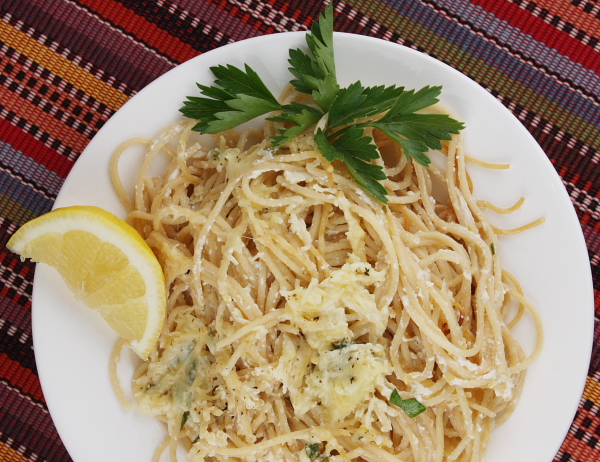 Looking for an easy dinner idea? Grab a rotisserie chicken, throw together a green salad, and bake up this simple and delicious pasta dish for dinner tonight. This one is family-friendly, and it doesn't have any funky ingredients in it either.
Here's the how-to: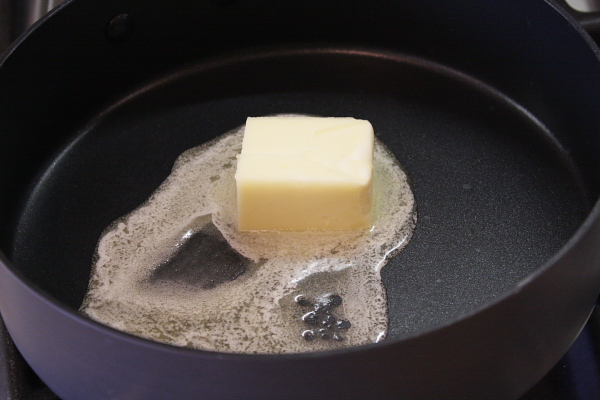 Melt butter in a medium skillet.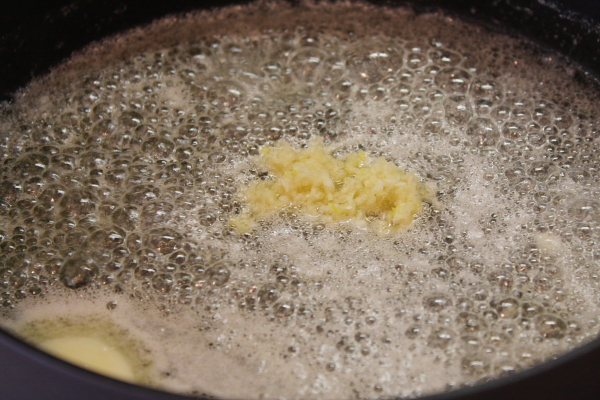 Add minced garlic and let it sizzle away in the bubbling butter.
Remove the pan from heat and stir in 2 cups of sour cream (I used light and all turned out just fine).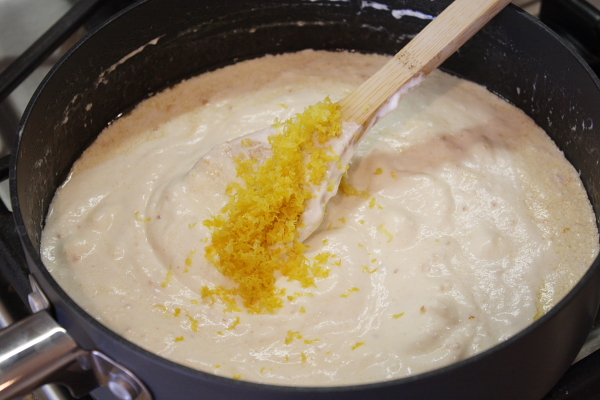 Add the zest of a lemon- about a Tablespoon.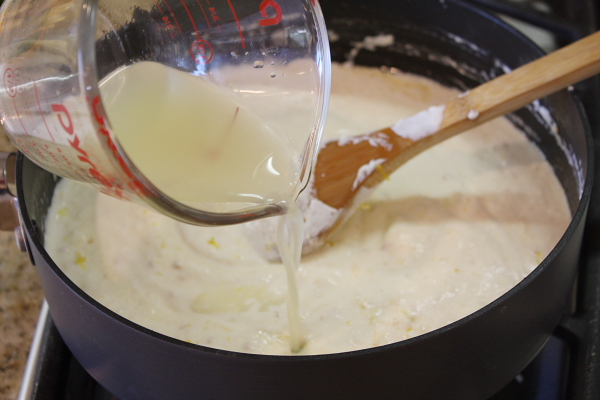 Pour in juice from 1 1/2 lemons- about 1/3 cup.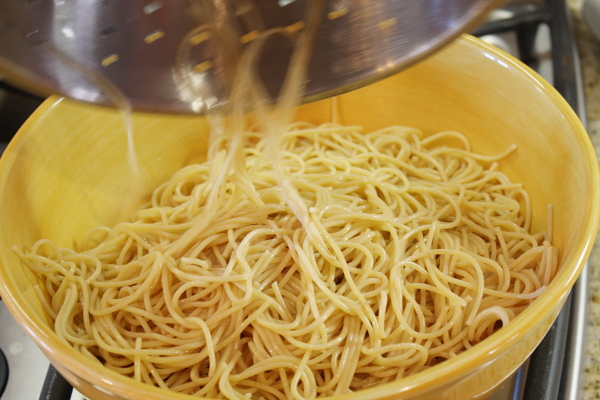 Place cooked spaghetti in a large bowl- I like to use Barilla Plus Multigrain. My family doesn't notice the difference, and it's (hopefully) a bit healthier than plain white pasta.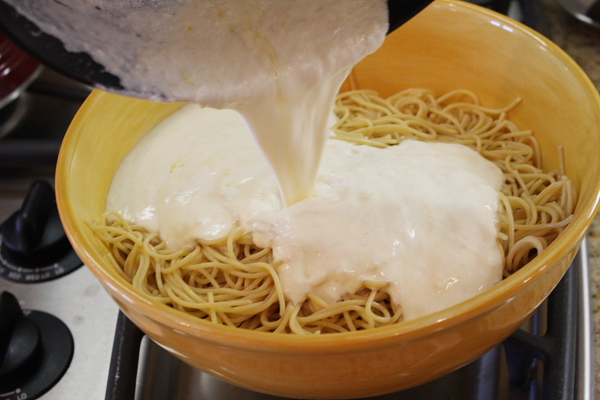 Pour in your lemony sour cream sauce.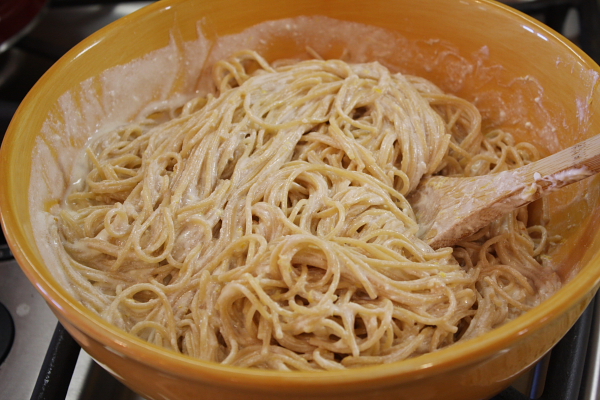 Stir it up.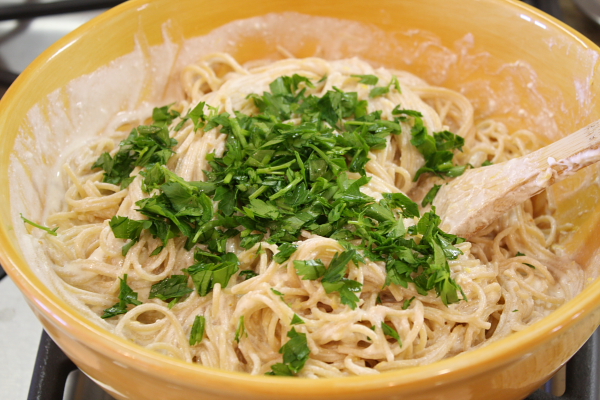 Add a handful of finely chopped Italian parsley….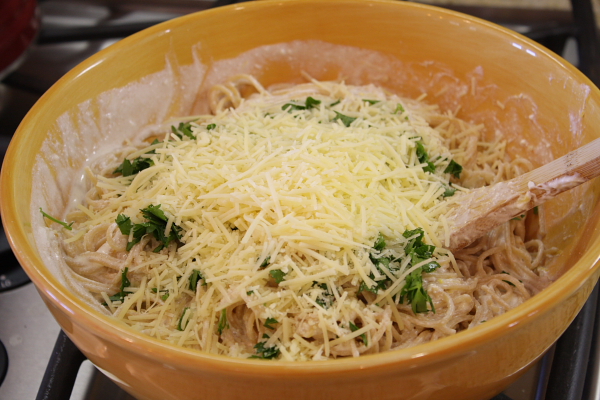 …and 1/2 cup of grated Parmesan Cheese.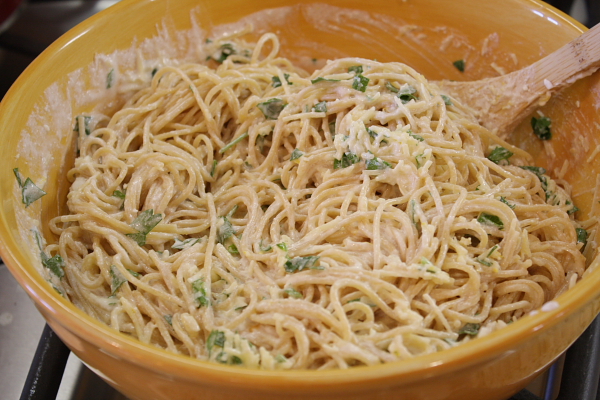 Stir it up again.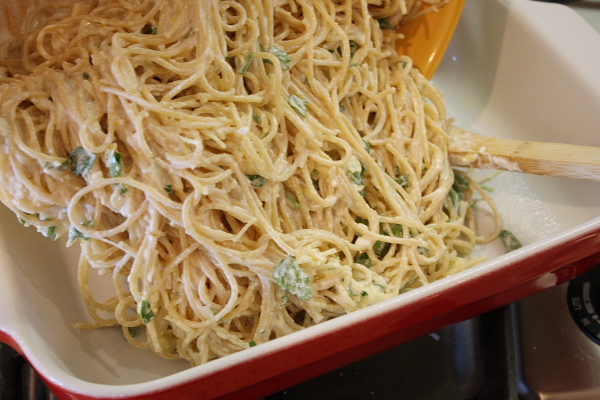 Pour the lemony spaghetti mixture into a greased casserole dish.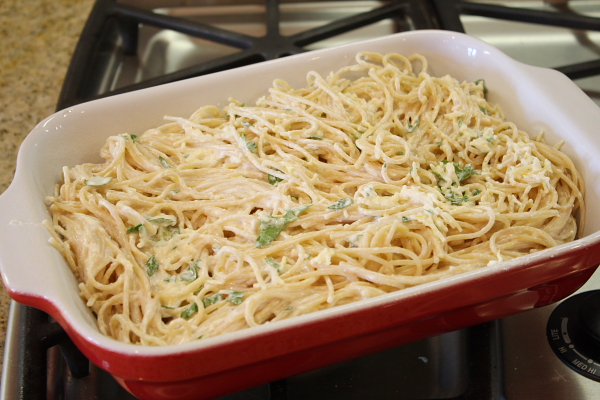 At this point you're going to cover the dish with foil and bake it at 400 degrees for 30 minutes.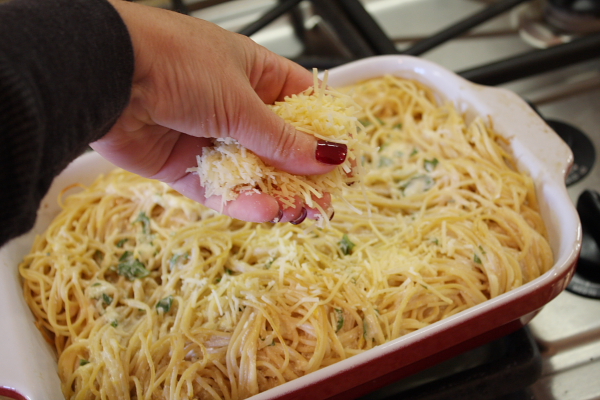 After baking- take it out of the oven, take off the foil and sprinkle another 1/2 cup or so of Parmesan cheese on top.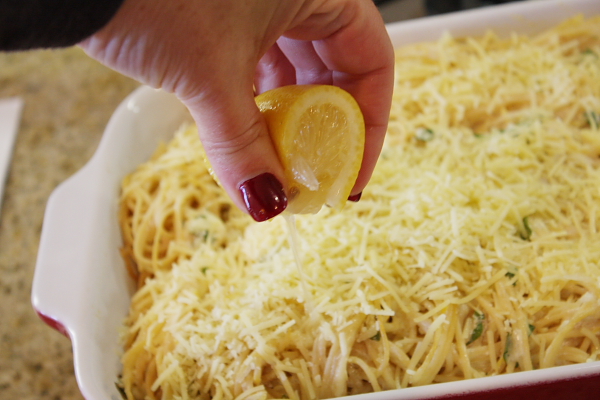 Squeeze the juice from half a lemon all over the top of the pasta.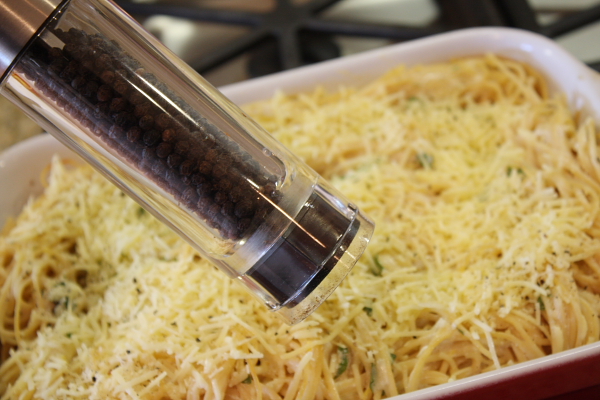 Sprinkle on some freshly ground black pepper…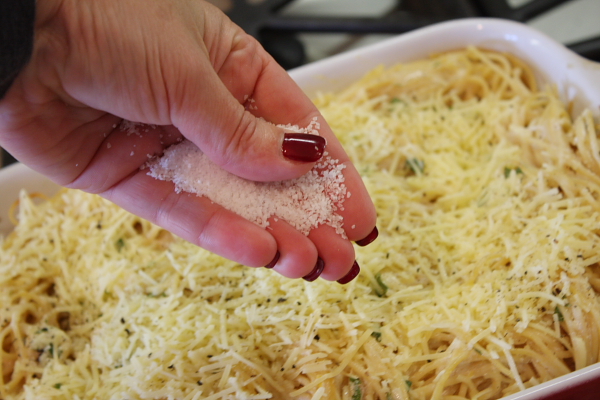 …and add a good dose of kosher salt too.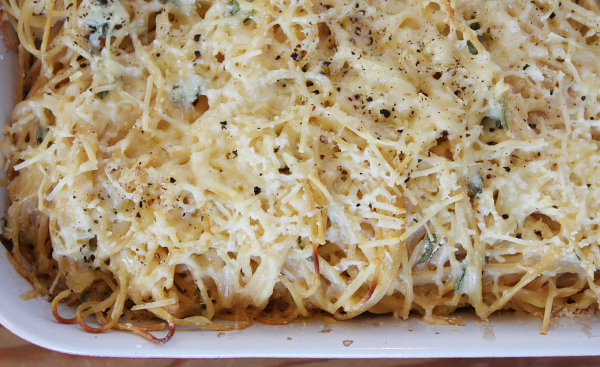 Place the dish back into the oven for 7 or 8 more minutes, just until the cheese gets melty and toasted on top.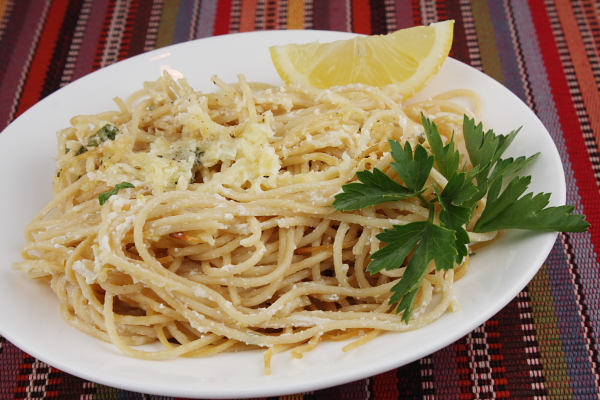 Serve this baked lemon spaghetti it up on its own with a crisp little side salad, or grab a rotisserie chicken and add that to your dinner table too. My market sells a "lemon-garlic" roasted chicken, so that one is just perfect to go with the spaghetti. The pasta comes out of the oven with a light Parmesan crust baked on top. The lemony flavor in this spaghetti is wonderful on its own, but lemon-lovers may wish to squeeze an extra wedge or two on individual servings, as desired. The sauce is not overwhelmingly creamy- just a light coating to give the pasta a bit of flavor and zest. I envision adding mushrooms or BACON too. Enjoy 🙂
Baked Lemon Spaghetti
Great to serve with roasted chicken and a vegetable for an easy & delicious dinner idea.
Yield:
6 to 8 servings
Prep Time: 25 min
Cook Time: 45 min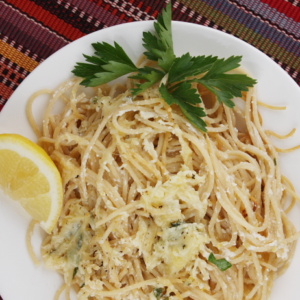 Ingredients:

BAKED LEMON SPAGHETTI
1 (14.5 ounce) package spaghetti
1 Tablespoon extra-virgin olive oil
1/3 cup unsalted butter
2 cloves garlic, minced
1 (16 ounce) carton sour cream (light is fine)
1 Tablespoon finely grated lemon zest (1 lemon, zested)
1/3 cup lemon juice, freshly squeezed (about 1 1/2 medium lemons)
1/3 cup chopped fresh Italian parsley
1/2 cup grated Parmesan cheese

TOP:
1/2 cup freshly grated Parmesan cheese
juice from 1/2 lemon
freshly ground black pepper and kosher salt

Instructions:

1. Preheat oven to 400 degrees F.

2. Cook spaghetti + olive oil according to package directions (minus a couple of minutes)- you want it to be al dente. Drain spaghetti and place in a large bowl.

3. Melt butter in a medium skillet. Add garlic and cook until sizzling and lightly browned, 1 to 2 minutes. Remove from heat; stir in sour cream, lemon zest and 1/3 cup lemon juice. Pour lemon sauce over the spaghetti and stir. Add Italian parsley and 1/2 cup Parmesan and stir some more. Pour lemony spaghetti in a greased 1.5 quart casserole dish.

4. Cover dish with foil and bake for 30 minutes. Take dish out of the oven and remove foil. Sprinkle 1/2 cup Parmesan on top. Drizzle juice from 1/2 lemon over the top of the pasta. Sprinkle pepper and salt on top. Place dish back into the oven for 7 or 8 minutes, just until cheese is melted and noodles have begun to turn golden in a few places. Serve immediately.

Tips:

*Serve pasta with lemon wedges, for those who like some extra tang in their pasta.
*Try adding sliced mushrooms into the dish... saute them with the butter and garlic.
*Try adding cooked bacon. Everything is better with bacon!
*This spaghetti is also great when served as a side dish to roasted chicken.
*If you'd like the finished dish to turn out a little bit creamier- just use less pasta.

Source: RecipeGirl.com (Adapted from many versions floating around on the internet)
Other baked spaghetti recipes on the blogs that you may enjoy:
Tomato Basil and Romano Ricotta Spaghetti Pies by Picky Palate
Not Your Average Baked Spaghetti by The Cooking Photographer
Baked Chicken Spaghetti by 5 Dollar Dinners
Baked Spaghetti Squash w/ Garlic & Butter by Steamy Kitchen