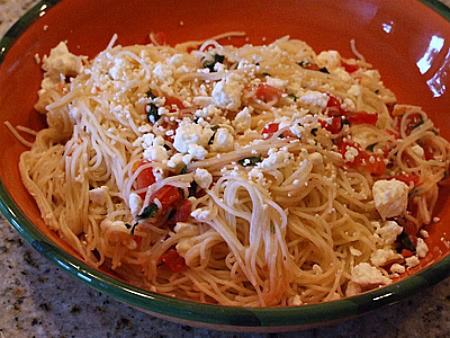 Greek Spaghetti w/ Tomatoes & Feta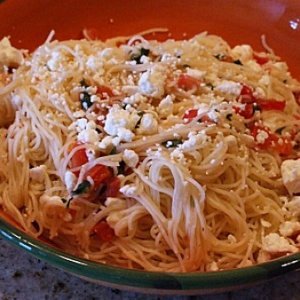 Yield:
4 servings (1 1/4 cups per serving)
Prep Time: 15 min
Cook Time: 20 min
Ingredients:
2 teaspoons olive oil
1 teaspoon dried oregano
1 large clove of garlic, minced
3 cups diced tomatoes
1/2 cup sliced green onions
1/4 cup chopped fresh parsley, divided
2 Tablespoons freshly squeezed lemon juice
4 cups hot cooked thin spaghetti (8-ounces uncooked pasta)
1 cup crumbled feta cheese (4 ounces), divided
freshly ground black pepper
lemon slices for garnish, optional
green onions for garnish, optional
Directions:
1. Heat oil in a large nonstick skillet over medium-high heat. Add oregano and garlic; saute 30 seconds. Add tomatoes, green onions, 2 Tablespoons parsley, and lemon juice; cook 2 minutes or until thoroughly heated.
2. Combine tomato mixture, spaghetti, and 3/4 cup cheese; toss gently. Top with remaining cheese and parsley and serve with pepper.
3. Garnish with lemon slices and green onions, if desired.
Nutrition:
Nutritional Information per serving:
Serving size: 1 1/4 cups
Calories per serving: 359
Fat per serving: 11.44g
Saturated Fat per serving: 6.11g
Sugar per serving: 6g
Fiber per serving: 3.36g
Protein per serving: 14g
Cholesterol per serving: 33.38mg
Carbohydrates per serving: 50.57g
WW POINTS per serving:
Points Plus Program: 9 Old Points Program: 9