We love to have this one for dinner:  Beef and Cheese Enchiladas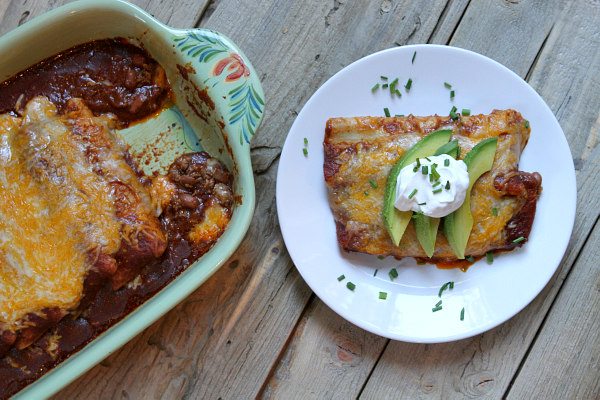 It's a fact that my family loves Mexican food.  Reno isn't such a hot-bed of good Mexican food restaurants.  We really do miss the awesome taco shops of southern California!  So I happen to make a lot of Mexican food dishes at home to compensate for our loss.  For dinner last week, I surprised my family with some enchiladas.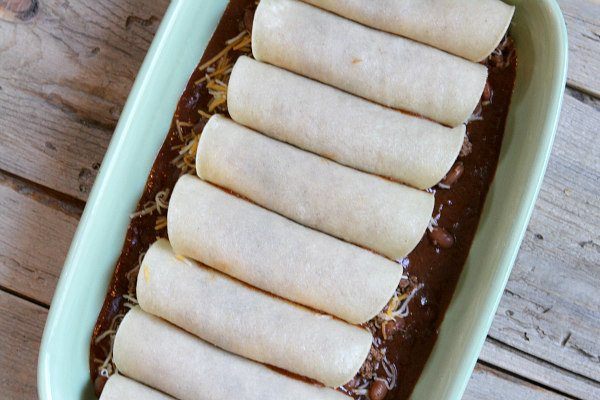 I always, always use my recipe for homemade enchilada sauce when I'm making enchiladas.  For some reason the canned variety just doesn't taste right to me.  These enchiladas are stuffed with a mixture of spiced beef + chili beans and cheese.  They're wrapped with lightly fried corn tortillas.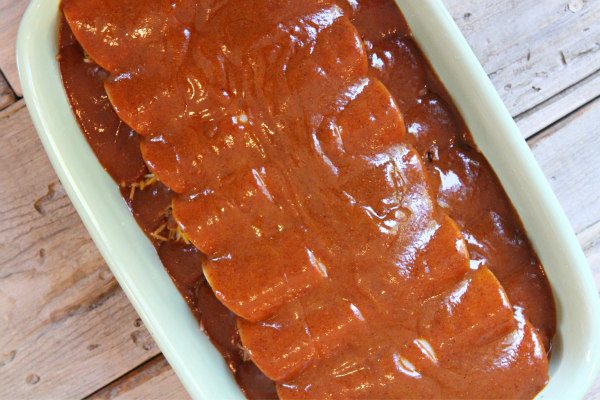 Enchilada sauce covers the filled tortillas.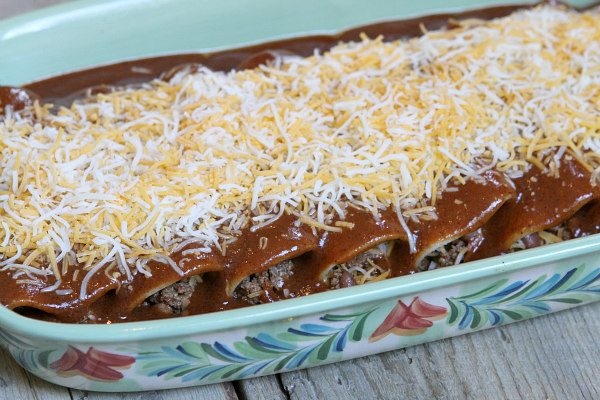 And there is a generous sprinkle of cheese added on top.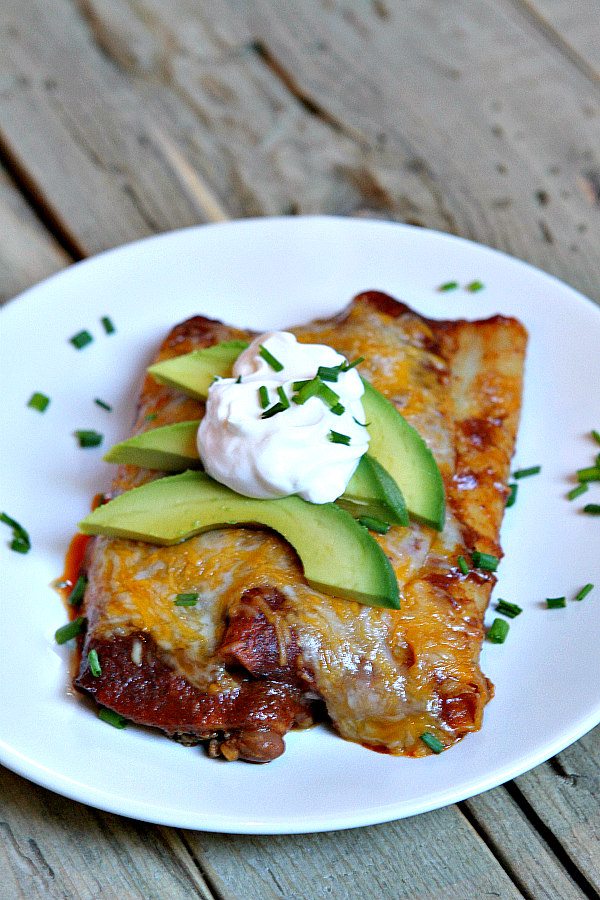 We like to top our enchiladas with plenty of avocado and sour cream.  I recommend you try eating them that way too.  Our family was a bunch of happy campers having our favorite for dinner!
Beef and Cheese Enchiladas
Yield:
4 servings
Prep Time: 30 minutes
Cook Time: 20 minutes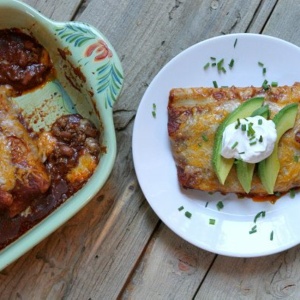 Ingredients:

Eight 6-inch tortillas
1 tablespoon olive oil
1/2 cup chopped onion
3/4 pound ground beef
1 1/4 teaspoons chili powder
salt and pepper
1 (15.5-ounce) can chili beans
one recipe of homemade enchilada sauce (or 2 16-ounce cans)
1 3/4 cups shredded cheddar cheese
1 3/4 cups shredded Monterey Jack cheese

Instructions:

Preheat the oven to 375 degrees F.
Fry tortillas using instructions in notes below... unless you have another way you like to prepare corn tortillas for enchiladas.
Heat 1 tablespoon oil in a large saucepan over medium heat.  Add the onion and cook until soft and translucent- about 4 minutes.  Increase heat to medium-high; add ground beef and cook, stirring occasionally, until browned- about 5 minutes.  Stir in the chili powder and season with salt and pepper.  Spoon out any accumulated fat.  Stir in the beans.
Spoon enough enchilada sauce into the bottom of a 9x13-inch pan to create a thin layer.
Lay a tortilla out on your work surface.  Place a couple big spoonfuls of the beef mixture and a sprinkle of both cheeses down the middle of the tortilla.  Roll up and place the enchiladas seam-side-down next to each other in the pan.  Cover the enchiladas with the remaining enchilada sauce.  Sprinkle remaining cheese on top.
Bake 15 to 20 minutes- until the sauce is bubbling and the cheese is melted.

Nutrition:
To fry tortillas: In a small skillet, heat 1/2 inch or less of oil over medium-high. When you can flick a drop of water in the oil and get a sizzle, you're ready to fry your tortillas. Place one tortilla in the hot oil and use tongs to press it down so it cooks on both sides- you only need to cook it for about 20 to 30 seconds to soften it up. Remove the tortilla to a paper-towel-lined plate. Repeat with remaining tortillas, placing paper towels in between each cooked tortilla to absorb the oil.
SOURCE:  RecipeGirl.com
Here are a few more enchilada recipes you might enjoy: