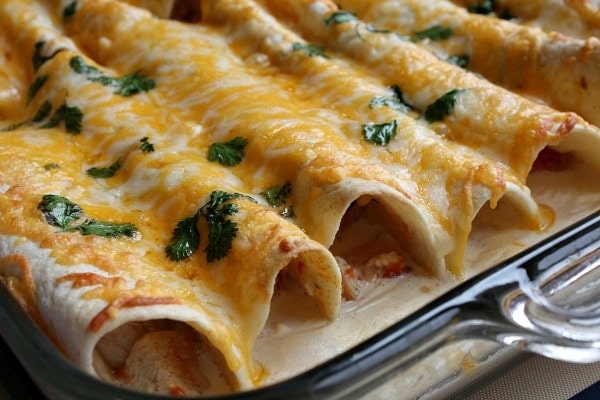 Three Cheese Chicken Enchiladas
Simple to assemble enchilada recipe... and none of that tin-flavored, canned enchilada sauce either. Just good stuff.
Yield:
12 enchiladas
Prep Time: 40 min
Cook Time: 50 min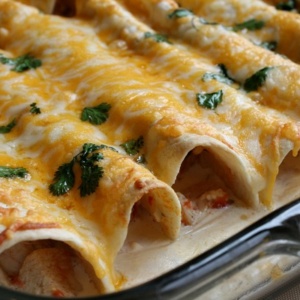 Ingredients:

1 medium onion, chopped
1 clove garlic, minced
1 1/2 tablespoons canola or vegetable oil
2 cups chopped cooked chicken
1 1/2 (10-ounce) cans ROTEL Diced Tomatoes & Green Chiles
1/4 teaspoon salt
1/8 teaspoon pepper
2 Tablespoons chopped fresh cilantro
3 ounces crumbled feta or goat cheese
12 (6-inch) flour tortillas
1 1/2 cups half and half cream
1 teaspoon cumin powder
1 cup (4-ounces) shredded Monterey Jack cheese
1 cup (4-ounces) shredded Cheddar cheese
About 1/4 cup of broken up cilantro leaves to top, optional

Instructions:

1. Preheat oven to 350°F.

2. Sauté onion and garlic in hot oil in a Dutch oven over medium-high heat until tender. Stir in chicken, Rotel, salt and pepper. Bring to a boil; reduce heat, and simmer, stirring occasionally, 15 minutes. Remove from heat and stir in cilantro and feta cheese.

3. Spoon about 1/4 cup chicken mixture down center of each tortilla; roll up tortillas, and place, seam-side-down, in lightly greased 13x9-inch baking dish.

4. Whisk together half and half and cumin powder in a small saucepan over low heat until cumin is mixed in and liquid is warmed. (You can also heat it in the microwave for about 2 minutes). Pour over tortillas.

5. Bake, covered with foil, for 10 minutes. Remove foil and bake 10 more minutes. Sprinkle with shredded cheeses and cilantro (if using) bake 10 more minutes.