An easy, healthier pasta dinner:  Cheesy Beef and Pasta Casserole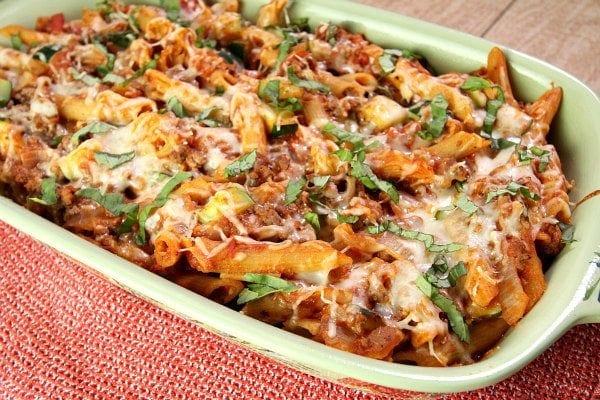 My husband just about flipped when I served this for dinner the other night… and not in a good way!  He has been eating light, and he's been trying his hardest to avoid eating an overload of carbs.  We're pretty much carboholics around my house.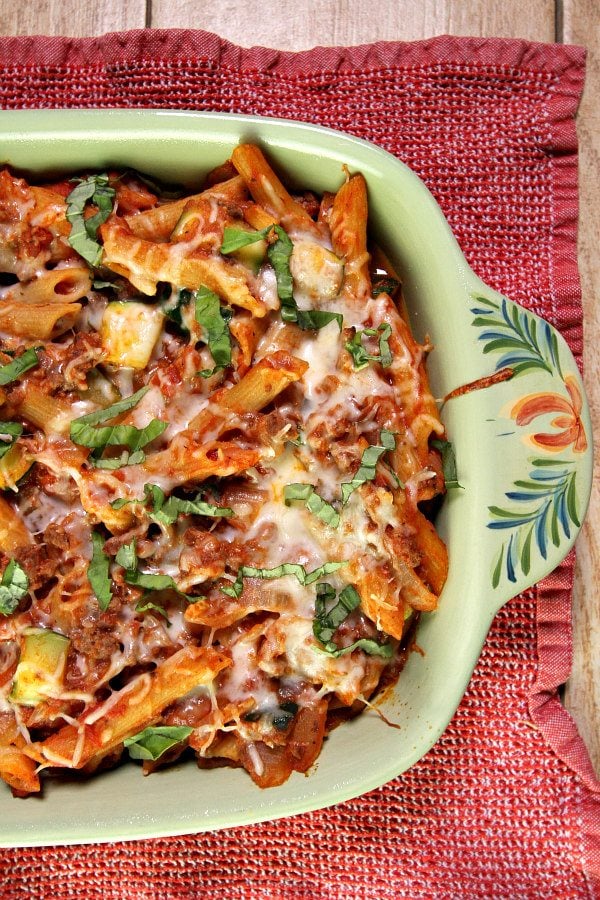 I did my best to change his thinking.  I explained that it was a lightened up recipe in the first place, there's a good bunch of ZUCCHINI in it, and I'd be serving a very large side salad to go with a smallish portion of pasta.  He eyed me suspiciously, but eventually he gave in to the carb craving.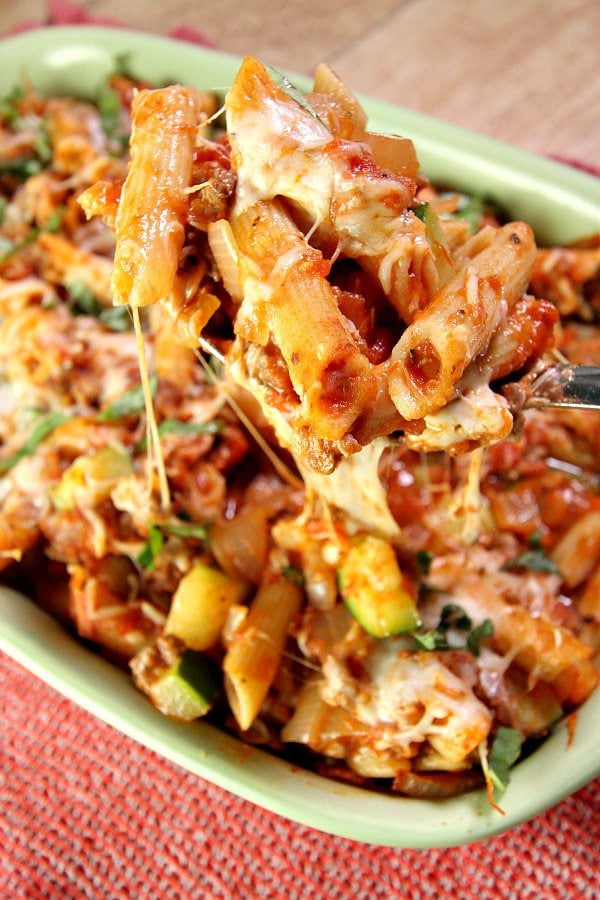 Eating pasta, you see, can be manageable for a diet.  Just wait until the NEXT day before you go back for seconds 🙂
Cheesy Beef and Pasta Casserole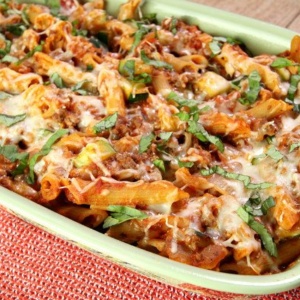 Yield:
6 servings (about 1 1/4 cups per serv.)
Prep Time: 30 minutes
Cook Time: 20 minutes
Ingredients:
1 teaspoon olive oil
1 medium onion, chopped
1 large zucchini, chopped
2 garlic cloves, minced
1/4 teaspoon red pepper flakes
3/4 pound lean ground beef (7% fat or less)
4 cups cooked whole wheat penne (about 2 1/4 cups dry)
2 cups low fat marinara sauce (2g fat or less)
1 cup shredded part-skim mozzarella cheese, divided
2 tablespoons chopped fresh basil
Directions:
Preheat the oven to 375 degrees F.  Spray a 2-quart casserole dish with nonstick spray.
In a large skillet, heat the oil over medium heat.  Add the onion, zucchini, garlic and red pepper flakes-- cook, stirring, until the vegetables are softened-- about 5 minutes.  Remove the vegetables to a bowl and set aside.  Add the beef to the pan and cook, breaking it apart with a spatula, until browned- 8 to 10 minutes.  Drain off any accumulated oil and discard.
Add the cooked vegetables, penne and sauce to the pan and mix to combine.  Spoon the pasta mixture into the prepared casserole dish.  Sprinkle with cheese.
Bake until the cheese is melted and the filling is hot and bubbly- 20 to 25 minutes.  Sprinkle fresh basil on top and serve.
Nutrition:
Nutritional information per serving (serving size about 1 1/4 cups) Calories: 318, Fat: 9g, Saturated Fat: 4, Cholesterol: 42.5mg, Sodium: 425mg, Potassium: 228mg, Carbohydrates: 34g, Fiber: 5g, Sugars: 6g, Protein: 23g
Weight Watchers POINTS:  Freestyle SmartPoints: 7 (or if you use ground turkey in place of beef, then 6 points), SmartPoints: 7, Points Plus: 8 , Old Program: 6
Here are a few more pasta casserole recipes you might enjoy: