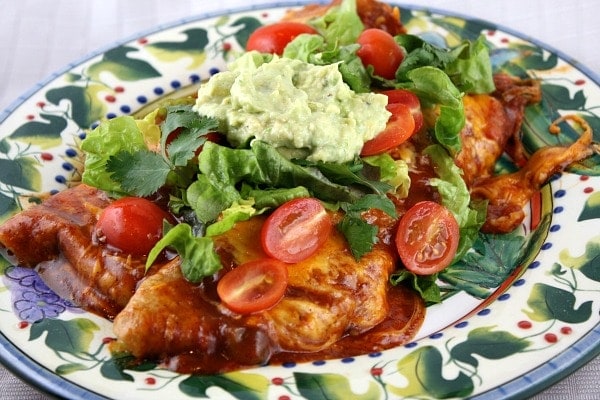 Chicken and Spinach Enchiladas
Super easy recipe for enchiladas! This one is family-friendly. Serve with any toppings that you'd like...
Yield:
6 servings
Prep Time: 25 min
Cook Time: 30 min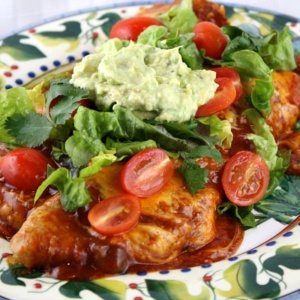 Ingredients:

One 16-ounce jar medium salsa, divided
Two 10-ounce cans enchilada sauce
One 8 ounce package cream cheese (low fat is ok)
One 10-ounce package frozen chopped spinach, thawed & squeezed dry
2 1/2 cups shredded or chopped roasted chicken
Ten 8-inch flour tortillas
One 8 ounce package shredded Mexican four-cheese blend
toppings: shredded lettuce, guacamole, chopped fresh cilantro, chopped red onion, halved grape tomatoes, as desired

Instructions:

1. Preheat oven to 350°F.

2. Stir together 1/4 cup salsa and enchilada sauce, and set aside.

3. Microwave cream cheese in a medium microwave-safe bowl at HIGH 1 minute or until very soft. Add spinach, chicken and remaining salsa, and stir until blended.

4. Spoon a heaping 1/3 cupful chicken mixture down center of each tortilla. Roll up tortillas, and place, seam-sides down, in a lightly greased 13x9-inch baking dish. Pour enchilada sauce mixture evenly over top of rolled tortillas; sprinkle with shredded cheese.

5. Bake for 30 minutes or until bubbly. Let stand 5 minutes. Serve with desired toppings.