Asparagus & Chicken Enchiladas
My father first made these enchiladas for me many years ago... they have remained a big favorite!
Yield:
12 enchiladas
Prep Time: 25 min 2
Cook Time: 30 min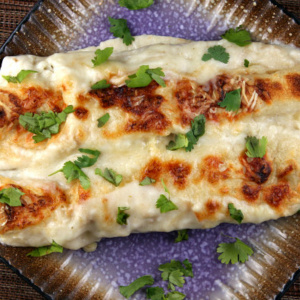 Ingredients:

1/2 cup butter
1/2 cup all-purpose flour
3 cups chicken broth
8 ounces sour cream
1/2 cup green taco sauce
12 (8-inch) flour tortillas
3 cups chicken, cooked & shredded
1/2 cup sweet onion, finely chopped
12 ounces Monterey Jack cheese, shredded
2 1/2 pounds asparagus, trimmed & blanched
1/2 cup Parmesan cheese, grated

Instructions:

1. Preheat oven to 425 degrees F. Spray two (9x9) glass dishes (or one large 9x13 glass dish) with nonstick spray.

2. In medium saucepan, melt butter over medium heat. Whisk in flour and cook, stirring 1 minute. Gradually add broth and cook, whisking, until thick (5 minutes). Remove from heat. Whisk in sour cream and taco sauce and set aside.

3. Lay out tortilla onto working surface. Place 2 Tablespoons of Jack cheese, 1/4 cup chicken, onions and asparagus down the center of the tortilla. Spoon 3 Tablespoons of sauce on top of the mixture. Roll and place seam down. Place 6 enchiladas in each dish. Sprinkle with Jack cheese, sauce and Parmesan.

4. Bake 25 minutes, or until light golden color and bubbly.

Tips:

*If you like spicy, add red pepper flakes or a couple of dashes of tabasco to the sauce.
*Don't pre-cook your asparagus too long... they should still be firm and crisp.