This is one of my family's favorite dinner recipes (and it's so easy to make, too): Turkey Tostadas!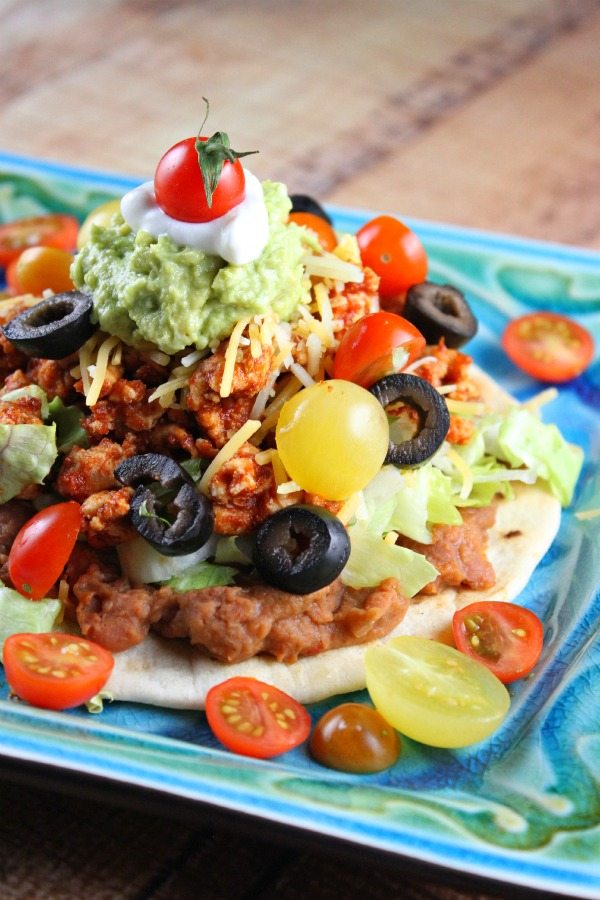 Turkey Tostadas
These are meant to eat with a fork and knife.
Yield:
6 servings
Prep Time: 25 minutes
Cook Time: 8 minutes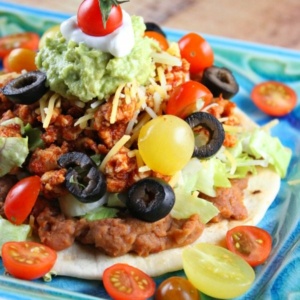 Ingredients:

1 tablespoon vegetable or canola oil
1/2 large onion, chopped
3 cloves garlic, chopped
20-0unces lean ground turkey
1 tablespoon chili powder
2 teaspoons ground cumin
1 teaspoon coriander
1 6-ounce can tomato paste
1 cup water
salt to taste
6 medium flour tortillas (use corn if gluten-free)
One or two 15-ounce cans refried beans, warmed-up
1 medium head iceberg lettuce, chopped
3/4 cup shredded cheddar or cheddar/jack cheese
grape or cherry tomatoes, halved
1/2 cup sliced black olives
guacamole, sour cream, and salsa, for serving

Instructions:

Heat oil in a large nonstick skillet. Add onion and garlic and crumble in turkey. Stir-fry over moderate heat until turkey is no longer pink, about 6 minutes. Mix in chili powder, cumin, coriander, tomato paste, water and salt. Bring to a simmer and keep warm.
To heat the tortillas:  Put oven on "broil" setting.  Place tortillas on the middle rack in the oven and heat until they begin to brown and get a little bit crispy, then flip and heat the other side too.  Watch closely- you don't want to burn them!
Spread the heated tortillas with warmed refried beans. Sprinkle lettuce on the beans.  Top with the warmed turkey mixture and sprinkle with cheese. Divide tomatoes and black olives over salad. Top with salsa, guacamole and sour cream, as desired.

Tips:

If you are preparing this recipe as GLUTEN-FREE, be sure to use brands of tomato paste and refried beans that are known to be GF. Also-- use GF corn tortillas in place of flour tortillas.
SOURCE: RecipeGirl.com