This post shows you How to Make Tostadas. Tostadas are toasted or fried tortillas topped with refried beans and your favorite fixings for an easy dinner!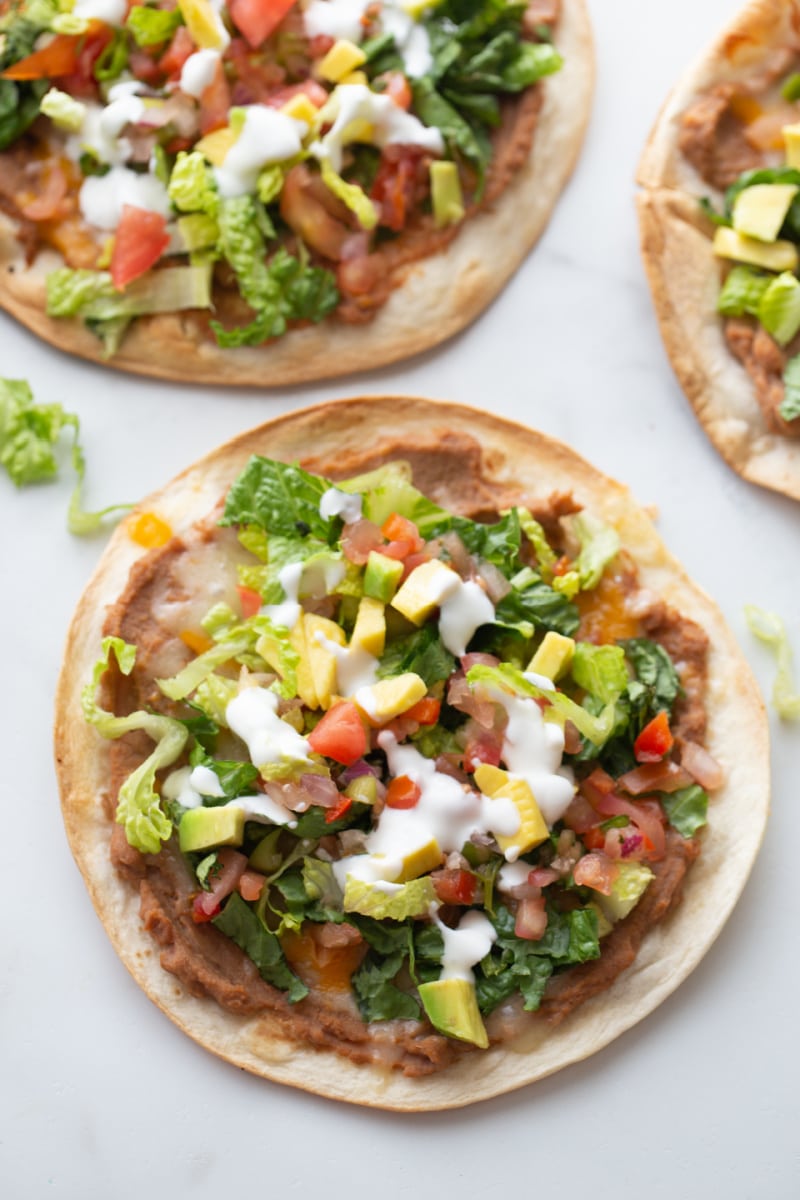 Tostadas can be made to your liking. I'm showing how to make tostadas in the most basic way, and these are completely vegetarian. Feel free to pile the lettuce on high and add taco meat or chopped steak or chicken. Add chopped fresh cilantro to your tostadas. Serve them with rice and margaritas. Customize these with your favorites. Traditional tostada recipes call for using deep fried tortillas. We're baking them here.
Ingredients needed:
tortillas (corn or flour)
refried beans
shredded cheese (cheddar or cheddar/jack blend)
chopped lettuce
chopped tomato (or salsa)
sour cream
chopped avocado (or guacamole)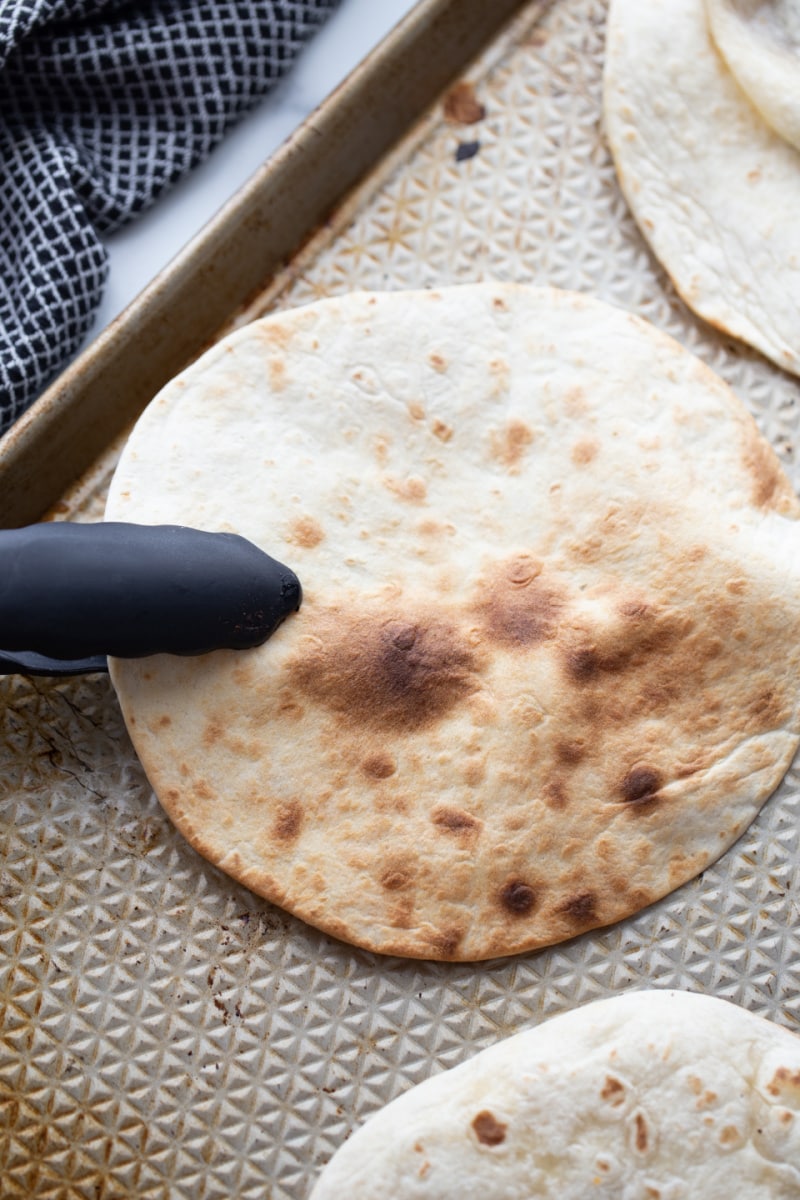 How to make Tostadas:
If using flour tortillas, toast them on one side by broiling them in the oven. If using corn tortillas, you'll want to fry them first.
How to fry corn tortillas:
In a small skillet, heat 1/2-inch or less of oil over medium-high. When you can flick a drop of water in the oil and get a sizzle, you're ready to fry your tortillas. Place one tortilla in the hot oil and use tongs to press it down so it cooks on both sides- cook it for 30 to 40 seconds until it starts getting crisp. Remove the tortilla to a paper-towel-lined plate. Repeat with remaining tortillas, placing paper towels in between each cooked tortilla to absorb the oil.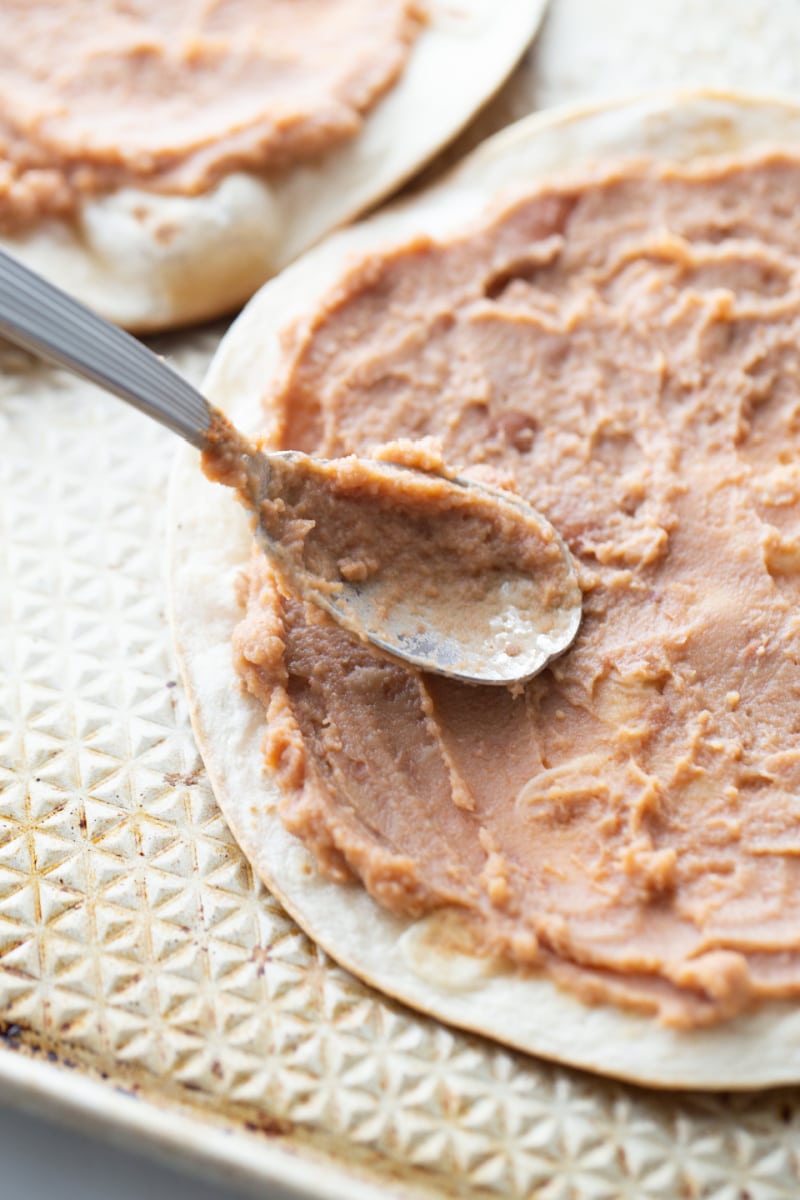 Flip over the toasted tortillas and spread refried beans on the other side (or spread the beans on fried corn tortillas).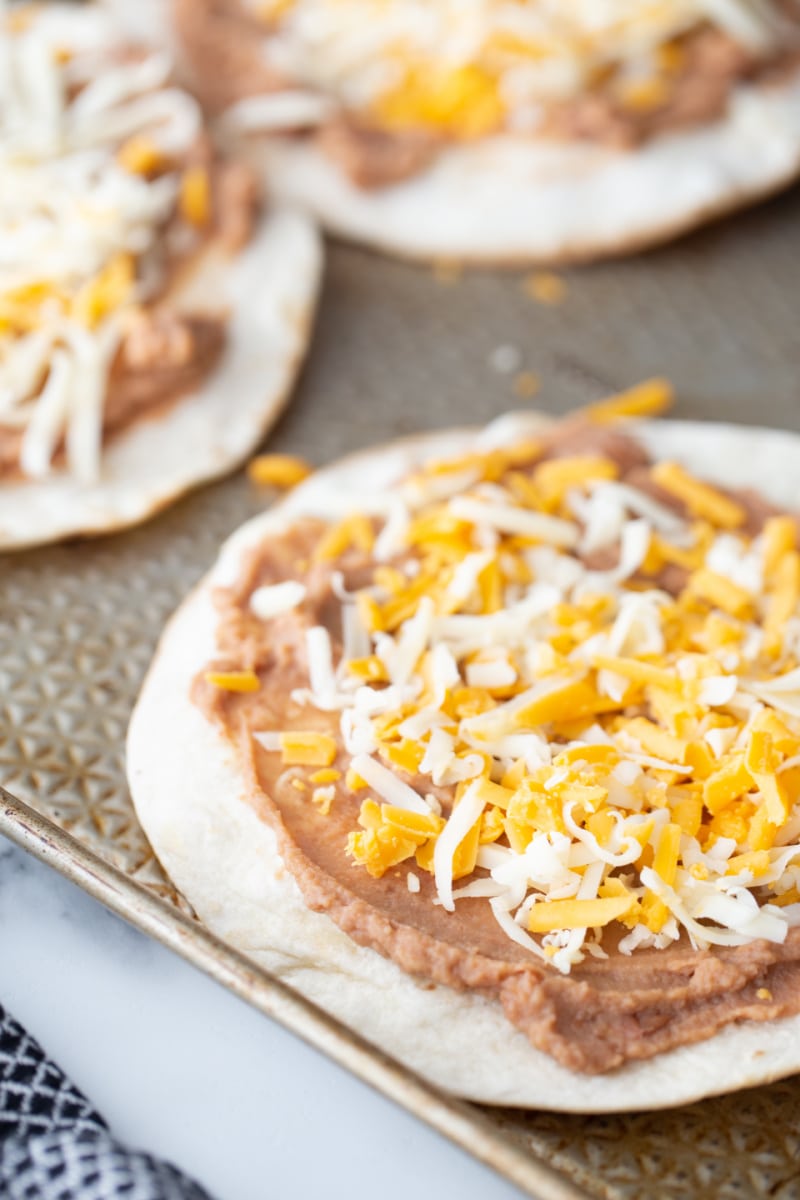 Sprinkle shredded cheese on top of the beans. Use whatever cheese you'd like. I prefer sharp cheddar or a cheddar/jack blend.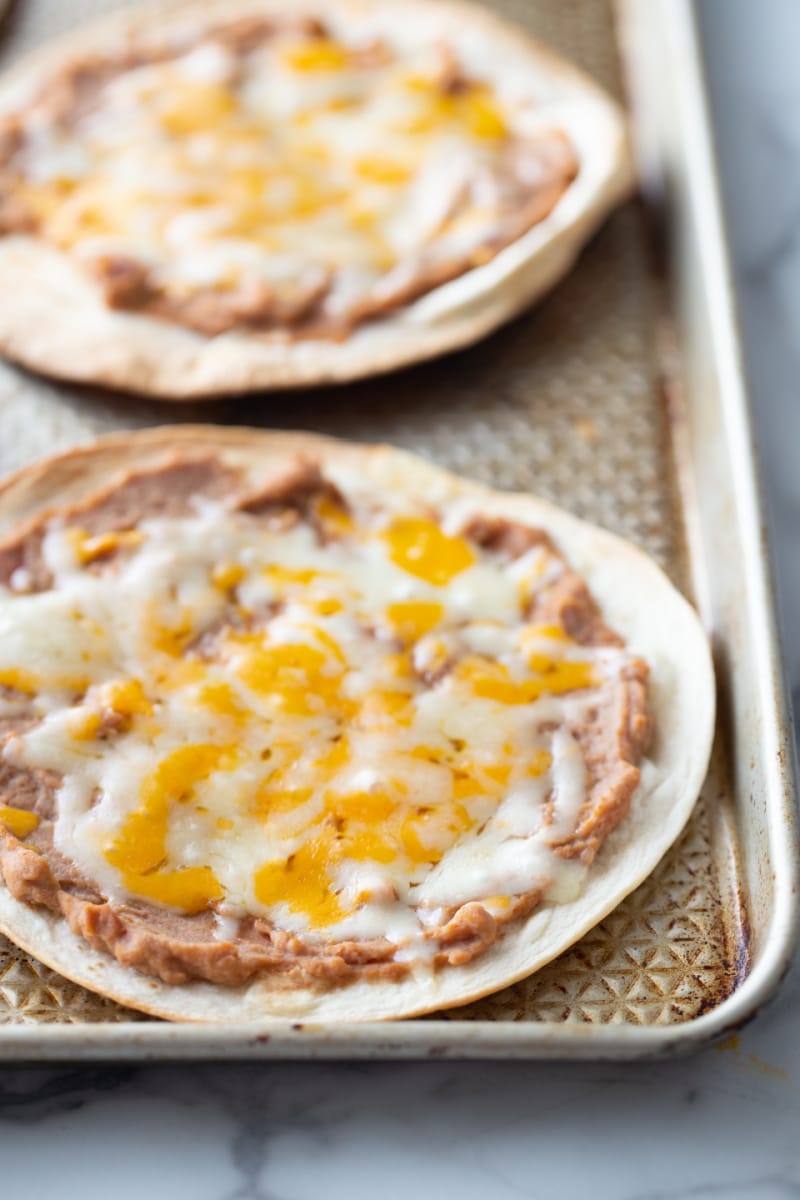 Broil them again until the cheese is melted and the tortillas are crisp.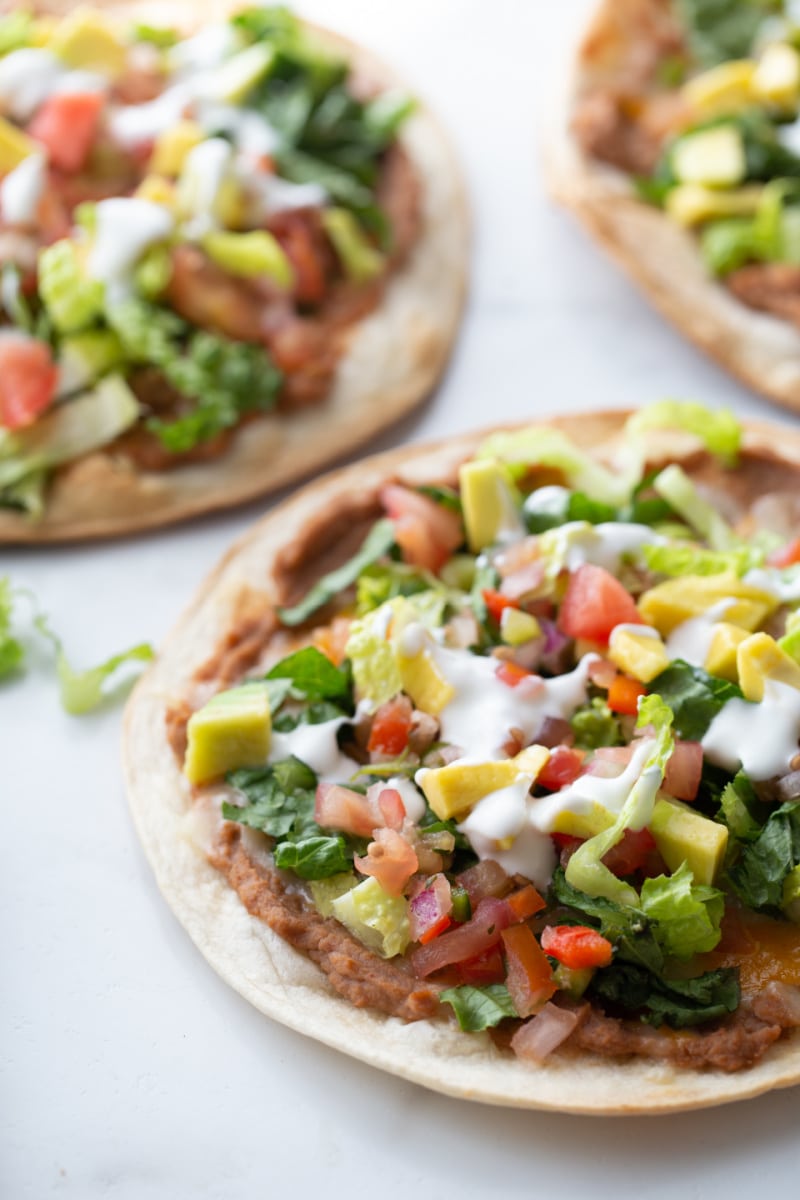 Top with your favorite toppings. And now you know how to make tostadas. Enjoy!
Side note:
When I was growing up, my Mom made these for dinner quite often (along with her famous tacos) but she always made them with fried tortillas and she called them "chalupas." I'm not sure how she attached that name with these, but that's how we knew them. Chalupas are made with fried masa dough, and they are topped with similar toppings. So these are "Mom's Chalupas!"
How to make Tostadas
Toasted tortillas topped with your favorite things for an easy dinner!
Recipe Details
Ingredients
Eight

6-inch

flour tortillas

2

cups

refried beans

2

cups

shredded cheese

(cheddar or cheddar/jack blend)

2

cups (or more)

finely chopped lettuce

1

cup

chopped fresh tomato

(or salsa)

1

cup

sour cream

1

cup

chopped avocado

(or guacamole)
Instructions
Preheat the broiler. Spray a baking sheet with nonstick cooking spray. Place 4 tortillas on the baking sheet and heat on the center rack in the oven for 4 minutes (keep an eye out so they don't burn or brown too quickly!)

Remove the baking sheet from oven and turn the tortillas over. Spread each tortilla with ¼ cup refried beans and top with ¼ cup cheese. Bake until the cheese is hot and bubbling and the tortillas are crisp, 5 to 7 more minutes (again, keep an eye on them!) Repeat with the remaining tortillas.

Serve immediately, topping each tortilla with lettuce and desired toppings-- tomato/salsa, sour cream and avocado/guacamole.
Notes
*Have leftover taco meat or chicken? Add some on top to make this meal more substantial.
*This recipe is gluten-free adaptable- use GF corn tortillas instead of flour, and make sure that the refried beans and salsa that you're using do not contain any gluten.
Nutrition
Serving:
1
tostada
,
Calories:
312
kcal
,
Carbohydrates:
27
g
,
Protein:
13
g
,
Fat:
17
g
,
Saturated Fat:
8
g
,
Cholesterol:
37
mg
,
Sodium:
758
mg
,
Potassium:
326
mg
,
Fiber:
5
g
,
Sugar:
6
g
,
Vitamin A:
898
IU
,
Vitamin C:
6
mg
,
Calcium:
239
mg
,
Iron:
2
mg