Beef Fajitas with Mango Salsa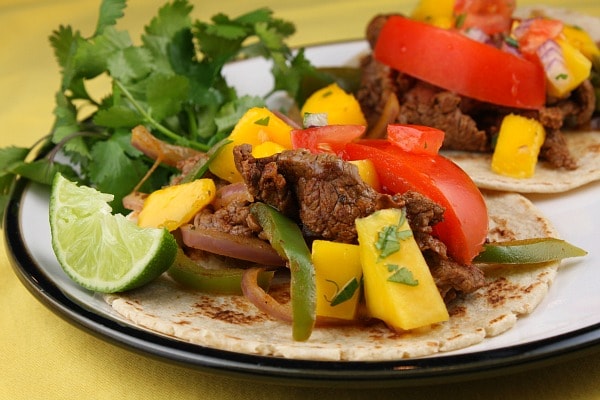 Yield: 4 Servings (2 fajitas per serving)
Prep Time: 20 min
Cook Time: 6 min
Beef Fajitas with Mango Salsa
Love this super-simple recipe. My family enjoyed these with added guacamole and sour cream.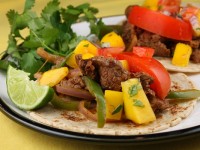 Ingredients:
SALSA:
1 large mango, peeled & chopped
1 large tomato, chopped
2 Tablespoons finely chopped red onion
1 Tablespoon chopped cilantro
1/4 teaspoon salt
1 Tablespoon fresh lime juice
FAJITAS:
1 pound flank steak, cut into thin strips
2 teaspoons chili powder
1 teaspoon ground coriander
1/2 teaspoon dried oregano
2 teaspoons canola oil
1 cup thinly sliced red onion
1 medium green bell pepper, seeded & thinly sliced
1 medium jalapeño pepper, seeded & thinly sliced
2 teaspoons worcestershire sauce
3/4 teaspoon salt
1 medium tomato, cut into 8 wedges
8 lime wedges
8 taco-sized flour tortillas, warmed
Directions:
1. Combine salsa ingredients in bowl; toss to mix and set the salsa aside.
2. Combine steak, chili powder, coriander and oregano in another bowl; turn to coat the meat. Heat the oil in a large nonstick skillet over medium-high heat. Add steak, onion, bell pepper, jalapeño, worcestershire, and salt. Cook, stirring occasionally, 6 minutes. Remove from the heat.
3. Scoop some of the beef mixture in a strip down the center of each tortilla. Top with mango salsa and a tomato slice. Serve with a wedge of lime for squeezing.