Make this Classic Eclairs Recipe for your next get-together; they're such a delicious treat!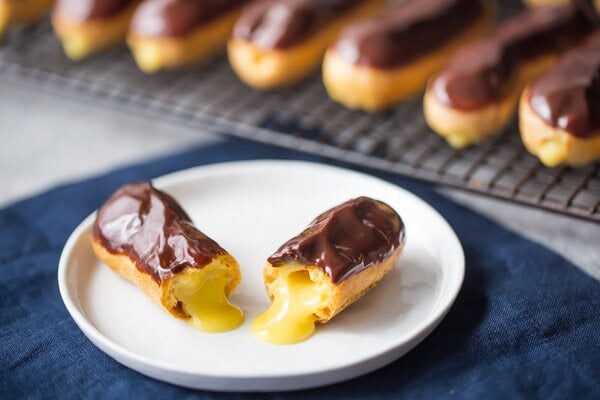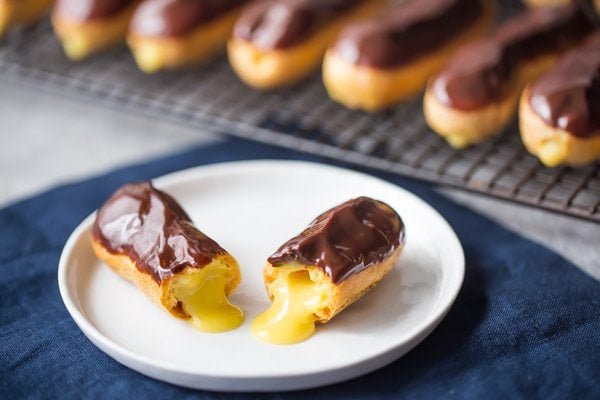 Have you ever thought about making eclairs at home?
That fancy French pastry doesn't have to only be a bakery treat- you can make them yourself!  And when you do, you won't believe how much better they taste.
When I was growing up, whenever we'd go to any kind of family feast, my mom would always repeat "homemade is always best."  I thought she just wanted to encourage me to love the food that she and my aunts and grandmother made, but as I got older I realized what it's really all about.  When something is made with really top-notch, quality ingredients, and it's fresh from the kitchen, that's really a taste that can't be beat by anything off a store shelf.
Eclairs are a perfect example of that.  You can make these treats yourself, so they're fresh as can be, and it's pretty simple!  It's even easier if you stay organized and prep everything ahead of time.
I like to start with the shells.  They're a basic French pastry called pate a choux, made from just a few simple ingredients.  I like to make them up to a couple of weeks ahead of time; they freeze beautifully!  Just allow them to cool completely, then toss them into a zip-top bag and into the freezer.
The filling can also be made ahead.  I typically like to make it a day or two before I plan to serve the eclairs.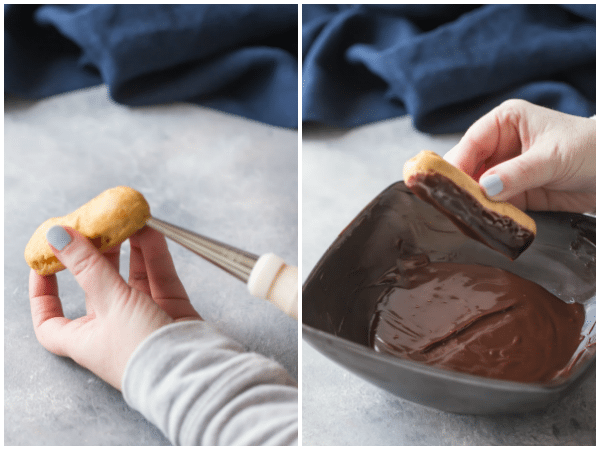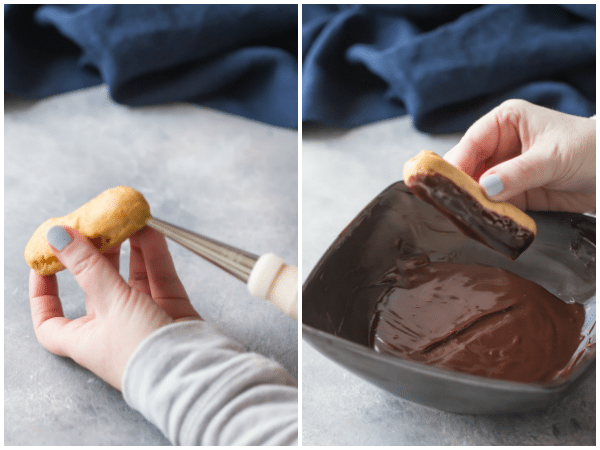 On the day you plan to serve your eclairs, just thaw your shells and transfer the creme patissiere filling into a pastry bag fitted with a Bismarck tip.  Can you see in the photo above, how the tip is elongated, and very pointy at the end?  This is the perfect tool for filling eclairs.  Just pierce one end of an eclair shell with the tip, and squeeze the filling in.  You can feel the eclair expanding slightly and becoming heavier.  Just be careful not to overfill, or you could have a bit of a mess on your hands!
Once the eclairs are filled, they can take a dip in a glossy chocolate glaze.  The combination of egg-y pastry, rich vanilla pastry cream, and dark chocolate is just off the charts!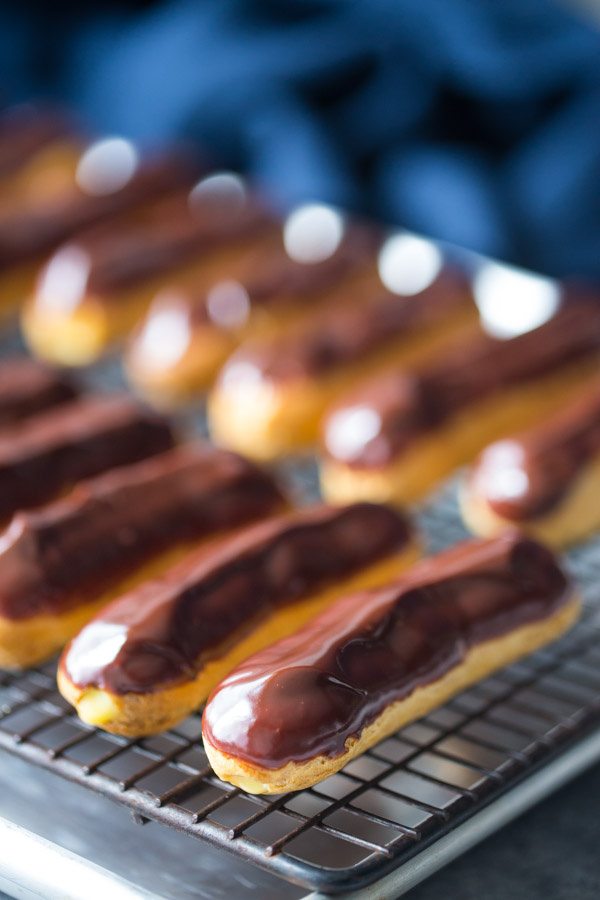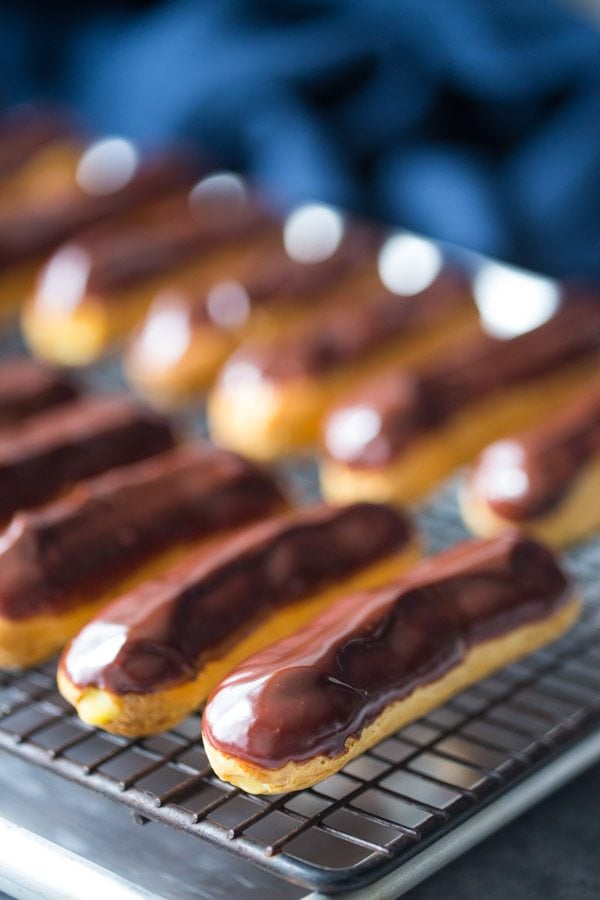 I hope you'll give this classic eclairs recipe a try!  They're so delicious and your loved ones will be so impressed!
Classic Eclairs Recipe
Yield:
24 pastries
Prep Time: 2 1/2 hours
Cook Time: 1 hour
Ingredients:

For the pastry cream filling:

6 Eggland's Best egg yolks
1/2 cup granulated white sugar
1/4 cup all-purpose flour
1/2 teaspoon kosher salt
1 1/2 cups milk
1 teaspoon vanilla extract

For the pate a choux shells:

1 cup water
1/2 cup (1 stick) unsalted butter
1/2 teaspoon granulated white sugar
1/4 teaspoon salt
1 cup all purpose flour
4 large Eggland's Best eggs

For the chocolate glaze:

1/2 cup heavy cream
4 ounces semi-sweet chocolate, chopped
1/4 cup light corn syrup
1 teaspoon vanilla extract

Instructions:

To make the pastry cream filling:

Place the yolks, sugar, flour, and salt in a medium bowl and whisk to combine.
Heat the milk in a small pot until small bubbles form around the edge, and wisps of steam are rising from the surface.
Add the hot milk to the egg mixture, a little at a time, whisking to combine.  When all the milk has been added, transfer the mixture back to the pot and place over medium-low heat.  Cook the pastry cream, whisking, until thickened.  (It should register about 165 degrees F on a candy thermometer.)
Stir in the vanilla, and pour the pastry cream through a fine mesh strainer, into a heat-safe bowl.  Use the back of a ladle to press the mixture through the sieve.
Press a layer of plastic wrap directly onto the surface, and refrigerate for at least 2 hours.

To make the pate a choux shells:

Preheat the oven to 425 degrees F.
Place the water, butter, sugar, and salt in a saucepan. Cook over medium-high heat, until the butter is completely melted and the mixture is simmering.
Add in the flour all at once, and continue to cook, stirring, for about 5 minutes, or until the dough gathers itself into a ball and a film begins to form on the bottom of the pot.
Transfer the mixture to a mixing bowl, and beat on medium speed.
While continuing to beat, drop in the eggs, one at a time. Allow each egg to become fully incorporated before adding the next (about 30 seconds to a minute).
Transfer the mixture to a large piping bag fitted with a jumbo round tip.  Pipe 4-inch long, 1-inch diameter lines onto parchment-lined baking sheets, allowing about 3 inches in between each.
Bake for 35 to 40 minutes, or until puffed, golden brown, hollow, dry, and light.

To make the chocolate glaze:

Heat the cream in a small pot until barely simmering.
Pour the hot cream over the chopped chocolate, and allow to stand for 5 minutes.
Whisk the chocolate and cream together until fully incorporated.
Whisk in the corn syrup and vanilla.

To assemble the eclairs:

Place the cooled pastry cream in a large piping bag fitted with a Bismarck tip.
Pierce the pate a choux shells with the tip, and squeeze in the filling.
Dip the tops of the eclairs in the chocolate glaze.
SOURCE: RecipeGirl.com
Here are a few more classic pastry recipes you might enjoy: