These are a delicious cookie to eat any time of the year:  Crispy Molasses Cookies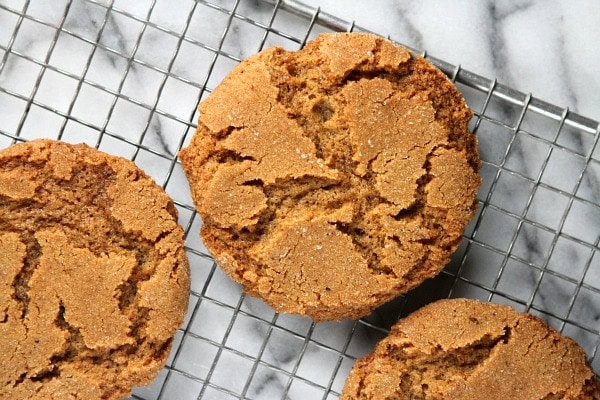 Molasses cookies probably make you think of the holidays, right?  So why am I writing about Christmas cookies in April??  Well, there's simply no reason why you can only make molasses cookies during the holidays.  They're just as good in April as they are in December 🙂  So here's a molasses cookie recipe of the crispy variety.  It's my favorite crispy cookie to dunk in my morning cappuccino!  And I'm totally comfortable with springtime molasses cookie dunking, for sure.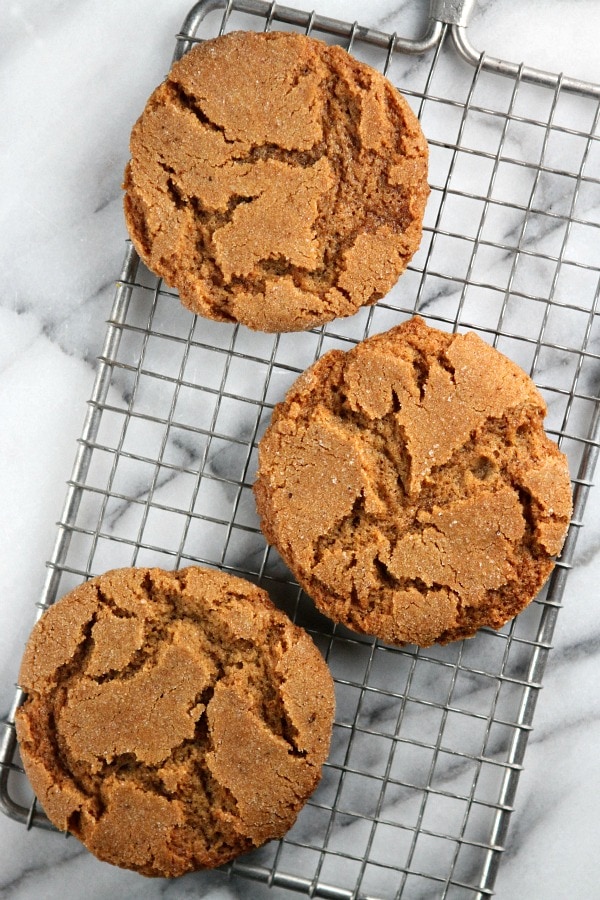 These Crispy Molasses Cookies have a nice crunch to them.  They're a firm cookie with a nutmeg-molasses flavor and a sugary coating.  They freeze well, and they'd ship well too.  Enjoy!
Crispy Molasses Cookies
Yield:
About 3 dozen
Prep Time: 30 minutes
Cook Time: 13 minutes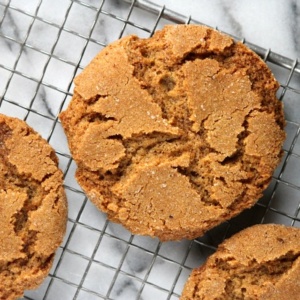 Ingredients:

COOKIE DOUGH:

1 1/2 cups shortening
2 cups granulated white sugar
2 tablespoons freshly grated nutmeg (or 1 tablespoon ground nutmeg)
2 teaspoons baking soda
1 teaspoon ground cinnamon
1/4 teaspoon salt
2 large eggs
1/2 cup molasses
4 1/2 cups all-purpose flour

ROLLING MIXTURE:

1/3 cup granulated white sugar
1 teaspoon freshly grated nutmeg (or 1/2 teaspoon ground nutmeg)

Instructions:

Preheat oven to 350 degrees F.
In a large bowl, use an electric mixer to combine the shortening, sugar, nutmeg, baking soda, cinnamon and salt.  Beat until well combined.  Beat in the eggs and molasses.  Beat in the flour a little at a time... if it becomes too tough to beat with the mixer, you can use a wooden spoon to beat in the rest.
In a small bowl, stir together the rolling mixture.  Shape dough into 1 1/2-inch balls.  Roll balls in the sugar mixture.  Place balls 2 1/2 inches apart on an ungreased baking sheet.
Bake for 10 to 13 minutes or until tops are cracked and edges are firm.  Cool on baking sheet for a few minutes before transferring to a wire rack to cool completely.

Tips:
*These cookies freeze well.
SOURCE:  RecipeGirl.com
More molasses cookie recipes you might enjoy: