This recipe has been featured in a post on The Recipe Girl blog: Christmas Candy Recipes- Eggnog Fudge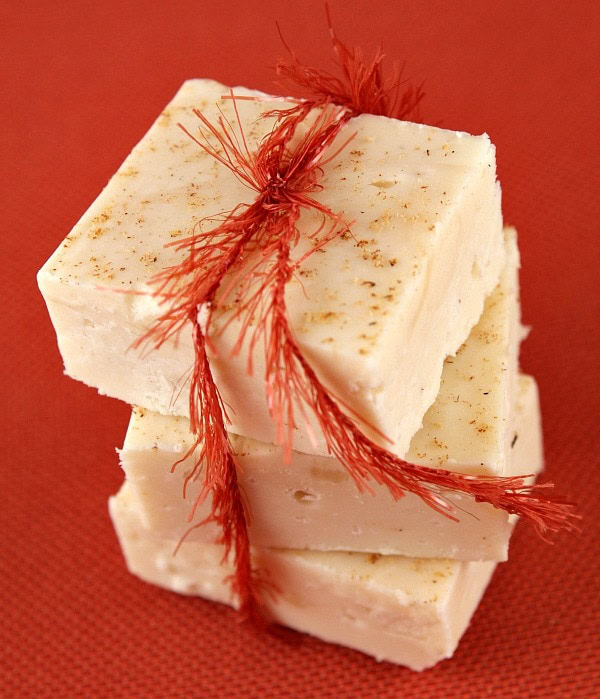 Eggnog Fudge
Yield:
30 to 40 pieces
Prep Time: 30 min
Cook Time: 12 min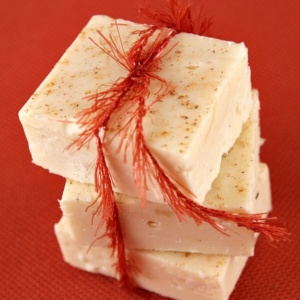 Ingredients:

2 cups granulated white sugar
1/2 cup salted butter
3/4 cup dairy eggnog
10.5 ounces white chocolate bars, chopped into small pieces
1/2 teaspoon freshly grated nutmeg, plus a little more for the top of the fudge
One 7-ounce jar marshmallow creme
1 teaspoon rum extract

Instructions:

1. Line an 8 or 9-inch square pan with foil and let it hang over the sides. Butter the foil.

2. In a heavy, 3-quart saucepan combine sugar, butter and eggnog. Bring to a rolling boil, stirring constantly. Continue boiling 8 to 10 minutes over medium heat or until a candy thermometer reaches 234°F, stirring constantly to prevent scorching. Remove from heat.

3. Using a wooden spoon, work quickly to stir in chopped white chocolate and nutmeg until chocolate is melted and smooth. Stir in marshmallow creme and rum extract. Beat until well blended and then pour into prepared pan. Sprinkle a little freshly ground nutmeg on top. Let stand at room temperature until cooled. Refrigerate if you'd like to speed up the process.

4. When completely cool, cut into squares. Store in a covered container.

Tips:

*This fudge freezes well. Place in a covered container; it will keep for several weeks.