This recipe has been featured in a themed dinner party menu: Fall Dinner Party Menu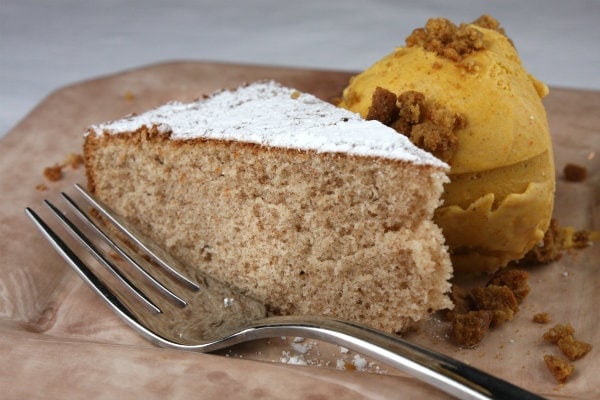 Ginger- Spice Cake
A simple, powdered sugar-dusted cake with wonderful spices tucked inside. It's perfect with a big scoop of pumpkin ice cream served alongside.
Yield:
8 to 10 servings
Prep Time: 25 min
Cook Time: 35 min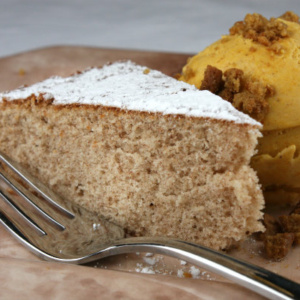 Ingredients:

1 1/2 cups all purpose flour
2 teaspoons baking powder
1/2 teaspoon salt
2 teaspoons ground ginger
2 teaspoons ground cinnamon
1 teaspoon ground cloves
1/4 teaspoon ground nutmeg
2 large eggs
1 cup granulated white sugar
1 cup whipping cream
1 teaspoon vanilla extract
powdered sugar to decorate

Instructions:

1. Preheat the oven to 350 degrees. Grease a 9-inch square baking pan- or if you have a 9-inch springform pan or cake pan, I'd go w/ that instead.

2. Sift the flour, baking powder, salt, ginger, nutmeg, cloves and cinnamon into a bowl. Set aside.

3. In a separate bowl, with an electric mixer (hand or stand version), beat the eggs on high speed until very thick, about 5 minutes. Gradually beat in the granulated sugar.

4. Reduce speed to low, and beat in the flour mixture alternatively with the whipping cream into the eggs, beginning and ending with the flour. Stir in vanilla.

5. Pour into the pan and bake until the top springs back when touched lightly, about 35-40 minutes. Watch closely- you don't want to over-bake or it will be dry.

6. Sprinkle powdered sugar over the hot cake, cut into squares or wedges. Serve with ice cream, if desired.