We live in a happy cul-de-sac consisting of seven homes.  There are 15 children in our cul-de-sac, ranging in age from 1 to 20.  Our quiet, little corner is a haven for kids playing football, jumping bikes off ramps and playing hide-and-go-seek.  It's definitely an ideal place to be if you're looking for suburbia.   The neighbors are pretty darn nice.  Case in point:  Neighbor A backed into Neighbor B's car the other day.  The bumper was smashed up pretty good, and Neighbor A felt awful… so A brought B a basket full of fresh pears to apologize.  Neighbor B brought some of those pears to me, and I made Spiced Pear Cake with Browned Butter Icing.  I told you it was a happy cul-de-sac, didn't I?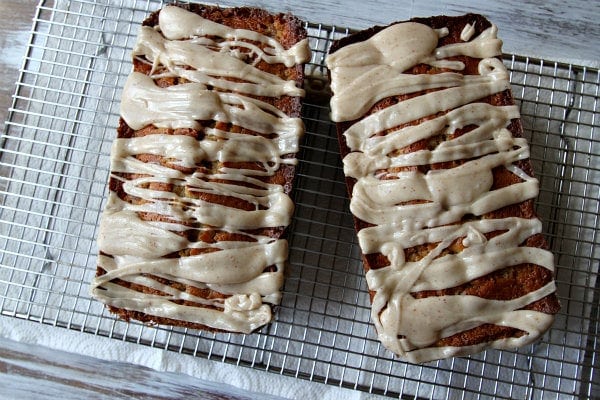 Oh yeah, see that icing drizzle?  It's a must… an absolute must.  And you get more bang for your buck with this recipe since it makes TWO cakes 🙂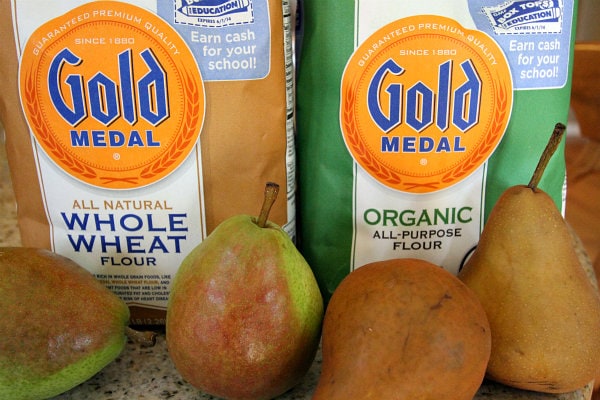 Speaking of bucks, I was at the market the other day checking out things in the baking aisle.  Gold Medal flour was 2 for $5 in my market.  With the holiday season approaching, and knowing that I'm a total baking FREAK in November and December, I stocked up big time.  Yes, the checker looked at me funny when I bought 8 bags of flour in one order!  Gold Medal has new packaging for its flour- you may have noticed some of the colorful bags on the shelves.  For this recipe, I used their Whole Wheat Flour and their Organic All-Purpose Flour.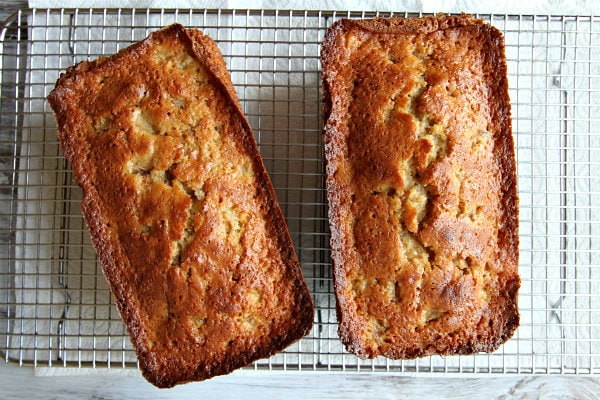 I opted to make this recipe in two loaf pans because I like to change things up a bit and make cakes in "tea loaf" fashion now and then.  I think it works best for this recipe.  The cake bakes up much like banana bread, but it's too sweet to call it bread.  So it's CAKE, my friends.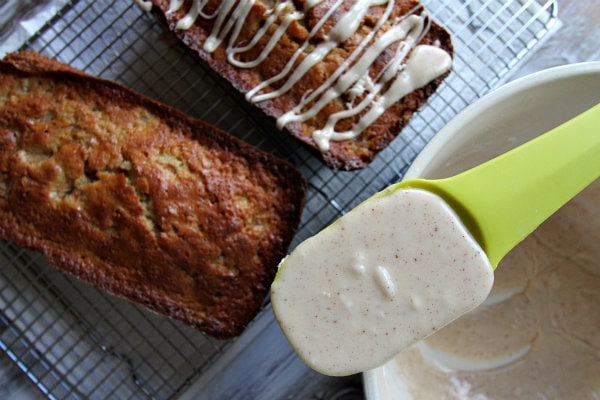 Here's the super yummy part:  BROWNED BUTTER ICING.  Do not leave off the icing.  Seriously, don't do it.  It's so so so easy to make, and you will want to eat it by the spoonful before you even drizzle it onto the cake.  Not that I'm advocating that or anything, but it certainly gives you a good idea of how delicious this stuff is.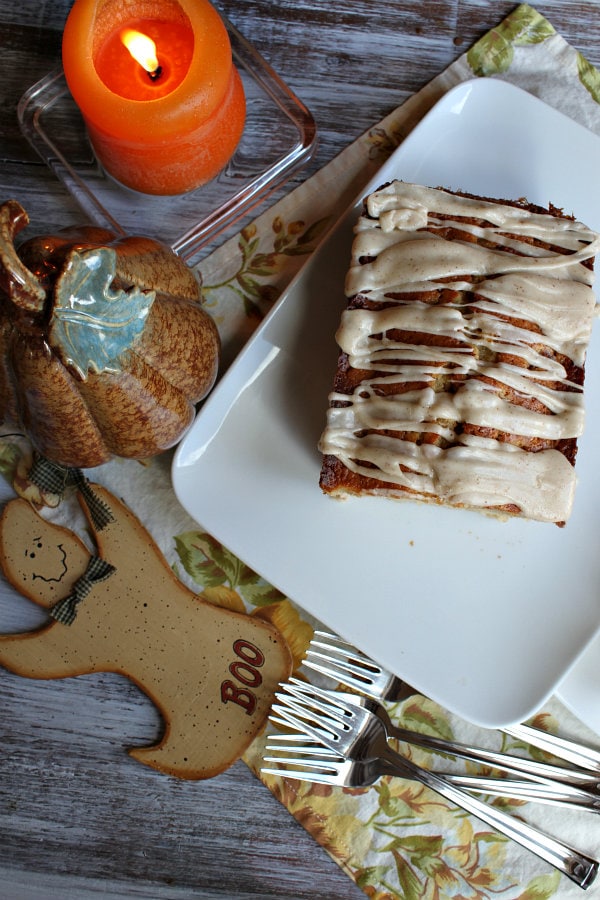 S.P.O.O.K.Y.
A little slice of this cake… with those spiced pears flecked throughout… and just the right amount of browned butter icing drizzled on top… is a perfectly nice dessert for fall (and for the abundance of fresh pears available right now).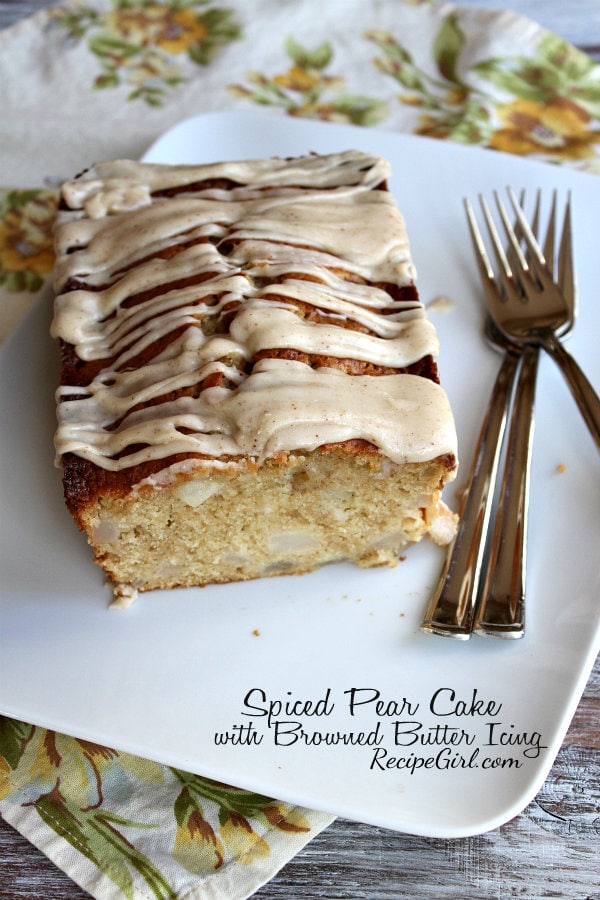 So, if you happen to be in a position where you're considering where the best place to buy a home is for families… check out the cul-de-sacs.  They're also a good place to be if you need to pawn off food on neighbors as much as I need to.  My neighbors act as good taste-testers, and there are a plethora of little mouths to feed too.  Remember I mentioned that this recipe makes TWO cakes?  Well, that nice neighbor who gave me the pears ended up getting them back again in one of these cakes.  Yep, I gave her a cake.  That happy-neighbor-thing is just kind of sickening to hear, isn't it?
Well, don't get too envious of my neighbor situation… there WAS the time that Neighbor C's kid sling-shot a rock into the air and it hit the windshield of my parked car and they never offered to pay for the repair… (fyi- those neighbors don't get any of my goodies, lol!)
Spiced Pear Cake with Browned Butter Icing
Yield:
2 loaf cakes (12 to 16 servings)
Prep Time: 30 min
Cook Time: 60 min
Ingredients:
CAKE:
3 medium to large firm pears, peeled-cored- and chopped
2 tablespoons granulated white sugar
2 tablespoons packed light brown sugar
1 1/2 teaspoons ground cinnamon
1/4 teaspoon ground nutmeg
2 cups Gold Medal® All-Purpose Flour
1 cup Gold Medal® Whole Wheat Flour
3 teaspoons baking powder
1 teaspoon salt
1 1/2 cups granulated white sugar
4 large eggs
3/4 cup milk
1/2 cup vegetable or canola oil
1/2 cup unsweetened applesauce
BROWNED BUTTER ICING:
4 tablespoons (1/2 stick) salted butter
2 cups sifted powdered sugar (more or less)
4 to 5 teaspoons boiling hot water
1 teaspoon vanilla extract
Directions:
1. Arrange your oven rack to the lower third of the oven. Preheat the oven to 350 degrees F. Spray two 5x8-inch loaf pans with nonstick spray.
2. In a medium bowl, toss the pears with the white and brown sugars, cinnamon and nutmeg. Set aside.
3. In a separate bowl, whisk together the flours, baking powder and salt.
4. In a large bowl, whisk together the sugar, eggs, milk, oil and applesauce. Whisk in the dry ingredients until they are just mixed in (don't over-mix). Stir in the pears and all of their sweet and spicy juices too. Divide the batter between the two pans. Bake 60 to 70 minutes, or until the loaves are baked through and test done (toothpick inserted in the centers comes out clean). Let the cakes cool for 15 minutes, then turn them out onto a rack to cool completely.
5. When cake is cool, prepare the icing. Melt the butter in a small saucepan over medium heat. Heat and stir for 5 to 7 minutes, or until the butter is lightly browned (you will see little flecks of brown throughout the melted butter when it is properly browned). Remove it from the stove and pour it into a bowl. Whisk in 1 cup of the powdered sugar. Add 3 teaspoons of the water and the vanilla. Whisk in more powdered sugar a little at a time until it thick but still pourable (add a teaspoon or two of additional water, if needed). Place paper towels under the rack and drizzle the icing onto the cakes. Serve immediately, or store in a covered container until ready to serve.

Disclosure:  I'm working with Gold Medal Flour to create seasonal recipes for the next few months.  This is one of those goodies.  All opinions shared are my own.