Sometimes simple is best, and that's definitely the case with these tender Glazed Donuts!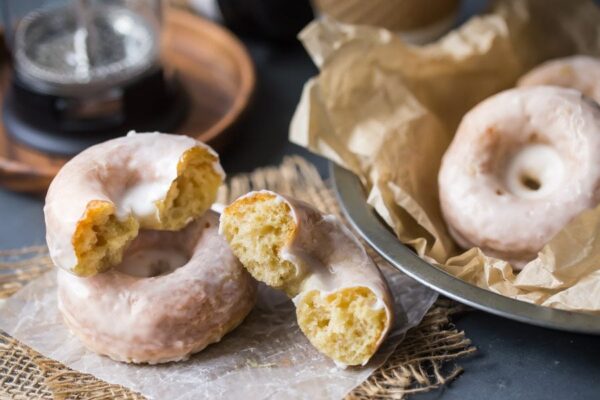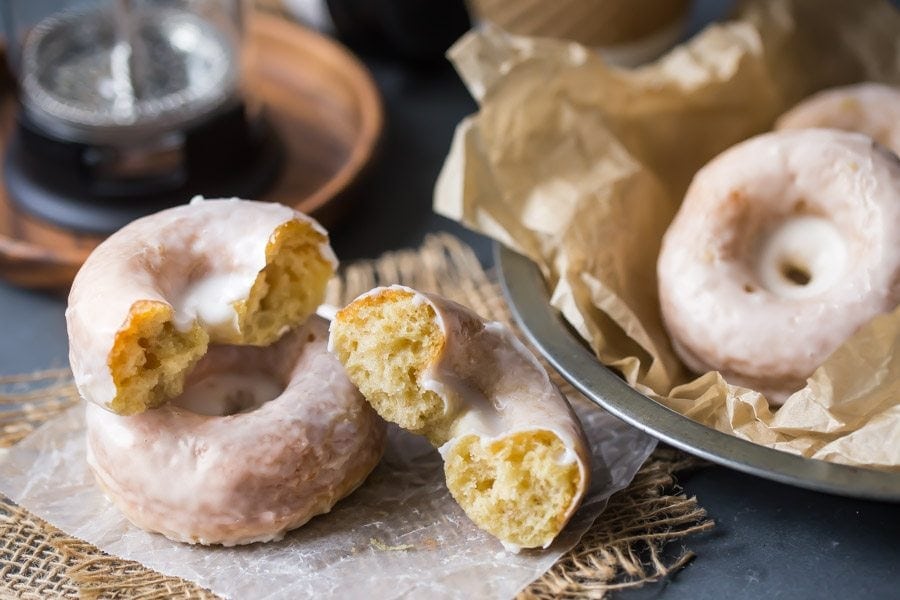 Lately, I have really been seeing some crazy donuts out there!  All sorts of interesting toppings, piled high… sometimes there's so much going on you can barely even tell it's a donut!  They all sound amazing and completely over the top, but I have to be honest: my favorite is just a simple glazed donut.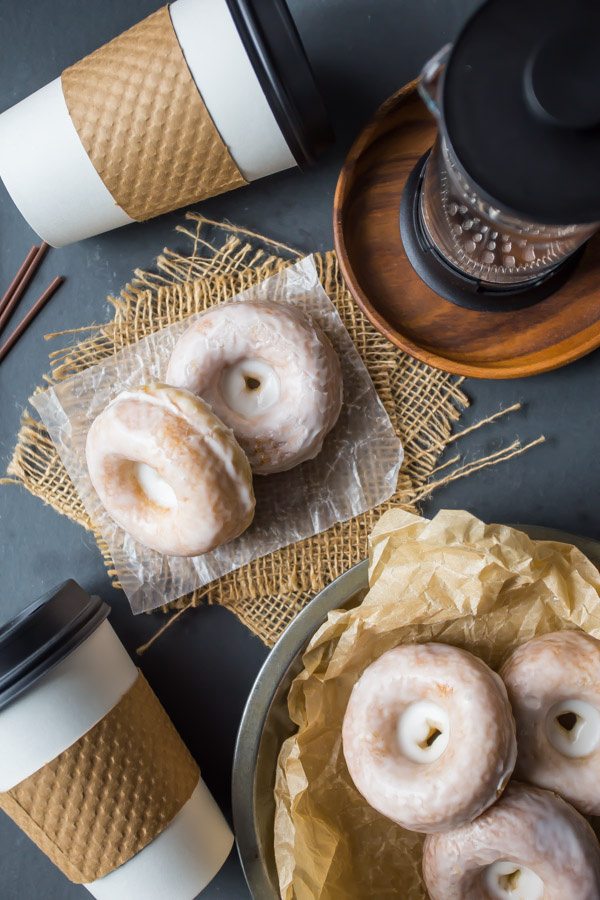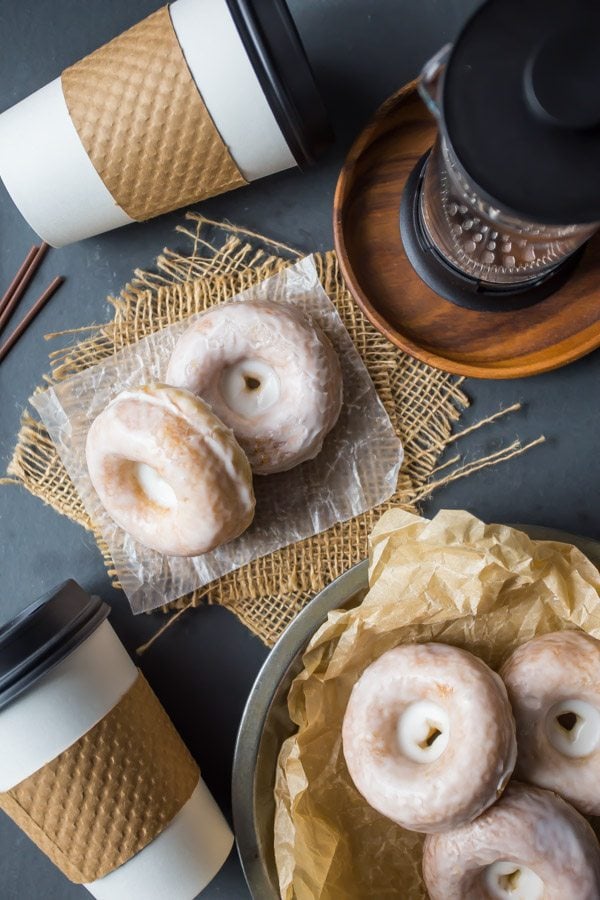 Of course, there's more than one kind of glazed donut.  If I'm at a bakery, I'm choosing the yeast variety, but as a home baker, it's cake donuts all the way.  They're quick and simple to make, and there's no hot oil to mess around with.
This recipe is for a simple, sour cream cake donut, tender and moist, with a hint of nutmeg and a sweet vanilla glaze.  Old fashioned and so, so good.
Start by whisking the dry ingredients together in a bowl.  I really love to use whole nutmeg because the flavor is just off the charts!  You can buy it in the regular grocery store (in the spice aisle), and just scratch it a few times on a microplane grater.  The aromas are incredible!  But if you can't find whole nutmeg, a couple pinches of the pre-ground stuff is just fine.
Stir the oil, sour cream, sugar, egg, and vanilla together in a large liquid measuring cup, and then fold it into the dry ingredients.  The less you stir, the more tender your donuts will come out, so be careful not to overwork it!
Bake the donuts in a lightly greased non-stick donut pan.  If you don't have a donut pan, you can make muffins or mini-muffins*!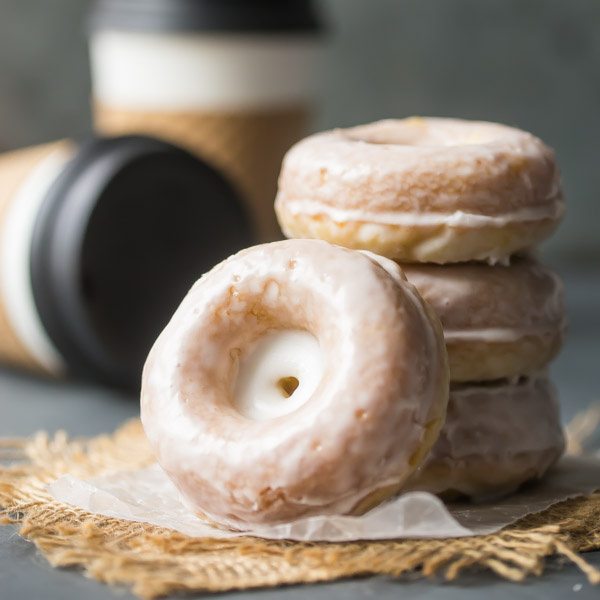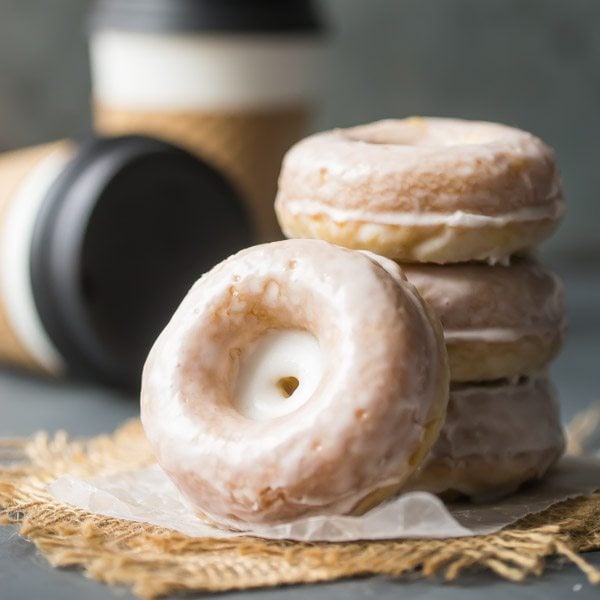 These glazed donuts are absolute perfection with a morning cup of coffee!
Glazed Donuts
Yield:
6 donuts
Prep Time: 35 minutes
Cook Time: 12 minutes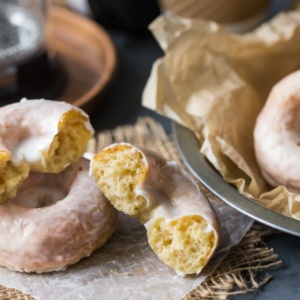 Ingredients:

1 cup all-purpose flour
1/2 teaspoon baking soda
1/4 teaspoon kosher salt
a pinch of freshly ground whole nutmeg, or about 1/8 teaspoon pre-ground nutmeg
1/2 cup sour cream
1/3 cup granulated sugar
1/4 cup vegetable oil
1 large Eggland's Best egg
1 teaspoon vanilla extract, divided
2 cups powdered sugar
1/4 cup milk

Instructions:

Preheat the oven to 350 degrees F, and lightly grease a non-stick donut pan.
Place the flour, baking soda, salt, and nutmeg in a medium mixing bowl, and whisk to combine.
Place the sour cream, sugar, oil, egg, and 1/2 teaspoon vanilla in a large liquid measuring cup, and stir together until smooth.
Add the liquid ingredients to the dry, and gently fold together until just barely combined (it's ok if there are a few lumps).
Transfer the batter to the prepared pan, and bake the donuts for 12 to 16 minutes, or until just beginning to brown around the edges.
Cool for 20 minutes, then remove from the pan.
In a medium mixing bowl, stir the powdered sugar, milk, and remaining 1/2 teaspoon vanilla together until smooth.
Dip the tops of the donuts in the glaze, allowing the excess to drip off.
Place the donuts on a wire rack set over a baking sheet, and allow the glaze to dry.

Tips:

Eggland's Best provided the egg for this recipe.

Nutrition:

If making muffins or mini-muffins, bake time could vary.
SOURCE: RecipeGirl.com
Here are a few more breakfast treats you might enjoy: