This recipe has been featured in a post on The Recipe Girl blog: Greek Dinner Party- Drinks & Appetizers.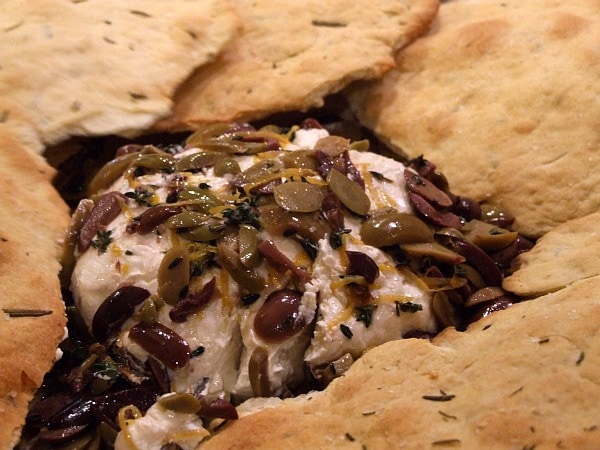 Goat Cheese with Olives, Lemon and Thyme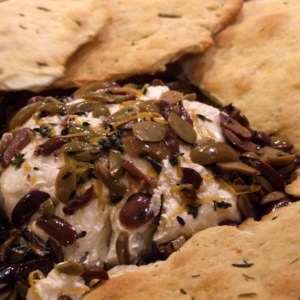 I included this recipe as part of a Greek Dinner party that I hosted and there was barely a nibble left. So delicious!
Yield:
4 servings
Prep Time: 40 min
Cook Time: 5 min
Ingredients:
1/2 cup assorted olives, sliced
3 sprigs fresh thyme
3 Tablespoons extra-virgin olive oil
1/2 teaspoon grated lemon zest
4 to 5 ounce log goat cheese
Directions:
1. Heat olives, thyme, oil, zest, and 1/4 teaspoon pepper in a small skillet or saucepan over low heat until fragrant (do not simmer). Cool to room temperature.
2. Spread goat cheese onto a platter & then spread olive mixture over goat cheese. Serve with flatbread.
Tips:
*The Rosemary Flatbread is wonderful to serve with this. It's easy to make, and if you put large shards of it surrounding the goat cheese, your guests can break apart desired-sized pieces on which to spread the goat cheese.
*This dish can be prepared 2 hours ahead and kept, covered, at room temperature.
Source: RecipeGirl.com (Adapted from Gourmet)